India Grill + Bar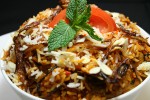 Services:
India Grill + Bar has created a catering experience that combines the expertize of Continental and Indian Chefs with the vision and create input of you, our guest. We invite you to create, celebrate and experience a wonderful culinary journey. We have a wide variety of options to get your guests up, going and productive for your meetings, presentations. Whether it's a simple breakfast or buffet, plated breakfast, full buffet brunch or dinner you will find traditional favorites as well as creative twists that will surprise and delight your guests.
At India Grill and Bar, we serve authentic South Indian food, North Indian food, Indian non-vegetarian food, Indian vegetarian food, Tandoori and Biryani. We are also widely known for our Halal & Indian (Desi) Chinese food.
COCKTAIL AND RECEPTION
We have exiting reception options. From a wide selection of brand liquors, to a special mojito or martini bar, to ice carvings and ice shots or power drinks and cordials, don't settle for the ordinary. Allow us to help energize and stimulate your evening reception with creative options for any group, with a la carte reception food items, any array of themed reception ideas and distinctive action station selections, we guarantee to satisfy all your guests.
TAXES AND SERVICE CHARGE
All prices for the following menus are subject to a 18% banquet service charge. A 6% sales tax will be added to the account for Food and Beverage
MEAL GUARANTEES & MINIMUM ATTENDANCE REQUIREMENTS
A firm Meal Guarantee ["Guarantee"] of attendance is required for all private meal functions. Guarantees must be submitted by 12:00 Noon EST three (3) full business days [72 hours] prior to the scheduled event: During the event, if the number of guests served is less than the Guarantee, the host is responsible for the number guaranteed. If the number of guests served is greater than the Guarantee, the host is responsible for the total number of guests served. The restaurant will overset 3% to a maximum of 30. Any special meal orders (Vegetarian, Halal, Jain , Kosher, etc.) should be included within the final Meal Guarantee. Special pricing applies.
FOOD AND BEVERAGE POLICIES
Due to licensing requirements and quality control issues, all Food & Beverage to be served in the restaurant must be supplied and prepared by the restaurant.India Grill + Bar is the sole provider of all Food & Beverage items offered to attendees at banquet functions and within function spaces. Examples include bottled waters, sodas, sandwiches or pizza lunches etc.
Provisions within the hotel's liquor license prohibit patrons from providing alcoholic beverages from outside sources. If alcoholic beverages are served on the restaurant's premises the restaurant is required to request proper identification (photo identification of anyone of questionable age) and refuse alcoholic beverage service to any person who fails to present proper identification or who appears to be intoxicated according to the restaurant's discretion consistent with the applicable state regulations.
Food and/or Beverage items remaining from a banquet meal may not be re-plated or saved for service during a subsequent planned break or meal period for a group. Similarly, left-over food and/or beverage items may not be taken off-premises or donated to another party. Break offerings are intended for a maximum duration of 30 minutes and buffet meals are designed to last no more than two hours to preserve and ensure food quality.
Plated menus shall be comprised of a minimum of three (3) courses. If only Lunch Stations are selected to constitute a lunch menu, a minimum of three (2) stations are required. Buffet menus designed for large groups and selected for small groups of fewer than 50 guests, an 8 dollar per person surcharge will apply. Requests for special Food & Beverage items are welcomed. Special order items will likely be charged in their entirety per specific ordered quantities, based upon market availability. Special meals will be charged at market prices.
Information contained in this document is subject to change, without notice, at any time. Prices and offers subject to change.
HOME DELIVERY & TAKE OUT
Our entire menu is available for take-out and delivery. Our delivery areas are Fort Lauderdale, Miami, Boca Raton and West Palm Beach. We are considered one of the best restaurants in the area for take-out and delivery in terms of value, speed and quality.
Photo Gallery