Shereen and Faaez
Both Faaez Khateeb and Shereen Hasan found their true soulmates—in each other. That was the reason there was no formal proposal. They dated for more than two years and decided to spend the rest of their lives holding each other's hands.
The marriage date was fixed for December 11, 2021. Both Faaez and Shereen (having been brought up in Chicago) decided to have a destination wedding in Florida. They chose Hilton Oceanfront Resort at Daytona Beach, Florida as their wedding and reception venue.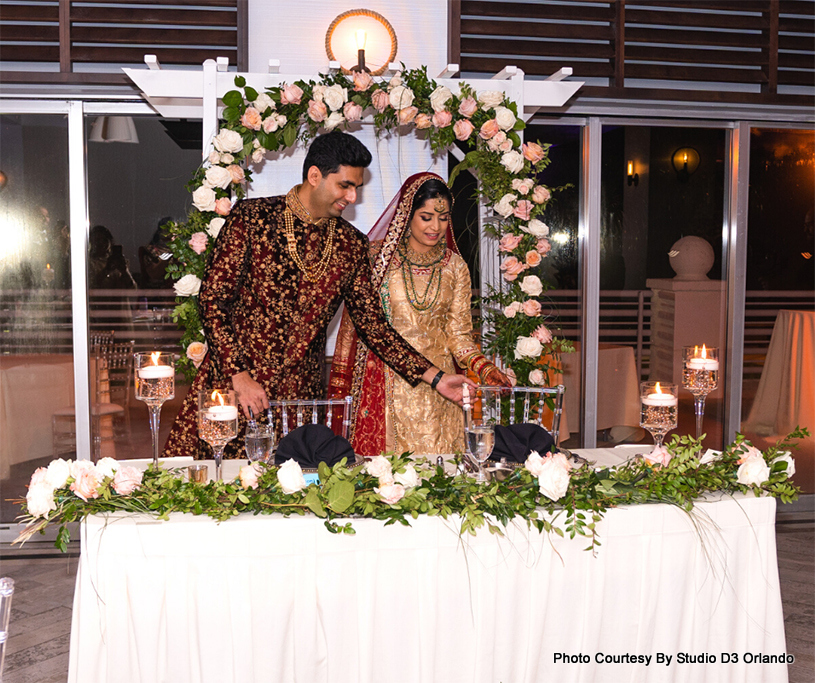 ---
BANQUET HALLS Hilton Daytona Beach 386-947-8015 | BEAUTICIANS Ruqs Salon 321-682-9273 | EVENT PLANNER Elite Dream Creations 407-733-2597 | FLORAL DESIGN & DECORATIONS Pink Flamingo At Petals
386-423-5927 | PHOTOGRAPHER Studio D3 Orlando 407-399-9987 | VIDEOGRAPHY Studio D3 Orlando
407-399-9987 | WORSHIP SERVICES Islamic Center of Orlando 407-361-6666
---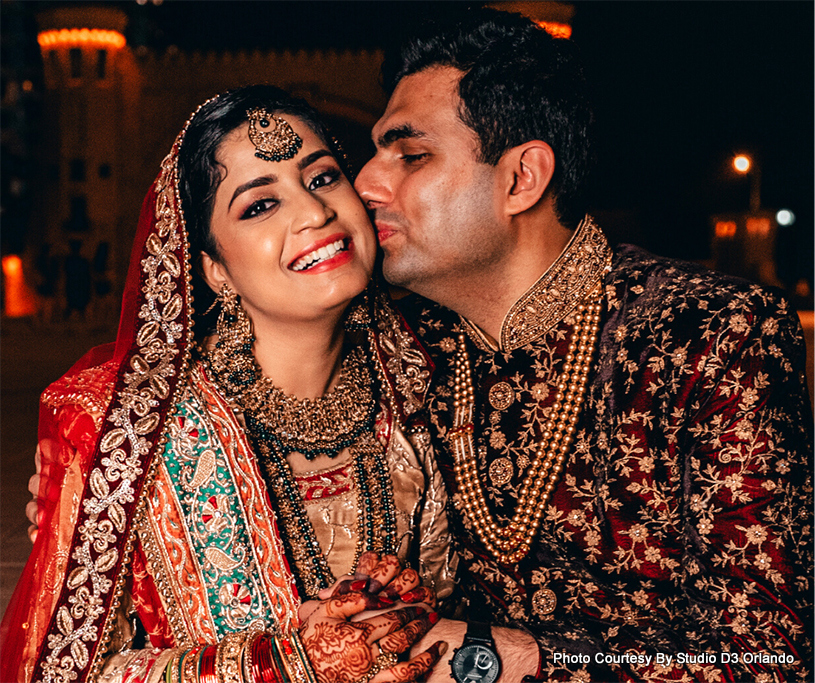 They had a Haldi ceremony in the presence of close family members and some dear friends. The number of guests was restricted due to COVID norms. However, it was a happy and intimate reunion with close friends and family. The marriage ceremony was a perfect blend of American and Islamic culture. It was a beach wedding, held during the daytime. Sun and sea created a magical ambience ideal for a perfect wedding.
Faaez walked down the aisle with his parents to the song "Marry You" by Bruno Mars. They were followed by the flower girl. Shereen walked down the aisle with her parents with the song "Nachdi Phira." The Nikah ceremony took place under the aegis of the priest. He read the sermons in both Arabic and English. After the Nikah ceremony, the couple exchanged rings. Bollywood and English songs were played throughout the ceremony. Vidayi was marked by sparklers in the hands of the guests.
There was a mocktail hour before the reception for everyone to have some extra fun. The reception was inside a banquet which was exquisitely decorated with pink and white flowers and candles along with hand-made centerpieces made by the bride and groom. The dance floor featured the initials of the bride and groom; and it was highlighted by lights. The cake matched the color theme, and all the guests were served cookies with the initials of the couple on them.
In addition to the first dance and mother-son and father-daughter dances, there was a surprise performance by friends. Faeez and Shereen lit a sky lantern and it flew high to the heavens, signifying their celestially happy journey together. All 50 guests who witnessed this wonderful event cheered the happy couple and wished them well.