[su_box title="Raj Shah" style="glass" box_color="#b93458″ title_color="#fff"]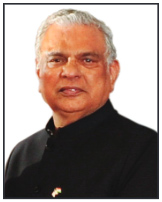 About the Expert:
A software engineer by profession, Indian culture enthusiast, ardent promoter of Hinduism, and a cancer survivor, Raj Shah is a managing editor of Desh-Videsh Magazine and co-founder of Desh Videsh Media Group. Promoting the rich culture and heritage of India and Hinduism has been his motto ever since he arrived in the US.
He has been instrumental in starting and promoting several community organizations such as the Indian Religious and Cultural Center and Hindu University of America South Florida Chapter. He serves as a chairman of Board of International Hindu University. Raj has written two books on Hinduism titled Chronology of Hinduism in which he has documented the rich history of the world's oldest religion, and Understanding Hinduism – The Basic Facts about Hinduism and Frequently Asked Questions. He has also written three children books, We love Diwali, Holi Hai and The Complete Ramayan in 100 Tweets.
[/su_box]
[su_posts posts_per_page="5″ tax_term="1572″ tax_operator="0″ order="desc"]