Misha and Shyam
Misha initially noticed Shyam, a Texas native from Lubbock, during a business conference when they took turns working first. But at that moment, Shyam had paid Misha absolutely no attention. He asked her if she worked on the same floor as him when they first encountered each other in the elevator at the workplace. They did, in fact, share a floor at the time, and she was smitten by his effortless charm and astute humor. But as her father got sick and they lost touch, Misha was forced to return to Columbia, Tennessee. She was still thinking about him, despite the distance. They planned to go out for sushi close to Misha's apartment, so he traveled there to meet her. When her father's health improved, he went back to see Misha in Columbia and this time asked her to join him on a journey to California. Without a doubt, the vacation was remarkable. They went to the San Diego beaches, the Golden Gate Bridge in San Francisco, and Los Angeles. He planned a little candlelight dinner date on their exclusive beach for the last day of our vacation. Misha was beyond thrilled when he suddenly dropped down on one knee and proposed to her; she could hardly contain her joy when she answered yes!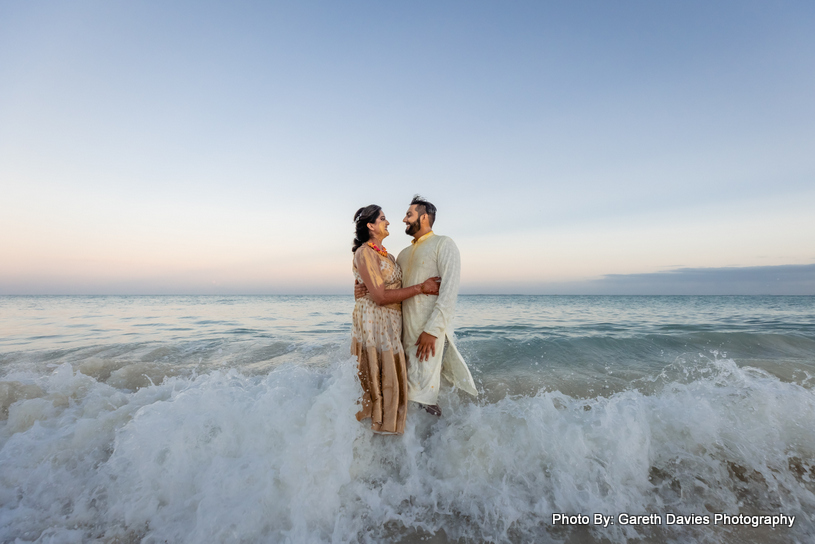 ---
BANQUET HALLS Planet Hollywood Beach Resort Cancun +52 1 998-580-9880 | BEAUTICIANS Red Lotus Artistry 281-254-9941 | DECORATOR Grupo Gama +52 998-882-2724 | DISC JOCKEY  M4U Events 732-771-9648 | n HORSE CARRIAGES Drums in Paradise +52 998-240-2834 | EVENT PLANNER Palino Events 469-759-3494  | FLORIST Floreria Tulipania 998-361-8136 | MEHNDI Loto Mehndi by CB&Co. +52 998-165-3277 | PHOTOGRAPHER / VIDEOGRAPHY Gareth Davies Photography +52 553-501-4322 , Ruiz Wedding Films +52 999 900 2371 | PRIEST Adhvaryu Dhruvkumar K 423-355-9465
---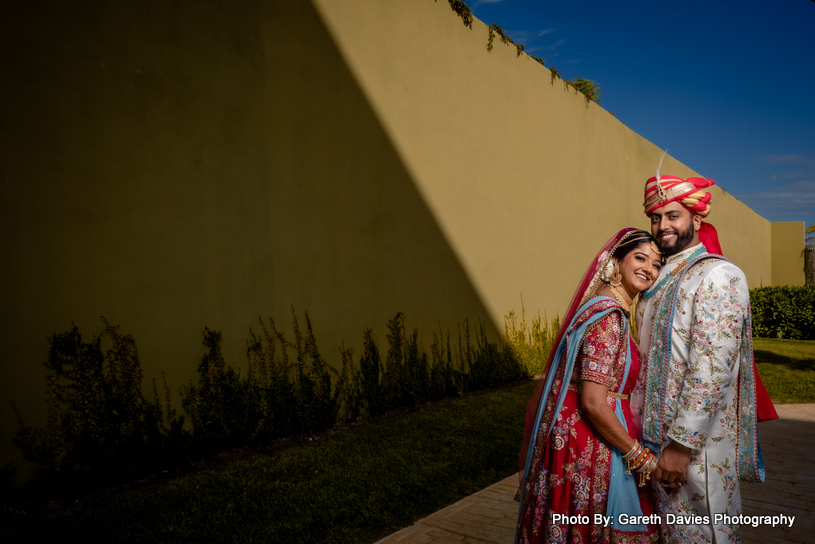 They recruited Ana Almazan to decorate the interior and Palino Events (Dallas, Texas) to handle the outside preparations. At the Planet Hollywood Beach Resort in Cancun, Mexico, the wedding was planned. The bride's orange and fuschia lehenga was complemented by the open-drape theme of the mehndi. Tulipania Floral, in Cancun, created the open-drape concept for the sangeet and the floral arrangement. Mexico's Cancun-based Loto Mehndi applied for the bride's mehndi. The wedding's decor, which included a fort palace in the background and traditional Rajasthani music, complemented the concept of a royal Rajasthani wedding. During the reception, the bride's cousins gave the bride and groom a surprise wedding dance. 'Laal Ishq' was playing when the bride arrived at the reception.