2014 Bridal Wear Trends
For any bride, choosing not only a look appropriate for the occasion, but also one that showcases your personality, can seem like a daunting task. You "oooh" and "aaah" over glamorous shots in glossy magazines, but reality is there lurking in the back of your mind. Will I be able to wear this for 5 hours while bending, stretching, and dancing? Will these colors make our wedding pictures lasting memories?
With so many aspects to think about, here are a few tips to help you get started:
Major Trends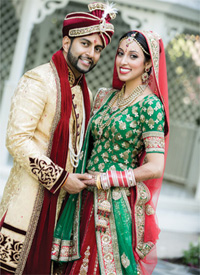 Colors of the season: White and gold are a predominant combination this spring. The simplicity of white fabrics with gold embellishments and embroidery are sure to emphasize any bride's natural beauty on her wedding day.
Simple statements: An outfit comprised of simple fabrics in vibrant colors with simple borders that emphasize the jewelry will be sure to make you – and only you – stand out on your big day.
Belts: Not only are belts a practical accessory keeping the sari or choli in place, but they also accentuate the narrowest part of a woman's body, making it an essential figure flattering component of this year'strendiest bridal attire.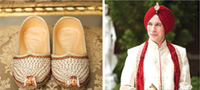 Florals: Any bride will feel divine in pretty pink flowers. Whether you opt for a bold floral print or a soft lace, your femininity is bound to shine through. Consider using fresh floras as an accessory for your hair.
The Wedding Day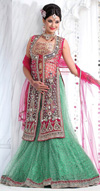 Materials: Mix the heavy and the light. Sheer, light, airy materials paired with heavy silk embroidered borders are a perfect way to make a striking presentation.
Cuts: Embrace the flare! Full flares are in full fashion this spring. Embrace the sleeves! (Or not) Try a bold look with either a long-sleeved blouse or a blouse with no sleeves at all. If you prefer the traditional short sleeves or the elbow sleeves, style up the sleeves with some stitched embellishments.
Colors: This year is all about extremes. Go with white and creams, golds, nudes, pale pinks or with embrace bold color with reds, hot pinks, bright yellows, and royal blues.
The Reception and After-parties

Materials: Reception outfits that are light and full of movement will allow for maximum dancing capability! Since most receptions are held in the evening, feel free to play it up with plush fabrics like velvet and embroidered chiffons. Don't go too overboard on the velvet though – balance the look with accents and put your own twist on it by contrasting different fabrics.
Cuts: The sharara style is sure to flatter any body type. Long sleek fitting tops overlying full flared skirts are an incredibly glamorous way to spruce up your reception look.
Colors: Don't be afraid of dark colors – always elegant and perfect for an evening statement. And black is always in style! Change things up with deep navies and rich mahoganies.
About the Author
Suhani Patel, a senior at the University of Georgia (UGA) in Athens, is majoring in Microbiology and minoring in Spanish. A healthcare enthusiast and an avid reader, Suhani will read anything from classic literature to Web MD articles to the Harry Potter series. Suhani enjoys traveling and exploring new restaurants and has a weakness for local coffee shops.