Bridal Beauty Tips by By Karuna Chani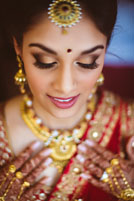 Some say a bride's wedding day, is the most important day of her life. A special moment, when two people commit to loving and caring for each other through the highs and lows of life. And on that special day, a bride wants to look and feel her best. Her makeup should enhance all of the features that made her groom fall in love with her, and that she loves about herself.
And for the best bridal beauty, there are a few key things a bride should take into consideration:
1. A makeup & hair trial to go through wedding and wedding event looks. Waiting until the wedding day, will most certainly lead to delays, confusion, feeling overwhelmed by having to make beauty decisions at the last minute or disaster! Test out the looks to your outfits BEFORE the wedding. Trial day, is where you can address all your questions/ concerns and share ideas, so your wedding day can run smoothly and without any hiccups.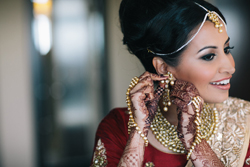 2. A bride's makeup and hair should compliment her outfit/jewelry and all be one concept that doesn't compete against each other or look tacky. A task that can be hard to accomplish because of the vibrant colors, opulent jewelry and embellishments on a bride's wedding outfit. Elegance comes with knowing the right balance for an Indian wedding.
3. It's very important to eat healthy, exercise and have a set daily skincare
routine (including facials), a few months prior to your wedding, to ensure the best results. You'd be surprised at what a difference this can make to how you look and feel on your wedding day!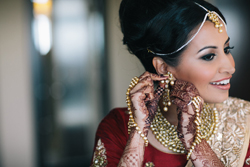 About the Author
Karuna Chani is an internationally recognized makeup artist, image and skin care consultant. With a background in fashion from Parsons, Karuna is known for her fashion forward makeup looks and ability to perfectly 'marry' eastern cultural elements with western beauty trends. Bridal clients seek out the KC Makeup touch for that contemporary bridal look with elements of timeless beauty. For more information, visit www.kc-makeup.com or call (917) 478-9965.