Bridal Locks
Plan early! The week you pick your wedding trousseau is the best time to start planning your hairstyle for the big day.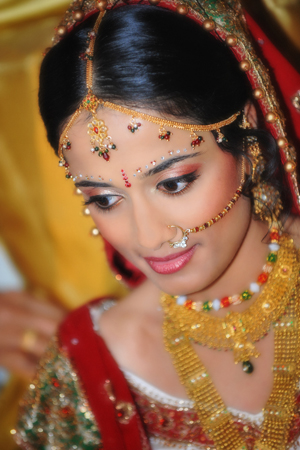 A bad hair day can spoil the show on your wedding day. With some care, your hair and chosen hairstyle can look just perfect for your big occasion. If you want to love and cherish your wedding pictures instead of running to hide because your hair looks awful, treat your hair to some tender loving care!
With just a week left before your wedding, it's best not to experiment. Don't try dying, getting a perm, or straightening your hair at this time. Even trying new hairstyles isn't a smart idea. The stress and excitement of the upcoming day might lead to a hasty decision – one that might not be reversed in a short period of time.
Style
Plan early! The week you pick your wedding trousseau is the best time to start planning your hairstyle for the big day. Have someone take a picture of you in your bridal dress. The picture will help you decide which style will match the dress and the occasion. Flip through a few bridal or fashion magazines for some hair inspiration. Show any chosen styles to your hair stylist and ask him which would suit you best. Try a few out to see if the styles actually suit you.
Worried because you have an out of town wedding? Take pictures of your finished style as well as pictures of the curling, teasing, and blow-drying process to help your new hairstylist understand what you want your hair to look like. If possible, you could even record video segments of the styling process.
Go about coloring your hair only after you have decided upon your hairstyle. The right highlights, low lights or color hair weaves can look spectacular and really light up a face. The wrong color or incorrect highlights could prove to be a disaster. Make sure that any color changes are done well before the wedding date so there is ample time for corrections. Make sure that you have your stylist use a low volume, low ammonia product to protect your hair from damage.
Nourish
The trick to beautiful hair is a good diet. Drink at least six to eight glasses of water every day. Load up on vitamins and watch for a wonderful change in your hair within two to three months! It is vital to add zinc (found in beans), vitamin A (found in dark green vegetables) and B6 (found in eggs) to your regular diet. To nourish thin hair, black-current oil (try 500 milligrams twice a day) is also recommended. Consider trying some hair supplements or vitamins if you're desperate for fast growth. Eat at least five different fruits every day and avoid fatty food not just to lose the extra pounds, but also for the health of your hair.
Depending on your hair type – oily, dry or normal – begin by using the proper shampoos and conditioners. Keep hair clean and healthy for a good six to eight weeks before your wedding day. Most commercial shampoos have harsh detergents that strip your hair leaving it dull and lifeless. Conditioners are bad for your hair volume. So, bear in mind not to over cleanse your hair. Try herbal shampoos and conditioners instead to nourish the scalp and help your hair grow thicker and shinier.
Be judicious in your use of styling products such as hair sprays and gels before the big day. Avoid straightening or curling your hair repeatedly before the wedding as it might increase damage your hair. Your hair may lose their luster and strength by the time the big day arrives. For almost six months before your wedding, opt for products that are composed of natural ingredients and give up all the chemical-based ones. Let chemicals and styling products touch your hair only on the day of your wedding, not before that if you wish to make your hair as healthy as possible for the big event. Avoid going out in heavy wind or harsh sun a couple of months before your wedding. If at all you have to, wear a scarf or hat before stepping out.
Consider getting a hot-oil massage for your scalp sometime the week of your wedding to give your hair a healthy and glossy sheen. Wash your hair a day before your wedding so as to leave time for the stray ends to settle down. Deep condition your hair a week before the wedding. Your hair will be easier to style and be able to hold a style longer. If you have very thick and curly hair, it's advisable to condition your hair on your wedding day.
Follow these simple guidelines, and rest assured, you will turn more than a few heads on your big day!