Royal Embellishment
No matter what you are wearing for your wedding, Indian or western, lehnga-choli or gown, kundan jewelry will set you apart from the crowd with its sheer brilliance and exclusivity.

Stay away from the staid gold and diamond sets for your special day. Instead, turn your gaze towards an ancient style of jewelry, which refuses to lose its sheen. Unlike yesteryears, kundan jewelry is no more meant for traditionalists. It is the jewel of brides a la mode! If you think you are one, read on…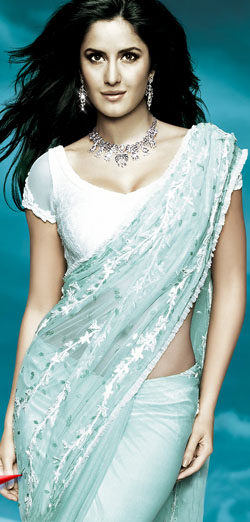 Kundan jewelry has been around for centuries and continues to rule the roost as far as traditional styles of jewelry are concerned. This quintessentially Indian form of jewelry has been in vogue ever since the Mughal era and the fascination with this ancient form of jewelry is undying. What makes kundan jewelry so popular is its timeless appeal and the subtle richness each piece exudes. No doubt it is popular with the women of today. What with the likes of marquee queens, Rani Mukherjee, Shilpa Shetty, Deepika Padukone and Aishwarya Rai expressing solidarity to kundan jewelry time and again. Be it an awards show, a party or a high-profile wedding, Bollywood celebrities are seen sporting these classic masterpieces. Also, international celebrities like Jennifer Lopez, the late Princess Diana, Goldie Hawn, Sally Field, Hillary Clinton, Chelsea Clinton, Elizabeth Hurley, Anna Kournikova, Madonna, Sharon Stone, and Jemima Khan have adorned this graceful Indian kundan jewelry at high profile social, music, Hollywood and fashion events.
The exquisite designs combine the vibrancy of colorful Rajasthan in the intricately designed masterpieces in pure gold with precious gems and traditional minakari work. "The historical aura associated with kundan jewelry that was once worn by royalty is what lends it a magical and timeless quality. Wearing kundan is like bringing alive the experience of an old and intricate form of Indian jewelry craftsmanship and relive the grandeurs of the past," says actor Rani Mukherjee.
Kundan jewelry, especially pieces that come embellished with uncut diamonds, is the rage this season. When you own a piece of kundan or polki jewellery, it is like having a work of art in your possession. Accessory designer Flaura Shukla says, "Kundan jewelry spells class. Its traditionally unique designs, with embossed colourful gems vividly bring out the femininity in a woman. To own these ethnic yet royal jewelry pieces is any woman's dream."
Kundan jewelry is set in purest form of gold and embellished with a variety of gems including uncut diamonds, emeralds, rubies, pearls and sapphires. They have intricate enameling or colorful minakari. Today, kundan jewelry is primarily manufactured in Jaipur and Bikaner in Rajasthan.
The process of creating these exquisite pieces of jewelry is a painstaking one and takes an entire team of specialized craftsmen to create a single piece.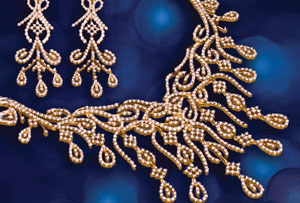 You could select an elegant kundan set with necklace and a pair of earrings that ranges from $1,700 to over $20,000, depending upon the intricacy and the type of set you buy. Buying a complete kundan set that also includes matching kundan bangles, anklets, maang tikka (hair ornament worn to the center of the hair) or jhumar (hair ornament worn to the side of the hair), and baju bandh (armlet) you could treat yourself like royalty. The whole jewelry set can be custom designed for you. You can easily shop for kundan jewelry online but make sure that your jeweler is trustworthy. It is better to decide the wedding dress first and then match kundan jewelry to go with the dress. Another groundbreaking idea could be to wear contrast colors. How about going for green jewels with a red lehnga-choli?
Tips for Purchasing Kundan Jewelry:
The weigh

t of kundan can be deceptive, because of the use of gold and shellac. Before buying any pieces, determine the exact weight of gold versus shellac, so that you don't end up paying for the latter.

Go for the thinnest designs when buying kundan. The thickness and weight of a jewelry is usually due to the use of shellac or wax.

The uncut diamonds in the set should not have any fissures or specks in it. If the diamonds in your chosen set have any of these, they are flawed diamonds.

Real kundan has a subtle and mellow luster as opposed to bright yellow of normal gold. Even the diamonds used in kundan sets are opaque and of mellow appearance. If the crystals in your piece are glittering and shiny, they are not real.
Now, when contemplating what range of jewelry to buy for that special day, give kundan jewelry an assured thumbs up. This versatile form of jewelry will not only give you the edge above the rest, you will also have purchased your own piece of royal treasure.
Glow in the mellow sparkle of uncut diamonds and rubies set in the purest form of gold on your wedding day and rediscover the allure of traditional beauty and femininity.