The Shimmer, Sparkle, and Glitter of Wedding Jewelry
When planning or preparing for a wedding, it is important to cover every tiny detail. While there are things that can sometimes be overlooked, something that rarely is missed is the task of choosing the bride's wedding jewelry. Among the top on the list of priorities, this task is something women excitedly look forward to accomplishing.
There are several nuances of wedding jewelry, each of which is as important as the other. As with attire, jewelry comes in many different styles and trends. While you may have a discerning taste, you have to admit pieces are exquisite and intricate.
The engagement ring is the first major focus. Today, most young brides are at liberty to select their own piece, or at least make their preferences known. While most women crave a solid rock, there are several other styles which are as appealing, including pressure set diamonds which give an impression of the solitaire without being as expensive. Princess cuts, baguettes and ovals set in yellow and white gold bring out the beauty of the clear stone in remarkable style. Adding to the magic of the engagement ring is the wedding band, which can be set in diamonds, simple white or yellow gold, or even as an eternity band.
Considering most weddings in India are based around traditional themes and rituals, Indian designs find predominance in the selection of jewelry as well. Elaborate, heavy sets are selected to match the each of the outfits that will be worn. While some people prefer to pick out more delicate patterns, the greater emphasis is clearly on heavier sets, as this is the one occasion where you can really dress yourself up.
Traditional gold sets can never go out of style. Even within this kind, there are many types from which to choose. Heavy sets can come in longer styles, or even as chokers. Paired with either dangling earrings or simpler tops, you will find a wide range of effects possible when you play with different combinations. With intricate carvings and filigree, or even thicker, stark designs, you are sure to be overwhelmed by the plethora of styles available.
To create added charm, stonework is commonly used to bring out the color and beauty of a set. When added to a piece, the beauty is enhanced and chances are the set will nearly perfectly match the outfit. A combination of rubies and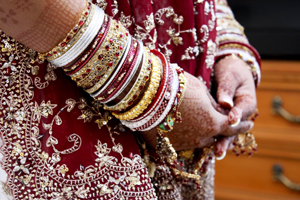 gold or even emeralds and gold can really create magical touches. A popular variety today is the jadau set, which uses semiprecious stones and kundan work (rough diamonds set in gold). These sets are elaborate and extremely beautiful, but can be very expensive when they are styled well. Most brides prefer to have at least one jadau set in their collection of jewelry. For those who feel that the jadau set is beyond their reach, many art houses have created imitation stones set in silver and given a gold polish. While they can help create a lasting impression, they are sure to be lighter on the pocket.
No bride's collection is complete without the inclusion of diamonds. Whether worn during the sangeet, engagement or even the reception, a diamond set adds a generous touch of class and style to every outfit worn. There are varying designs of diamond sets to help you match your style and personality. Larger sets may use smaller, but more clustered diamonds to look significant, and can set you back a considerable amount of money. While most of them are set in white gold, there are also some set in the conventional yellow. More expensive than these are stylish statement pieces that make use of larger, clearer diamonds, which stand out as single stones even within the set. Given the size and clarity of the stone, these are really for those who have no constraint or restriction when it comes to the budget. Designer pieces are extremely popular today, fashioned with emeralds and rubies along with the diamonds, and set as chandelier earrings or elegant drops. Even combined with pearls, the instant bond that diamonds make with women is obvious. For those looking for something simpler, an elegant string of diamonds still has plenty of charm and an air of sophistication.
Regardless of your budget or your outfit choices, let your personality reflect in the jewelry that you pick for your wedding. Your choices are sure to make you stand out and sparkle. When your jewelry matches the person you are, you are sure to carry it perfectly and give your look a new dimension.