South Asian Brides: Sleep vs. Beauty How to get 5 more minutes of sleep on your wedding day:By Michele Renee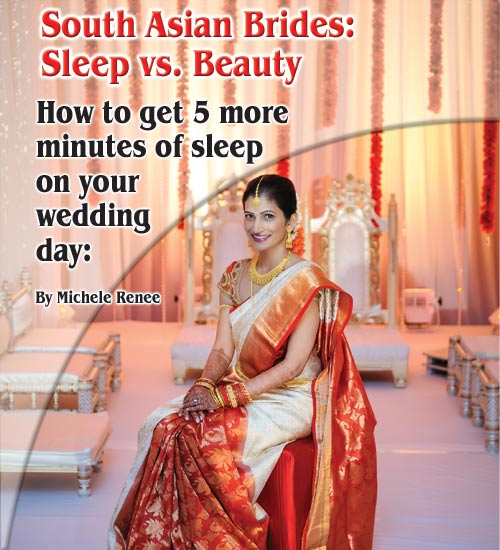 I have literally done hair and makeup on a Bride WHILE she was sleeping. Yes, this is a true story and I have witnesses. My beautiful but sleepy Bride was propped up with just enough pillows and rolled up towels to successfully finish her hair and makeup. Sure it was easy for me – I had complete creative control; however, I could not help but feel sad for her. I wished that I could waive a magic wand and have her instantly draped perfectly with shiny rows of colorful bangles and flawless hair and makeup. Yet, in real life there is no such thing as magic and the getting ready process can be hectic no matter how meticulous we plan – life takes over. So allow me to humbly present a few of my personal life lessons as a hair and makeup artist to help you get 5 more minutes of sleep on your wedding day.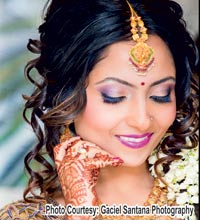 1. Hair and Makeup is the first activity and will set the tone for the rest of your day. You want to make sure you start it off right. Have the artist go on location to you in your house or in your hotel room. Running around on your wedding day will only waste valuable sleep time. Check out reviews or get references and make sure the hair and makeup artist has a good track record of being on time.
With many South Asian ceremonies being very early, it is not uncommon for hair and makeup to start at 4 a.m. You want to make sure that the person you hire will not only show up but show up on time. Make sure you have a trial run with the hair and makeup artist before your wedding day. Plan the trial run on a day you can use the hair and makeup for another event. Some Brides have their trial on the same day they are getting their engagement pictures taken, so they won't have to "waste" the makeup and can see how the makeup reflects in pictures. Having a trial run before your wedding day will assure you that you are happy with your look. It will also give you a chance to meet your artist and make sure your personalities are compatible. If you don't like your artist when you have had plenty of sleep you definitely won't like her when you are tired and exhausted.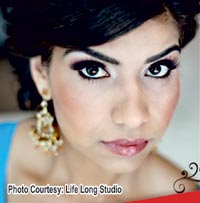 If possible get ready by yourself in your hotel room or limit the number of people in your room. There is going to be a lot of excitement and everyone is going to want to be around the Bride. Your friends will want your opinion and approval on everything. "Do you think I should wear these bangles? What do you think of my hair? Should I wear these earrings?" These are all good intentions but you need to stay focused and more importantly, stay still. Let the hair and makeup artist work their magic so it at least looks like you got 8 hours of sleep.
Hope for the best but plan for the worst. Make sure all your jewelry is accounted for, set out your shoes, and make sure you have plenty of safety pins. If possible, sew in wig clips to your dupatta so it will be easier to clip in instead of using safety pins and bobby pins. Trust me on this one – this one thing can save you 20 minutes. Instead of having your Aunties meticulously create a web of pins in your hair, a $1.00 wig clip will not only be easier to get in and out but it will be much sturdier. While your Aunties are draping your saree have your hair and makeup artist sew in the wig clips to save time.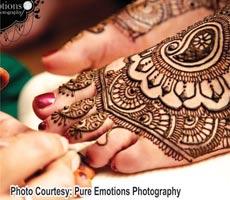 Plan to be running on Indian Standard Time. This is the most important tip on getting sleep. American weddings have 200 guests and that is considered ENORMOUS. A South Asian wedding has 200 guests and that is considered intimate. So, just with the size of a typical South Asian wedding of 600 guests there is bound to be metaphorical traffic jams and tardiness. That is the beauty of it.
You can not lose sleep over worrying about logistics. We mortals make plans and God laughs. Roll with the punches and remember that it is perfect because it is not perfect. Michele Renee is a makeup artist and owner of The Michele Renee Studio. Learn more about her services at http://www.michelereneethestudio.com/.