Things to Keep in Mind while Deciding your Wedding Hairstyle
On the wedding day, every bride wants to and should look impeccable from head to toe. It is a day when all eyes will be on her, following her every step. Dear brides, just as you take time out to prepare for your outfit, your jewelry, and your makeup, you need to think about your hairstyle as well. After all, it's called a woman's crowning glory, right? Here are some things you should keep in mind while deciding your wedding hairstyle.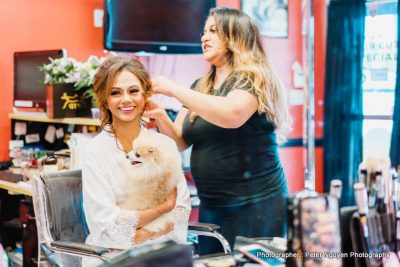 Coordinate with your dress and wedding style
As hairstyles are the last thing to be decided, it makes things easier as you already know your wedding style, your wedding day schedule and your wedding outfit. Your hairstyle should complement your wedding outfit, be it a lehenga or a saree or a gown. Whether your outfit has a boat neck or a mandarin collar or a peter pan collar or a deep back, discuss it with your hairstylist.
Consider your face shape
You want a hairstyle that not only coordinates with your dress but also flatters your face shape. Different hairstyles suit different face shapes. For example, if you have a square face shape go for a low bun, while a classic topknot bun will suit anyone with a longer face.
Don't forget your headpiece
Are you going for a dupatta, a veil, flowers, maang tikka, mattha patti, or a dazzling tiara? Whatever headpieces you have chosen or will be choosing, will have a direct effect on your hairstyle. So, make sure you decide on your headpiece before you go to meet your hairstylist.
Find Inspiration
Make use of Pinterest, real weddings, and bridal magazines to get ideas on the type of hairstyle that you like. Follow some hairdressers on social media, and save photos of the hairstyles that you like.
Wedding day
bride
wedding hairstyle
wedding style
lehenga
face shape
dupatta