Top 5 Color Trends for Winter Wedding Events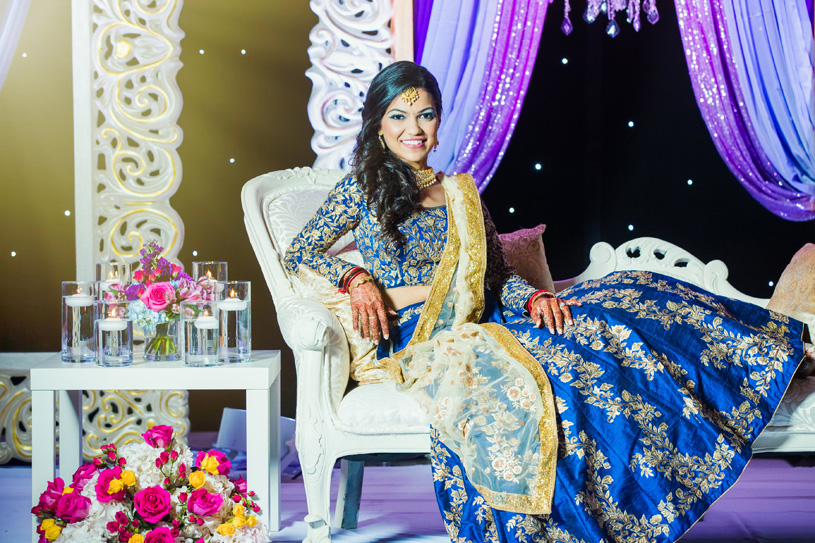 A wedding that is distinctive and memorable is a wish many brides make for this important life event. Multi-faceted hues and dimensions of color are sure to leave an imprint, and moreover, are a characteristic trait of South Asian weddings. Weddings have always been affairs to remember, with everyone involved cherishing different memories. Brides spend a good bit of time coordinating colors – from the bride and groom's clothing to the decorations for each event, invitations, and so much more. Whether the color of the flowers or of the bridal lehnga, color is an important detail for each and every event of the wedding. Some seasons feature bolder colors than others, but even winter weddings can dazzle with a range of festive colors. Consider these color combinations to ensure your wedding events leave an impression on your guests!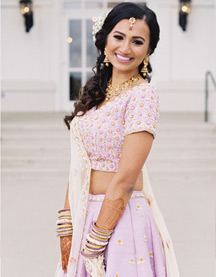 Rose Pink and White for an Elegant Engagement
Engagement ceremonies can be considered a kick off for the main event! Cool tones of rose pink and white set the tone for an elegant and significant moment. Pairing rose pink with white for the couple's clothing along with the floral decorations creates a beautiful ambiance. These colors are sure to add an element of cool, soothing tones during the winter.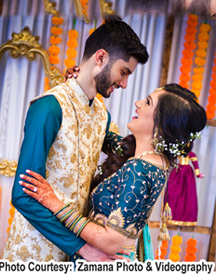 Emerald Green for a Festive Mehndi and Sangeet
The color green symbolizes many things but most importantly gives the feeling of being pure and fresh as well as full of life. So a deep emerald green is the perfect choice for the mehndi and sangeet, both of which are events full of life and celebration. Shades of green add an air of royal elegance and purity during the dreary winter months. Plan your decor and your clothing to include greens, but also complementary bold colors to heighten the festive atmosphere.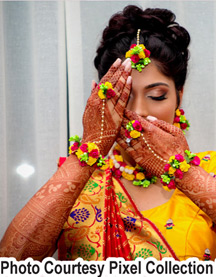 Golden Yellow for an Auspicious Haldi/Pithi
The haldi (also known as pithi) ceremony is one of the most colorful rituals in Indian weddings. A very traditional ceremony, the haldi/pithi takes place the day before the wedding and is both auspicious as well as playful. Given the haldi mixture is a blessing for the bride and groom it is only fitting that the deep golden color be given consideration for the decor and clothing. Many brides adorn themselves with yellow floral jewelry for this ceremony. Adding hues of yellow to the decor makes it a vibrant ceremony.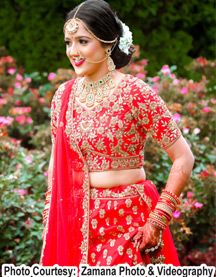 Claret Red for a Winter Wedding
The color red is of significance in Hindu weddings and symbolizes love, passion, fertility, and prosperity. While red is a traditional, auspicious color already worn by many brides on their wedding day, there are many shades from which to choose. A deep, claret red is dark color with hues of purple and is perfect for a winter wedding. The deep majestic tone is perfect for the bride who wants to give her wedding a majestic feel. When complemented with cream, white, greens, and pinks, brides can choose a unique look for themselves while still staying true to traditions.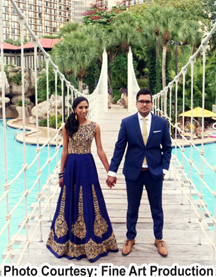 Cobalt Blue for a Sophisticated Reception
The reception is a time to celebrate and provide the couple and guests an opportunity to bring all the festivities to a close. Blue is often a symbol of spirituality, peace, and youth. With their whole lives ahead of them, the youthful color is the perfect choice for a couple to begin their new journey together. Beautiful hues of cobalt blue are perfect for winter weddings. With many choices for complementary colors, couples can create their own unique color combinations with shades of blue for a personal touch. Colors play an important role in Indian weddings, and with so many pre-wedding events, brides and grooms can truly let their personality shine with their preferences. A winter wedding is the perfect time to showcase color and breathe life into an otherwise underrated season.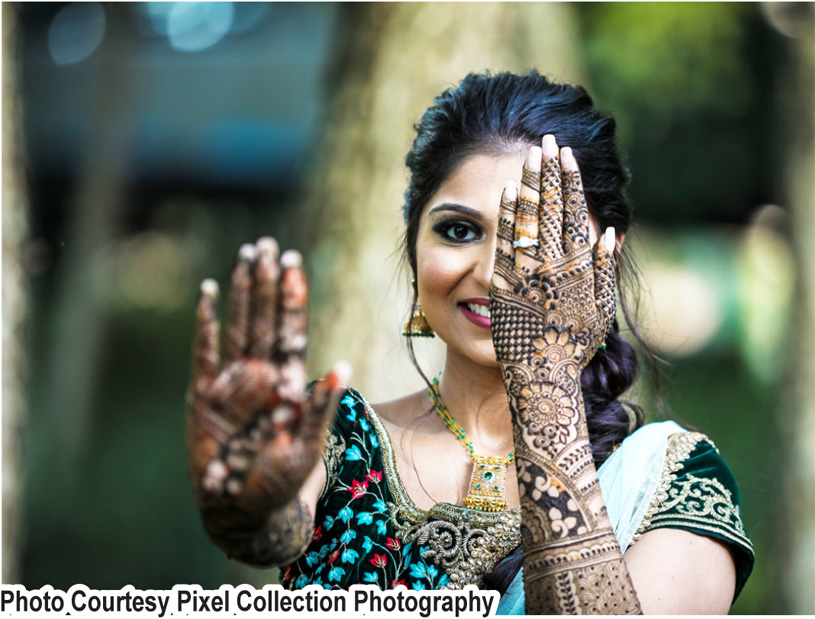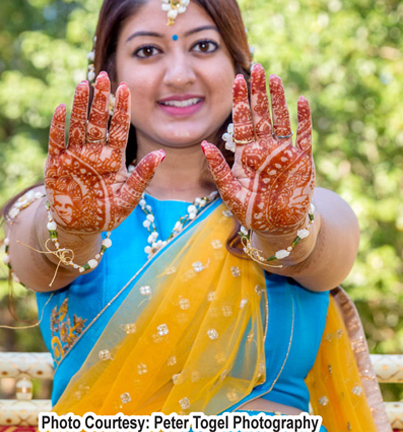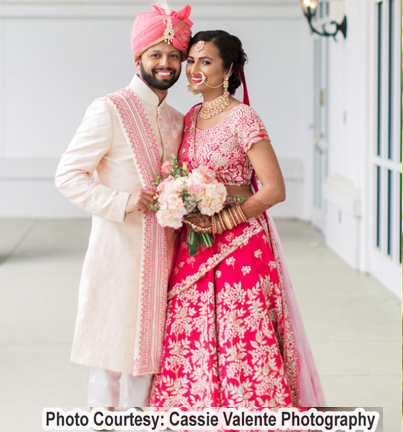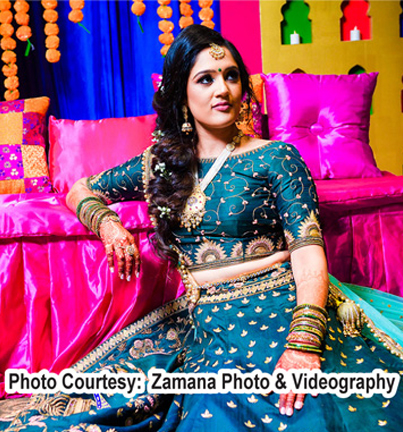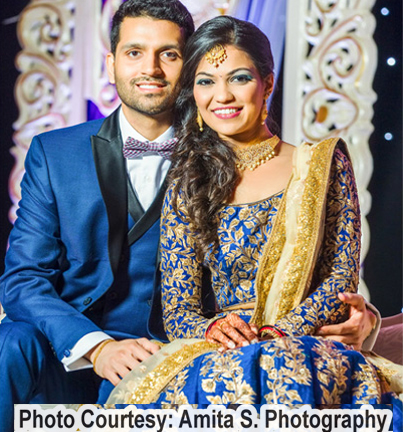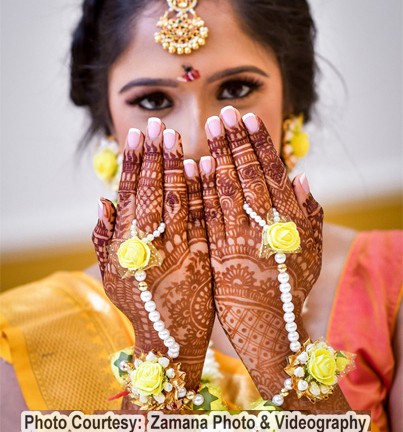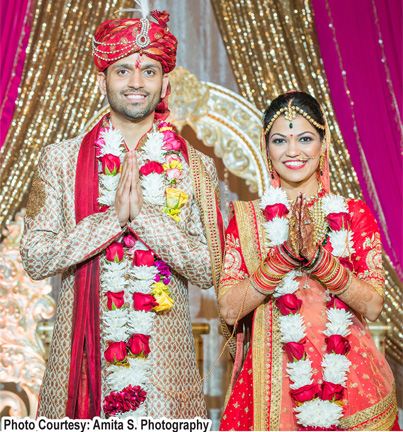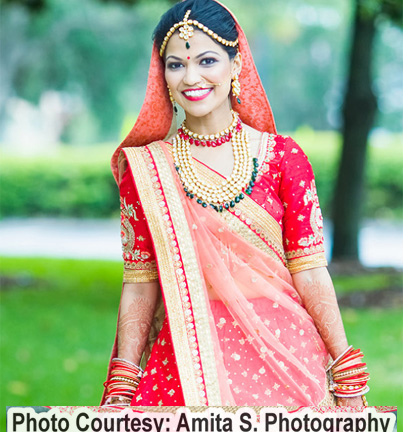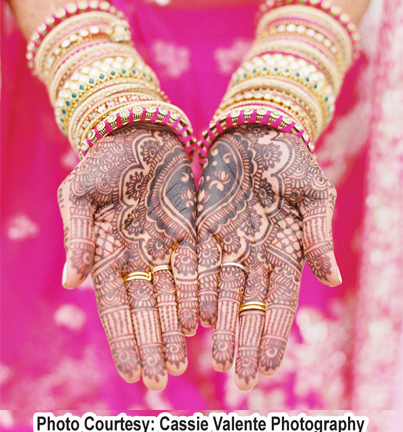 Color Trends for Winter Wedding Events
Rose Pink and White for an Elegant Engagement
Emerald Green for a Festive Mehndi
Indian wedding Sangeet ceremony
Golden Yellow for an Auspicious Haldi/Pithi
Washes negative energies
Claret Red for a Winter Wedding
Cobalt Blue for a Sophisticated Reception
Bridal Lehnga
Pre-Wedding EventsHindu weddings
South Asian weddings
bride and groom's clothing to the decorations for each event
Indian wedding invitations
weddings can dazzle with a range of festive colors
Cool tones of rose pink
floral decorations
complementary bold colors to heighten the festive atmosphere
Haldi ceremony is one of the most colorful rituals
traditional ceremony
haldi mixture
floral jewelry
vibrant ceremony
pre-wedding events