Top 5 Hair And Makeup Tips for South Asian Bride By: Michele Renee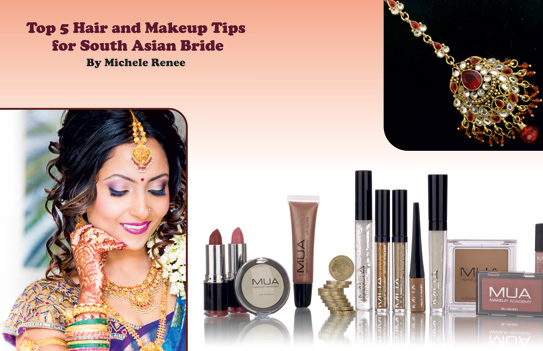 1. Tikka: The tikka is one of the most distinguishable items on a South Asian Bride, but it can also be the most annoying if not attached correctly to the hair. From slipping down on the forehead to being off-center, a properly placed and secured tikka will save you the embarrassment of appearing amiss in pictures. Two items will be your tikka's life saver: a Wig Clip and Eyelash Glue. First tease the crown of the head. Then hook your tikka on one side of the wig clip while attaching the other side of the wig clip into the teased hair. After all of your makeup is applied, generously apply eyelash glue to the jewel of the tikka. (Make sure that you let the eyelash glue dry for a minute on a piece of paper to become tacky.) Next, find the center of your forehead and hold the tikka in place until the eyelash glue dries. From there, you are free to dance the night away!
2. Healthy Skin: Before applying any makeup, it is super important to have healthy skin! You have all heard the old saying you are what you eat and it is true! Make sure you drink water and avoid greasy foods. If you have problematic skin, visit a dermatologist at least six months before your wedding day. If you have great skin, continue your regime, and get a good facial about 10 days before the wedding. (Be careful not to get a facial too close to the wedding events, you might have some breakouts immediately after the facial.) Wash your face every night before you go to bed, and make sure you sleep on a clean pillowcase every night. If you have a pimple the day before, try MARIO BADESCU drying lotion, which works like magic. Your pimple will disappear overnight.
3. Color Matching: I have heard a million times from Aunties to stay out of the sun and not to get "too dark." But it is the pigment in South Asian women's skin that make them beautiful and unique. South Asian women are amongst the most beautiful in the world and in this country, just look at the reigning Miss America, Nina Davuluri. So make sure that your foundation is matched very closely to your natural beautiful skin color. If it is too light, it will be picked up in pictures and your face will look a different color (ghostly) than your body or even worse an ashy gray color. Your foundation color should be somewhere between the color of your driving arm (the left side of your forearm is typically the darkest) and your chest (which is usually a little lighter than the rest of your body.) Make sure when you apply your foundation to extend the product on your on your neck, so in pictures you look completely blended.
4. False Eyelashes: These are "push up bras" for your eyes. South Asian women are known for their exotic eyes. Luckily, most South Asian Brides were born with beautiful thick lashes. With all the bling and color you are going to wear on your wedding day, it will not hurt if you step up your eyelash game as well. In context and in pictures, false lashes will only help your exotic eyes stand out appropriately. There are many different sizes for different eye shape and face shapes, try a few so you feel like yourself and not a circus performer. Also, fake lashes will help distract from dark circles, a common South Asian ailment. A mistake many Brides use to hide their dark circles is using a much lighter shade than their skin tone. Light colors highlight and reflect light especially in the camera, so when concealing your dark circles never use a shade more than 2 tints off from your natural skin color. A reliable product to cover South Asian dark circles is Bobbie Brown Creamy Concealer in Pale Yellow. This product is tried and true and will make you look like you had 8 hours of sleep.
5. Toes: South Asian Brides' fingers and toes receive more camera time because of beautiful henna designs. Don't let your unmanicured appendages steal the show in pictures. It is advised that you make a nail appointment within the same 24 hours as your henna day, to assure your nails look fresh and not chipped. Make sure the technician does not use any oil on your skin as that might interfere with the color progression of the henna. Also, it is said that the darker your henna, the more your Mother-In-Law loves you, so to receive an abundance of love, take a blow dryer to darken the pigment. Many Brides are opting to receive gel nails on their wedding day. The benefits of gel nails are that they will last 2-3 weeks without chipping and feel like your natural nails. With the many events that a South Asian Bride must attend, gel nails might be the perfect option, the only drawback is that it is hard to change your polish color once it is on, but will all the festivities, who has time for a polish change.
Michele Renee is a makeup artist and owner of The Michele Renee Studio. Learn more about her services at http://www.michelereneehairandmakeup.com.