2013 Orlando MyShadi Bridal Expo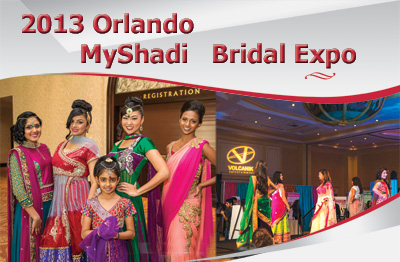 Eager brides lined the hall of the stunning Gaylord Palms Resort & Convention Center waiting for the doors to open. The Orlando MyShadi Bridal Expo, which showcased products and services essential for planning a traditional, cultural wedding in the United States, kicked off to a great start as couples and their families filled the ballroom.
Elaborate mandaps and upbeat music created an elegant, yet energetic, ambiance as attendees perused over 80 vendor booths looking for ideas and hoping to finalize wedding details. Being able to meet with a variety of vendors in one afternoon was the highlight for most brides. "No words can describe how unbelievably excited I am for the Desh-Videsh MyShadi Bridal Expo at the Gaylord Palms Resort & Convention Center! I'm so ready to scratch off the list of vendors we need for our wedding!" exuded an enthusiastic bride, Krystal Jaikaran.
A wide variety of vendors graced the floor of the exhibit hall displaying their products and services and inviting attendees to stop and learn more. Caterers served delectable food samples, giving attendees a taste of the type of cuisine they could book for their wedding. Photographers wowed brides and their families, who were enamored with poignant photographs that captured truly remarkable memories.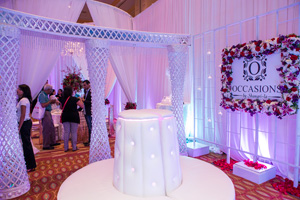 Mehndi (henna) and makeup artists gave brides a firsthand look at possible styles for their special day during live demonstrations. This year's Orlando Expo featured a mehndi competition among the many artists present at the show. The winner of the mehndi competition, Ena Rodriguez of The Henna Studio, wowed judges with her unique and intricate design.
Volcanik Entertainment, the official Orlando MyShadi Bridal Expo DJ, set the tone for the Expo with the latest high-energy, upbeat Bollywood music.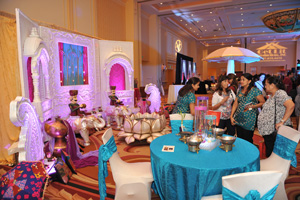 Three strolling fashion shows, sponsored by Traditions by Kresha, LeTrend Boutique, and Dolly Patel, showcased the latest in wedding and formal wear. Models strutted down the runway showing off gorgeous, modern saris and intricately designed lenghas, leaving brides and attendees with plenty of ideas for their events. Needless to say, many walked away from the Expo with arms full of shopping done for the upcoming festival season!
Brides eagerly lined up during the fashion shows for a chance to win fabulous raffle prizes. Recently engaged couple Beverly Thomas and Victor Singh, walked away with the grand prize – two free round trip tickets to India.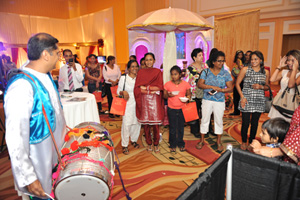 Desh-Videsh thanks Platinum Sponsors Gaylord Palms Resort & Convention Center, Occasions by Shangri-la, MyShadi, and The Arpan Group as well as all participating vendors for yet another successful Bridal Expo!
For more information about the MyShadi Bridal Expo, call Desh-Videsh at (954) 784-8100 ext. 200 or send an email to info@deshvidesh.com.
electric smile? Or that her native beauty and lustrous hair could make anyone envious? Unfortunately, while many Indians continue to voice their solidarity for Nina, some are no different from those that pull her down.
It is not just newfound fame and brilliance of the title for which Davuluriis grateful. The next year will keep her on a busy schedule, but she does hope to put her $50,000 scholarship to good use. Unlike some pageant winners, Davuluri is not after a Bollywood future, nor is she in it for the glitz and glamour. She intends to continue her pursuit of medicine, while studying to become a doctor. Congratulations Ms. America and we wish you well on future endeavors.
MyShadi Bridal Expo Orlando 2013 Social Media Winners
This year, Desh-Videsh saw a record number of impressions on social media outlets regarding the MyShadi Bridal Expo. Attendees and Expo exhibitors participating through social media were entered into a raffle. Take a look at the Desh-Videsh Facebook page, and you will see the wonderful pictures and thoughts from the Expo. Thanks so much to all who participated!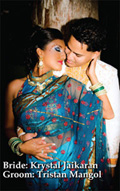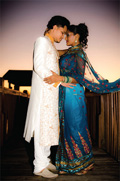 Bride/Groom Winner
Congratulations to Krystal Jaikaran for winning the 2013 Orlando MyShadi Bridal Expo Facebook competition. Krystal and her fiancé, Tristan Mangol, will be wed on December 13, 2014. Krystal's live-blogging during the show was certainly a tremendous help for many other brides and visitors!
Krystal and Tristan won a certificate for a one-night stay at the Orlando World Center Marriott Resort & Convention Center. The certificate also includes Dinner for Two at Siro's.
Photos provided by the bride, Krystal Jaikaran.
Vendor Winner


Congratulations to Josh Brown of Apollo's Chariots for winning the vendor Facebook raffle for the 2013 Orlando MyShadi Bridal Expo. Josh participated with various status updates on Facebook, tweets, and even a post on the Apollo's Chariots blog. Josh will be featured in an advertorial in the next wedding issue of Desh-Videsh Magazine (December 2013). Be sure to pick up your copy to learn more about Josh and Apollo's Chariots!