My Shadi Bridal Expo
The MyShadi Bridal Expo has done it again! An extravagant display of wedding canopies, colorful sarees, sparkling jewelry, and floral arrangements adorned the exhibit hall at the Hilton Fort Lauderdale Marina Hotel on Sunday,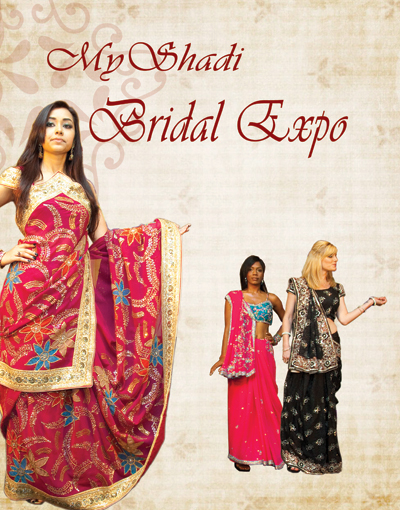 April 25. Sponsored by Desh-Videsh, the 3rd MyShadi Bridal Expo attracted over 1,500 brides and grooms, who sought to mark a few items off their wedding planning to-do lists.
The MyShadi Bridal Expo was the brainchild of Raj and Aruna Shah, Desh-Videsh Managing Editor and Publisher respectively. They have had firsthand experience planning a traditional South Asian wedding in the United States for each of their two sons. "Maintaining our traditions, staying within a budget, and incorporating Western elements can be a challenge," says Mr. Shah. Their experience inspired the concept behind the My Shadi Bridal Expo, which brings together a wide array of wedding and event-planning vendors all under one roof on the same day.
For future brides, grooms, and their respective families, the Bridal Expo was a one stop shop to peruse anything and everything one would need for a dream South Asian wedding. Over 65 vendors set up exhibits to showcase the latest in wedding-related products and services. From banquet halls and hotels, event planners, decorators, and DJs, to photographer/videographers, mehndi artists, jewelers, and clothing boutiques, the exhibit hall was bustling with activity. Caterers and cake artists filled the exhibit hall with the tantalizing aroma of wedding fare. They offered delightful, mouth-watering samples to brides and grooms to give them an idea of what the food at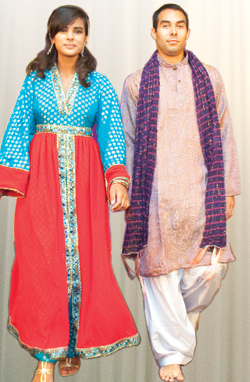 their wedding might taste like. Every Bridal Expo guest went home with a goodie bag filled with gifts and coupons as well as a MyShadi Bridal Expo program booklet listing detailed contact information for each vendor.
Alisha Khan attended the Bridal Expo with a checklist of tasks she needed to accomplish in hand. With her wedding just four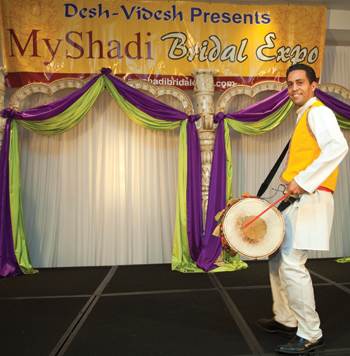 months away, she was looking forward to meeting a lot of different vendors all on the same day. "There's just so much to think about. In just a few hours, I was able to either check something off my list or arrange follow-up meetings." She walked away from the Bridal Expo with a sense of accomplishment.
Another attendee, Mrs. Sujata Rao whose son is getting married this winter, was thrilled to see clothing and jewelry boutiques in attendance. While she initially needed to purchase jewelry for her daughter-in-law to be, she also made a few purchase for herself. "The mother of the groom needs to look her best too!"
For several vendors, this was their first South Asian bridal show. Though they were not sure what to expect, most vendors felt the Bridal Expo was a great experience and are looking forward to working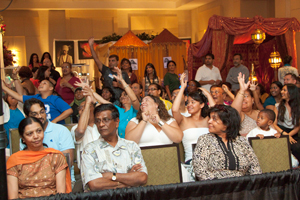 more with South Asians in the future. Mercy Acosta from Jungle Island in Miami, Florida, believed the show to be beneficial. "The vendor selection and variety was great. The organization of the show was also very good. It was a great opportunity for our venue to get exposure to the Indian market."
The Bridal Expo was the place to be to get tremendous exposure with direct access to brides and grooms. Vendors had the opportunity to meet face-to-face with potential customers and establish definite leads. Bill Hamlin from the Doral Hotel states, "What a great Bridal Show! I established relationships with prospective brides and gained great exposure to the South Florida Indian community." Several vendors even went home with signed contracts for their services. Clothing boutiques and jewelers at the Bridal Expo were pleased with their sales. Occasions by Shangri-La, Devotie, Amish Thakkar's Fine Art Productions, and the Hilton Orlando Hotel were official platinum sponsors for the Bridal Expo.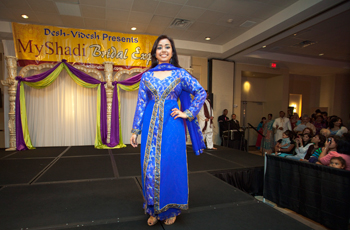 Attendees took a brief respite from wedding planning to enjoy several entertainment segments, each of which featured the latest trends in formal wear and jewelry. The segments kicked off with a performance by Ildebran Sancheza on the dhol. Under the direc tion of Faiza, from Apna Andaaz, gorgeous models showcased exquisite sarees, wedding outfits, and dazzling jewelry during two fashion shows. Sangeeta Patel did make-up for the models. The audience was further dazzled by a fusion dance performance sponsored by Dance for Life, a company that specializes in teaching couples dance routines for their first dance. The performance was a blend of Bollywood and Latin dance flavors. Last but not least, Rupal Talati performed traditional and contemporary wedding songs, accompanied by Ildebran Sanchez on the dhol.
During the entertainment segment, brides lined up for their chance to win several door prizes generously donated by several vendors. One lucky couple walked away with the winning raffle ticket for the grand prize of a honeymoon trip for two to the Bahamas.
Once again, the MyShadi Bridal Expo was a grand success. Mrs. Shah was thrilled to see so many brides and grooms get their wedding planning off to a great start. "It was a pleasure to see so many brides and grooms accomplish so much. Now they can relax a bit and focus on building their lives together!"
The next MyShadi Bridal Expo will be held on September 12, 2010 at the Hilton Orlando Hotel (6001 Destination Parkway, Orlando, FL 32819) from 12 noon to 5 pm. For more information about the MyShadi Bridal Show, call Desh-Videsh at (954) 784-8100 ext. 200, send an email to info@deshvidesh.com, or visit www.myshadibridalexpo.com.