South Florida MyShadi Bridal Expo 2012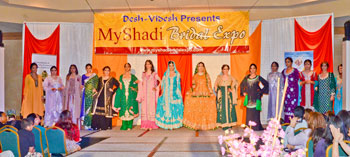 At 11:30 am, a half-hour before doors officially opened, nearly 100 brides were lined up waiting to peruse the aisles of the eighth MyShadi Bridal Expo at the Fort Lauderdale Coral Springs Marriott Hotel. On Sunday, April 29th, Desh-Videsh hosted its hugely popular MyShadi Bridal Expo, where over 60 vendors displayed their products and services. In the hotel's beautiful ballroom, it was obvious why Desh-Videsh and MyShadi have become synonymous with quality and professionalism in the wedding expo business.
The event was widely attended by over 1,000 attendees – brides and grooms-to-be as well as their families. Attendees had the opportunity to meet personally with photographers, hotel and banquet hall representatives, event planners, and decorators. Who could resist the scrumptious samples of wedding cake and tasty bites of food fare?! There were also professional mehndi and make-up artists providing live demonstrations of their art. There was even a competition amongst the mehndi artists – each of them entering one of their intricate works of creative magic – the winner was Amber Emkin of HennaParty.com. Other entrants included Arman Henna Art, AnjuThaker, Farah Mehndi, and Henna Art.
"Just when I was feeling overwhelmed by the thought of the wedding planning and the many details that need to be arranged, I heard about this show. Now that I've had a chance to meet with some vendors, I'm feeling pretty good about where we stand! All it took was an afternoon of schmoozing. And who could say no to the delicious cake samples!" exclaimed bride-to-be, Mira Nair.
Neil Persad of Florida Melody Makers got the crowd moving with amazing music. Rakesh and Madhu of Anand Events provided the elegant stage decorations and created the perfect ambiance for the Expo.
Brides-to-be and fashion-savvy attendees were enthralled by the beautiful models that looked elegant and fashionable in the latest formal wear designs. The first fashion show featured designs by Rupees Sarees, a company that specializes in traditional and exclusive saree styles from all over India. The second fashion show was choreographed by Ateeqa Boutique, which featured exquisite and custom Pakistani designs.
At various intervals throughout the afternoon, brides lined up for their chance to win one of several toss-out prizes, including a number of weekend bridal/spa packages at some of the hotel vendors at the show. But the high point was two couples winning complimentary tickets to India generously provided by Qatar Airlines (www.qatarairlines.com) and Just India (www.justindia.us), a destination marketing company.
If you're planning a wedding or any type of event, you don't want to miss the next MyShadi Bridal Expo on Sunday, September 23rd at the Hilton Orlando Hotel. If you are a vendor looking to secure a booth or a bride or groom planning the wedding of your dreams, or just someone looking to browse through a wide collection of beautiful clothing and jewelry, be sure to visit www.myshadibridalexpo.com
Photos Courtesy:
Vanessa Hankins Photography 305-890-8536 www.vanessahankins.com