Destination Wedding: Dream or Nightmare?
By Nirjary Desai of KIS (cubed) Events
Nirjary Desai
KIS (cubed) Events
Atlanta based based Event Planner
South Asian Destination Weddings have become the latest trend globally especially with the influence of Bollywood & Hollywood celebrities. Studies have shown that with over 350,000 destination events each year, there is no doubt how South Asian weddings keep climbing the ladder of over the top high dollar productions. These iconic productions globally are orchestrated by mastermind planners and event producers who know what they are doing and have the experience selling a Dream & Delivering a Fairytale and not a Nightmare!
We see so many new suppliers in the market that are offering destination event services, but is it because they know what they are doing, or do they see the dollar signs? How truthful are they to you about the actual costs of your destination wedding? Are you informed of challenges when you are booking the resort or the destination?
These points are important to remember since there are so many moving parts to a South Asian wedding. And there are many more when you consider a Destination Wedding in another part of the world with the week long celebrations, traditions, rules, regulations, and cost involved in pulling it off flawlessly.
Here are some of my top tips when considering a Destination Wedding:
Hire a Professional Wedding/Event Planner
This is important because someone who is a professional and has years of experience is not going to be cheap, but comes with years of knowledge. Especially for a South Asian wedding, find someone who understands both families' background and needs and can work collaboratively with you to give you a stress-free experience. Often, I get calls from clients who hire new planners that don't have the knowledge in full scale production events in destinations and are looking to get a notch on their belt. Beware of this because do you really want to have your most important day be someone's trial and error? This also applies to your family friends who are trying to get into the industry. Remember it is so important for you to hire a professional to give you a stress-free experience and not add to your emotions.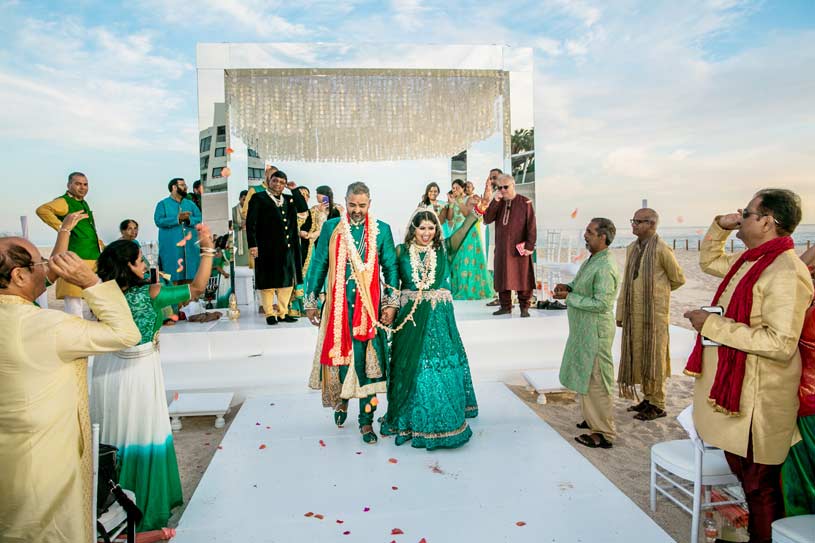 Selecting the Right Venue
When selecting a destination event venue, don't just look at price, but also look at the service. South Asian weddings and events have so many moving parts and the last thing you want is to be a number and sign up to be at a resort that is a factory of weddings. My clients want exclusivity and service and I believe that's what all clients want. It is also important that you don't just go for what is the lowest price, because that will determine your experience from all aspects, especially if you are going to another country for better service. Having realistic expectations is so important, so go on a site visit to the resort when they are conducting events.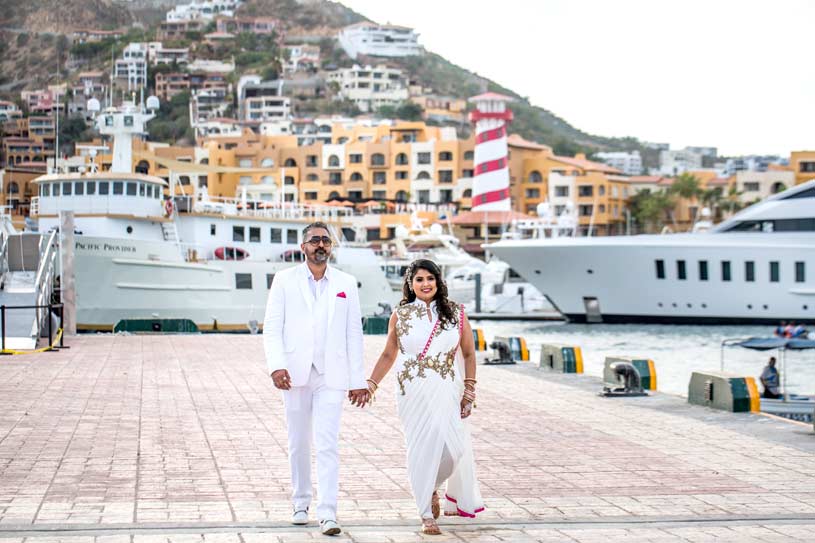 How do you bring Design, Décor, Production to life in a Destination?
Many destinations have great local suppliers, but if you don't speak the language its harder to get your point across. Our company has a particular style and look that our clients are attracted to, so we offer design services with our team of designers to give the clean finesse and creative touch that our client's expect. Spending time going back and forth due to a language barrier may be a waste of your time and money. It's better to pay a professional who knows design and can bring your vision to life by using local resources.
On-Site Resort Planners/Travel Agents
Many clients believe that when they book a resort, they will get a wedding planner! What you actually get is a hotel appointed individual called a "wedding coordinator." He or she will not be able to help you with your event details such as ceremony flow, puja items, timeline, photo list, menu, overall design, décor, or vendor management.
Some travel agents specialize in destination weddings, but more so they are travel planners. Often, they are not at the destination to oversee the check-in guest experience or help execute your event. They specialize in travel and may charge you an additional fee to oversee your event, but don't have the experience running event logistics like they do travel logistics.
Catering
This is a huge concern for South Asian clients. Some destinations have Indian/Pakistani options available, but are they based on what you expect? Absolutely not, this is only possible in highly Indian populated destinations. In Mexico and the Caribbean, for example, there are restaurants, but depending on the distance to the resort from the restaurant, the food may be prepared in advance to be transported hours later, affecting the quality and taste of the food. I highly recommend if you are at an all-inclusive resort take your own chef with you. This allows you to customize your menu based on the region and dietary restrictions, and you will have the resort staff assisting your food provider to make the food fresh and on-site.
Speak to a Past Resort Client Before Booking
I highly recommend speaking to a past South Asian wedding client of the resort. Once they have done an Indian Wedding, some resorts will sell it as if they are experts, but they might not be. Talking to past clients will bring up issues like being short-staffed. With so many new resorts popping up everywhere, many resorts can't retain their staff because someone else is willing to pay them more.
Is a Destination Wedding Cheaper?
No it is not! It is true that your guests will be paying for travel and hotel accommodations. You will still have to pay for all of your vendors, such as planner, caterer, entertainment, décor, vendor travel, etc. A destination wedding may be cheaper, but the only way it can be is if you take the simple offerings the resort offers for American style weddings and not customize anything for your South Asian wedding or by cutting your guest list down and the number of events. Some resorts also have a high tax rate ( 30-40% ) on luxury goods rentals, which is what event goods are considered. Some vendors will accept cash, but we don't recommend traveling with large amounts as that will give you trouble in customs.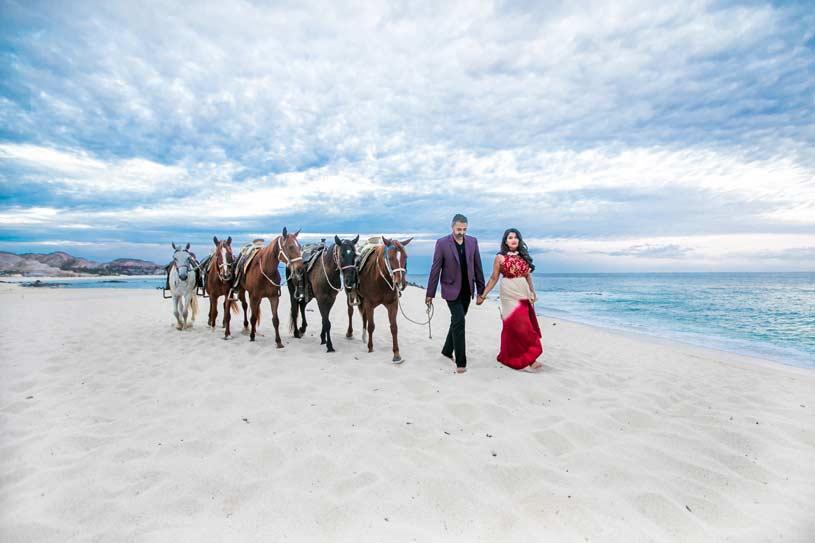 Average Destination Wedding Cost for 3-5 Events
Most clients believe a destination wedding can be budgeted below $50K, but the reality depends on your expectation. If you are a client who loves a designer look, want a 5 star experience, and plan on multiple events at the destination, then the minimum starting point is over $100k. Remember, if you have 100 -200 guests for 3-5 events, you are servicing and planning for over 500 hundred guests. So come up with a realistic budget to avoid disappointment when you start seeing all the numbers come together.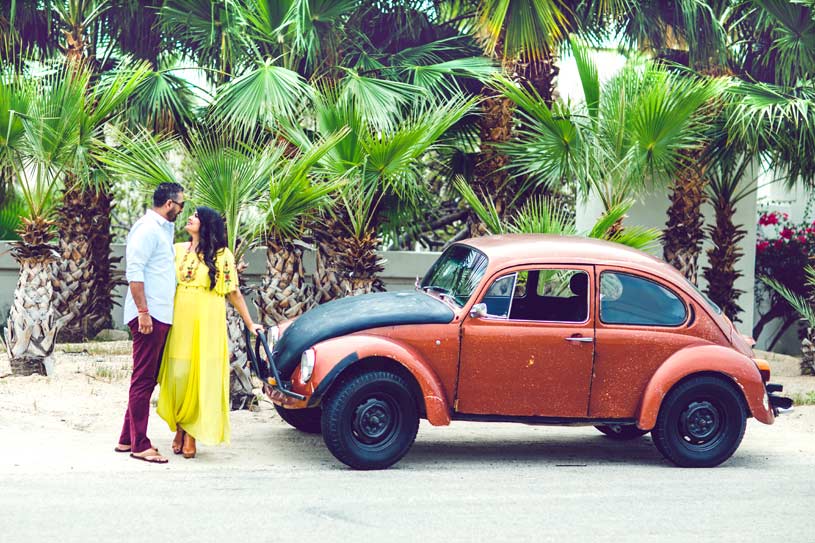 Controlling Your Guest List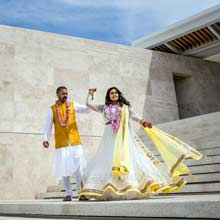 Most clients opt for a destination wedding to cut down on the number of guests and have a more intimate experience, so the couple can enjoy the event and focus on everyone there. Once you evaluate your guest list, we recommend starting to send out invitations. Often, clients send the invite out to everyone, but some guests will cut themselves out because of the cost of travel and accommodations. It is also appropriate to ask your guests before you send out invites to find out if they will come or not. If they give you a no, you don't have to send them an invite out, unless you are doing digital invites, which can help you keep up with RSVPs.
Know What You Want Out of Your Day.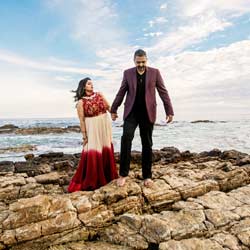 Often clients come to us and have elaborate and elevated taste, but are misinformed about cost. Some clients will ask family or friends who are already married how much they spent, but don't realize that 2, 3, 4, 5, 10 years later costs have changed due to the cost of goods, service and labor. Be informed that basing your budget on past events that have occurred in your network and expecting the same is not practical. As a client, be transparent about your budget to eliminate a lot of back and forth with your team of vendors.
It's so important that when you are looking to work with event professionals you decide on experience and knowledge of the destination and also on a team that has a can-do attitude to make magic happen for you. Your event is an investment and the right team is required to execute and pull off something amazing with all be bells and whistles.
Determining the Number of Events
Having a destination wedding means that many of your guests will feel like they are on a vacation since they are spending money on their flights and accommodations (unless as a host you are covering all costs.). So as a host, it should be your priority to spread your events out guests can spend free time to explore and relax at the resort, golf, or go on excursions. Figure out which events are important. The smaller ones that are intimate ceremonies for family hold those earlier in the week before the rest of your guests arrive, so you are not forcing anyone to come for longer than they wish. It's so important when you plan your events you keep in mind your guest experience in order for them to remember your events for years to come.
Manpower/Staff/Labor
Many clients think labor is included in the service providers consulting contract, but this is only true for some vendor categories. For some like planner, design, catering, lighting/production, there is a separate cost for labor that should be pre-quoted or line itemized. Don't expect your vendors consulting fee to cover the labor fee, because consulting time is their time and knowledge and expertise to help you plan a seamless event. Labor is the number of bodies needed to execute your vision based on the logistics. Keep in mind vendors who charge this value the service they provide you along with their value their staff, which in turn affects your overall experience.
Local Vendors vs Out of Town Vendors
You have options when planning your destination wedding, but remember you don't want to chase down vendors in the respective destinations. Also be aware that in exotic destinations, they may be on island time and there is not a sense of urgency. If you are a client that wants results, then you need to work with experienced professionals who know how to handle this, because they have done this many times before so they always have a solution. The other difference with local vendors vs. out of town vendors is the cost of travel and accommodations, but in the end if these vendors provide you a sense of relief and can guarantee their end product and results based on their reputation then its good you go with them. If you are someone that just want to pay a certain amount, then you can go local, but if your planner or you personally have not worked with the vendor it's hard for anyone to guarantee the quality for you. We hear it all the time that a local person said they will charge us this, and you guys are a lot more, but keep in mind the lower the cost means more corners to be cut by the service provider to make a profit, and that's business 101! So if you are someone who expects a certain level of service, then pay the price for a Luxury experience because you won't get that if you don't pay the right pricing to your service provider.
Today's destination events are much more than group travel to a resort destination for a small ceremony and reception. Couples want unique one of a kind celebrations custom created for them. The details are of unique touches that reflect couple and special ways to mesmerize their guests. If you wish to plan a destination wedding right, then start with unusual venues to welcome parties and creative group excursions to gourmet chef curated meals, custom cocktails and mocktails and lots of unified cultural rituals, couples are looking to go beyond the traditional or expected.
Vendors globally have the bar set high in these destinations by offering services that are unparalleled to what you may find in your home town such as delivering goods, offering a range of options, and most of all couples want high quality products & services. The more popular destinations such as Mexico, Aruba, Jamaica, Dominican Republic, India and now more so Europe and Dubai have really had to be on top of their game. There are no limitations on Destination Events, clients and their families are not letting roadblocks get in their way or limitations of the location to create something unique and memorable for their guest. Flying in vendors from all around the world has become a norm, and the couples are blown away by the amazing ability to create something unique, from the food, the decor and the incredible event design to entertainment.
It's so important that when you are looking to work with event professionals you decide on experience and knowledge of the destination and also on a team that has a can-do attitude to make magic happen for you. Your event is an investment and the right team is required to execute and pull off something amazing with all be bells and whistles.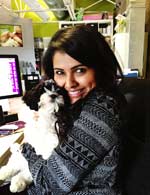 About Author
My name is Nirjary Desai, I am the Owner/Founder & Chief Experience Officer of KIS (cubed) Events. We are a premier Luxe Boutique Agency providing Elevated Experiences to our client's world-wide one couple & family at a time! We pride ourselves in the 15 years in the event industry especially the Luxury Wedding market, we have traveled the globe producing events not only for our clients, but one of our latest productions was my very own wedding taking place in Los Cabos, Mexico.