2014 Desh-Videsh Photo Shoot Participants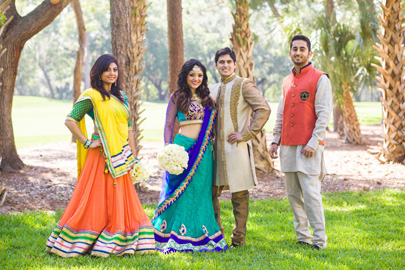 In April 2014, Desh-Videsh coordinated a photo shoot with prominent players in the South Asian wedding industry. As a leader in hosting and organizing the popular MyShadi Bridal Expo, working with such professionals was a great opportunity, one the magazine will continue to explore in the future.
Venue At Innisbrook – a Salamander Golf & Spa Resort in Tampa Bay, you'll find 900 acres of rolling hills and natural beauty, world class golf, the Indaba Spa and over 500 spacious guest rooms and suites. For weddings and special events, you'll find elegant ballrooms accommodating from 200 to 600 guests, and an exclusive culinary menu for ethnic catering.
Innisbrook – a Salamander Golf & Spa Resort Contact : Rick Galipault T: 727-942-5541 W: www.VisitInnisbrook.com.
Photographer Kimberly Photography is a premier South Asian and American Wedding photographer based in Florida and is quickly becoming one of the most sought after South Asian wedding studios. With 11 years of experience, Kimberly Photography offers a fresh and unobtrusive approach to every event. Our images are a fusion of a modern, documentary style and a reflection of our amazing couples.
Kimberly Photography T: 727-543-9723 E: k@kimberly-photography.com W: www.kimberly-photography.com https://www.facebook.com/KPhotog
Hair and Makeup Michele Renee The Studio is an on-location hair and makeup company specializing in bridal hair and makeup. They serve Sarasota, Bradenton, Gainesville, Ocala, Orlando, and the Greater Tampa Bay areas. Michele Renee The Studio has a staff of 30 artists ready for any size Bridal Party. Other services offered are spray tans, nails, massage, and eyelash extensions. Michele Renee is a licensed cosmetologist and has been a hair and makeup artist for the past 14 years. She is the owner of  Michele Renee The Studio located in Tampa and Gainesville.
Michele Renee The Studio T: 813-531-7770 E: makeup_michele@yahoo.com W: MicheleReneeTheStudio.Com www.facebook.com/MicheleReneeTheStudio
Jewelry
Belsi's, a collection of modern accessories with Indian inspired influence, is the brainchild of Riddhi Fazal, whose love for culture and fashion drove her to leave her IT career in 2011 and launch her collection. The jewelry collection includes statement earrings, statement earrings, glimmering cocktail rings, and breathtaking cuffs incorporated with an eclectic mix of exotic stones, metals, wood, and distinctive silhouettes.
Belsi's Collection T: 678-313-7807 E: info@belsiscollection.com W: www.belsiscollection.com
Clothing Boutique Alisha's Creations was established two years ago when owner, Alisha Patel, decided to pursue her life long passion for art and Indian fashion, after earning her Bachelor's degree in Biomedical Sciences from USF. She currently runs the boutique as well as designs many of the clothing and jewelry found at the boutique. Alisha's Creations provides a young and fresh take on today's fashions and guarantees the latest trends. It is a one-stop shop for ready-to-wear and custom clothing for men and women, designer handbags, and also the home of the largest collection of custom imitation jewelry in Florida. Alisha's Creations is the name you can trust and adore for all your requirements of traditional fashion, as they are confident of their quality and services.
Alisha's Creations 1911C E. Fowler Ave Tampa, FL 33612 T: (813) 500- 0366 E: alishascreations08@gmail.com www.facebook.com/AlishasCreation
Clothing Boutique MEDAWALA began in the 1950's to offer the best in handcrafted and elegant traditional embroideries in different forms. We offer embroidered designer Sarees, Salwar khameez, Chaniya cholis, and other Indian ethnic wear collection for all occasions for bride and all age group in touch with latest trends and stunning style statement. Our focus is to cater to the best quality fabrics, artistic and modern workmanship, and good service at reasonable prices.
Medawala Boutique T: 478-747-9418 W: www.medawalanadiad.com
Decor Partners Seema Patel and Megha Kothur are the two ladies of Two Ladies and Events – an events company specializing in wedding, social and corporate event planning.Organization and thinking outside the box is key to any fabulous event! Two Ladies and Events strive to make your event a stress free occasion from start to finish! With a great list of vendor and venue resources Two Ladies is able to save you time and money as you plan your big day!
Two Ladies and Events Megha Kothur: 608-217-5687 Seema Patel: 727-772-3491 E: Twoladiesandevents@gmail.com W: www.twoladiesandevents.com www.facebook.com/pages/Two-Ladies-and-Events/131895456995304
MODELS • Bride Chandni Patel • Groom Lokesh Cuumar • Best Man Shawn Alam • Bridesmaid Alisha Patel