2014 MyShadi Bridal Expos: Year in Review
Author by Rina Shah The Arpan Group

For those who have attended a South Asian wedding in the United States, you know you are in for a sensorial treat. From the moment you step into a wedding venue transformed by colorful fabrics and florals, exotic smells, and beat-filled sounds, your expectations for all of life's other celebrations take on new meaning.
For those who have planned a South Asian wedding in the US, the experience is an emotional one sure to try your patience and test your relationships. With multiple events and a large guest list, the possibilities to truly flaunt your personality and feed your creative side are endless. The MyShadi Bridal Expos fuel that desire giving couples and their families a firsthand look at the latest trends in event and wedding planning.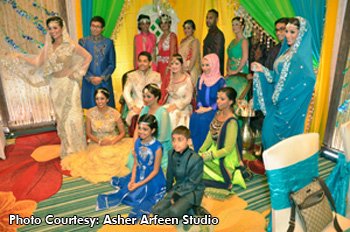 Each year, Desh Videsh Media Group hosts bridal expos in Georgia and Florida, giving couples an opportunity to meet with a variety of vendors in one afternoon and reduce some of the stress associated with wedding or event planning. Instead of spending several weekends meeting with a long list of vendors, couples and their families can narrow their choices to their favorites or even finalize their selection. For those in the throes of wedding planning, being able to switch focus to a select few preferred vendors is truly an achievement.
On their end, the vendors go above and beyond to showcase the products and services they offer, be it event planning, décor, photography/ videography, catered food and cakes, invitations, mehndi, and more. Caterers serve delectable food samples, giving attendees a taste of the type of cuisine they could book for their wedding. Photographers wow brides and their families, hoping to enamor them with poignant photographs that capture truly remarkable moments. Mehndi (henna) and makeup artists gave brides a firsthand look at possible styles for their special day during live demonstrations.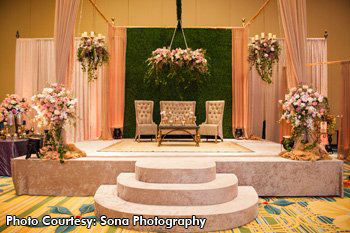 Walk into a MyShadi Bridal Expo and the magic of a South Asian celebration immediately feeds the senses. With elaborate, colorful mandaps and sample reception tables set up around the exhibit hall, attendees can get their creative juices flowing and attack their to-do list with unbridled enthusiasm. With so many ideas set forth by vendors and displays around the exhibit hall, brides and attendees leave the Expo with plenty of ideas for their events.
One of the highlights of each MyShadi Bridal Expo is the designer fashion shows. Models strut down the runway showing off gorgeous, modern saris and intricately designed lenghas from some of the region's exclusive and well-known clothing and jewelry boutiques. Some clothing and jewelry vendors join the Expo from as far as London and India, so attendees really do get a look at the latest styles and fashions.
Desh-Videsh thanks Platinum Sponsors Tampa Marriott Waterside Marina & Spa, Renaissance Atlanta Waverly Hotel, Bonaventure Resort & Spa, Hilton Orlando, My Shadi, and The Arpan Group as well as all participating vendors for yet another successful year of MyShadi Bridal Expos!
For more information about the MyShadi Bridal Expo, call Desh-Videsh at (954) 784-8100 ext. 200 or send an email to info@deshvidesh.com
About the Author: Rina Shah is the CEO and founder of The Arpan Group, a boutique ad agency and public relations firm that specializes in developing campaigns to capture untouched ethnic markets. From press releases and media kits to marketing materials and by-line articles, The Arpan Group customizes solutions based specifically on the client's needs. For more information about The Arpan Group, visit www.thearpangroup.com or call (703) 651-6670.