Eat, Drink, and Be Merry: Choosing a Wedding Caterer By Rina Shah, The Arpan Group
For South Asians, weddings are just as  much about celebrating a couple's nuptials as about the festive food! Chances are guests may not remember intricate details from a wedding, but they will certainly recall memorable dishes and delectable desserts. One to five or more events comprise a typical South Asian wedding, and food plays an integral role in ensuring each is enjoyable and hospitable for all guests.
Given the importance of food and that catering accounts for up to 40% of your wedding budget, it stands to reason that your choice of caterer(s) is an important one. Like with any of your wedding vendors, it is important for the caterer to understand your "food personality." Are you foodies and adventurous eaters? Are you nostalgic about your food experiences? Is there an overall theme for your wedding that can be enhanced by the food selection?
 To help couples narrow their choices and select the best caterer for their needs, Chef Neeraj Mahani from Loews Don CeSar Hotel and Neil Shah, VP/Executive Sales Director with Chowpatty Catering offer advice on choosing a caterer for their special day.
What are the most important factors couples should consider when choosing a caterer for their wedding?
Mahani: The ability to provide the type of cuisine you want your guests to experience when sharing your special moment. Also it's important that the caterer is able to accommodate special dietary requests and needs. The reputation of the caterer is also a key factor.
Shah:  The most important factor is quality. Quality of food, quality of service, and quality of presentation are all key components. Choosing a caterer with a trusted reputation is pivotal – nobody stays in business for over 25 years if they are not impeccable with their word. Two external factors are the venue and budget, both of which determine the level of catering services that can be offered.
What are your top three tips when couples/families attend a food tasting?
Mahani:  First, be open minded and consider the culinary desires of your guests. Consider a diverse menu. Second, consider the flow of the event and what will work best with the size of your wedding as well as what works within your venue. Third, come hungry, only "taste" the many food items presented. Be sure to block out the appropriate amount of time for the tasting and only bring people that will be decision makers in the process.
Shah:  Many people chuckle when we tell them this, but you would be surprised as to how many clients do the contrary – come on an empty stomach! Prepare a list of the items you would like to taste beforehand and elect of core group of people responsible for doing the tasting. Too many items and too many people similarly complicate the equation when finalizing a menu.
What questions should a couple ask to get the best sense of how a caterer will contribute to the culinary experience at their wedding or event?
Mahani: Some questions to ask include: How do you handle last minute dietary requests/needs? Will the presentation at the Tasting be the same as the actual dinner? How do you handle last minute guest additions? Will you be there the night of the wedding event? Are there any extra costs over and above the food & beverage items (i.e. chefs for action stations, bartenders, set-up and break down fees)
Shah:  What you as the client should be trying to ascertain is how experienced is this caterer and are they capable of delivering what they promise. Asking questions about the logistics, whether that be the preparation process or the transportation to the event – allows you to gain insight about how the caterer organizes their events. Asking questions related to the quality of the food including how in advanced the food is prepared will disclose if the company has their work down to a science. Asking about which items can be served as action stations based on the venue or probing for suggestions in general allows you to see how well-informed your caterer is.
How should a couple prepare for the first meeting with you?
Mahani: They should know the guest count, and whether they prefer a buffet or plated sit-down. Also, understand your budget. And trust the expertise of the chef and the catering team.
Shah: Meeting with a caterer is not a trivial task and so preparation is very important. Establishing a good relation from the start by showing the courtesy to make an appointment goes a long way – this way the caterer can allocate a sufficient amount of time to accommodate you. Before coming in for the meeting, having a concept for the menu and new ideas that you may want to have incorporated allows us, the caterer, to envision and develop a remarkable culinary experience for your special day.
How do you work with clients to ensure their vision for the culinary experience at their wedding comes to life?
Mahani: We show pictures of past wedding receptions, and participate in the tasting. We also review the overall timeline for the evening including the champagne toast, first dance, announcements, etc., to ensure the proper flow of the dinner so that the food quality is not compromised.
Shah:  We take our work seriously here at Chowpatty Catering. Bringing the client's vision to life requires more than just a cookie cutter package deal. We make an effort to get to know our clients, asking them about how they met, their favorite foods, and how they imagine that the food will be served on the day of the event. We also give them concepts and ideas to build off of. With over 25 years of experience, we've mastered constructing exactly what our clients are looking for.
What would be your favorite three items on your dream menu?
Mahani: My must-haves would be Chicken Lababdar; Tandoori Sea Bass with Spicy Garbanzo, Bermuda Onion Ring and Fresh Pomegranate; and Palak Khumb Paneer.
Shah: Our favorite three items are not only crowd favorites, but recreations of classical dishes changing the way you eat Indian dishes. Number one is the Paneer Makhani Ravioli – a fusion of Italian and Punjabi dish – each bite savors the spices of the gravy contrasted with the tenderness of the ravioli. Number two is the Papdi Lot Pops. It's your classical Papdi Lot served in a bite sized portion on stick with a side of dipping oil. Number three is The Pani Poori Bar – various flavors of Pani from Guava to Mango to Classic with India's favorite snack.
The Experts
Special thanks to the experts who contributed their thoughts and advice.
---
Neeraj Mahani, Executive Chef
Loews Don CeSar Hotel
3400 Gulf Boulevard, St. Pete Beach, FL 33706
www.loewshotels.com/don-cesar
---
Neil Shah, Vice President/Executive Sales Director
Chowpatty Catering
1351 Oak Tree Road, Iselin, NJ 08830
www.chowpattyfoods.com
---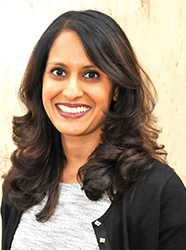 About the Author
Rina Shah is the CEO and founder of The Arpan Group, a boutique ad agency and public relations firm that specializes in capturing untouched ethnic markets. From press releases and media kits to marketing materials and by-line articles, The Arpan Group customizes solutions based on the client's needs. For more information, visit www.thearpangroup.com or call (703) 651-6670.