Meet Preeti Exclusive Creations by: Rina Shah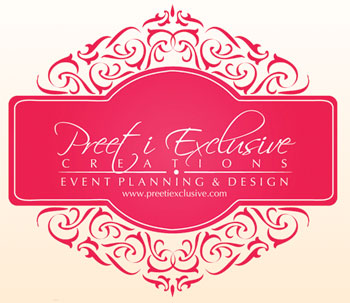 Preeti Exclusive Creations, a vendor at the 2012 Orlando MyShadi Bridal Expo, is based in New York and now in South Florida, but has planned weddings around the country. Preeti Vasudeva, owner and principal consultant at Preeti Exclusive Creations, has over ten years of experience in the wedding industry. She shares her insight into what it takes to be a successful and passionate event planner.
How did you get started in the wedding industry? What inspired you to become an event planner?
While living in Virginia, I was working with a family friend who dealt strictly with décor. I would help on the weekends, and I soon realized I had a knack for design. Putting colors together and creating coordination designs with lighting, invitations, linens, and florals was something I became both quite skilled at and truly enjoyed.
After two years, I left Virginia and moved to New York where I started my own company, Preeti Exclusive Creations in 2004.
Tell me a bit about your background.
I have a Bachelor's degree in Communication Arts and a Masters in Sociology. My degrees have shaped the way I deal with people. Understanding different personalities has helped immensely while working closely with brides, their families, and vendors.
I also minored in business and am a certified Special Event and Wedding Planner.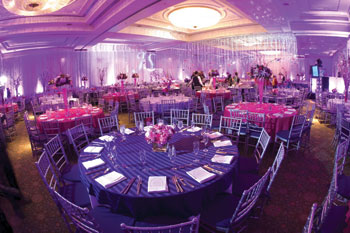 What services does Preeti Exclusive Creations provide?
We offer a range of services to assist brides with every aspect of wedding planning. Brides can choose from packages that encompass nearly every aspect of wedding planning or just provide services on the day of her wedding. For brides who choose our full service package, we take care of nearly every detail related to the wedding from surveying venues, designing menu cards and stationary, and customizing invitations, to negotiating with vendors and suggesting where to go shopping. For other brides, much of the planning for the wedding may have already been done, so we help with planning the mehndi and sangeet or with details on the actual day of the wedding. Essentially, we work closely with the bride to determine how we can best meet her needs.
Over the last ten years, I have had the opportunity to develop a network of vendors I work with regularly, which often leads to discounted rates – a huge benefit for brides! At the same time, I am always networking to find fresh, new vendors. By working with vendors who have varying styles, I can ensure I offer brides unique opportunities.
What regions of the country do you serve?
Anywhere! We are open to planning weddings wherever a bride requests. Currently, we predominantly serve South Florida, Orlando, Tampa, the New York Tri State area, Washington, DC metro area, and Dallas. We have planned several destination weddings in Mexico, Aruba, Puerto Rico, Grand Cayman, and Turks & Caicos.
What sets you apart from other wedding planners?
In general, wedding planners need to be organized and be able to effectively negotiate with vendors. But for me, it all comes down to personality. I don't view the bride as just a client. If the bride and I don't seem to mesh, I can't be sure how comfortable she will be with me during the planning process. I truly get to know the bride by inviting her and her family for dinner. By becoming friends and even part of the family, I gain valuable insight into how to make her special day perfect.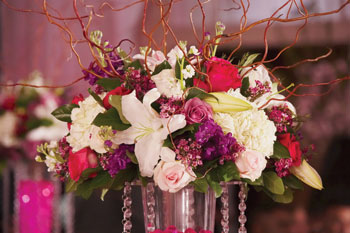 I recognize it is essential to be firm when needed, but also remain relaxed. Planning a wedding can be very stressful. While you need to stay on track and check items from your list, you also just need someone to talk to, and I am often that person. You almost become a therapist as you help the bride navigate relationships and decisions during the planning process.
Preeti Exclusive Creations is also known for bringing innovative ideas to brides. I can truly relate to today's brides. I know they want an Americanized version of a traditional Indian wedding, and I can help shape that vision. We are known for incorporating multiple cultures and designing true fusion weddings.
The economic climate affected the U.S. wedding industry in a profound way over the past years, including the normally untouchable high-end segment of the market. To what extent did it affect Indian weddings and your business?
Yes, of course. Though weddings in general are recession-proof, over the last three years, we have seen that hiring an event planner is a luxury. Couples are giving themselves more time to plan with longer engagement periods, so they are able to do more groundwork on their own.
It is on us to reach out and show brides that we really can play an important role in the wedding planning process. We add value in many ways, from creating a unique look to doing important groundwork. Even peace of mind for day of management.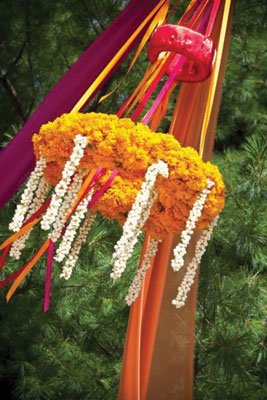 What is your favorite wedding moment?
There are so many, it's really hard to pick! Every wedding has a special moment, but there are a few that stand out. Recently, one couple completed their turns around the sacred fire by stating their own vows. There was not a dry eye in the place, the vows were so beautiful!
At a recent fusion Punjabi-Puerto Rican wedding, everyone was truly in a celebratory mood. The dance floor was a focal point at the reception and encompassed the room. Every single person was on the dance floor having a great time.
What advice do you have for brides?
First of all, get married for the right reasons and really know what you want. Now is the time to learn the art of compromise – involve the groom and family in the planning process.
Something I always tell brides is that while you spend so much time and money on your big day, you should enjoy and embrace every moment as much as possible. At the same time, take time to enjoy just being a fiancée. So often, couples get stressed out about planning and every moment together is spent discussing the wedding. Take a moment to enjoy each other and plan non-wedding activities.
And most importantly, enjoy the significance of your wedding, not the show of it!
About Rina Shah
Rina is the CEO and founder of The Arpan Group, a solutions firm that specializes in developing public relations campaigns to capture ethnic markets. From by-line articles and press releases to media kits and marketing materials, The Arpan Group customizes solutions based specifically on the client's needs. For more information, visit www.thearpangroup.com or call (703) 651-6670.