The Perfect Wedding Planner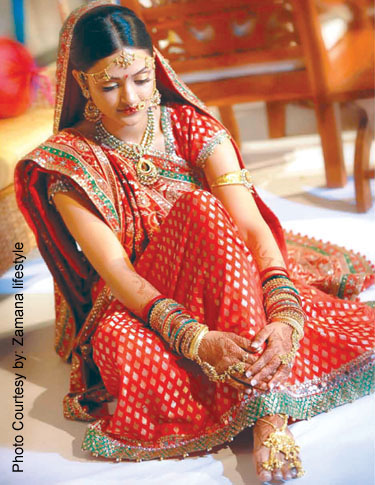 Congratulations!!!
You are about to start a new life … one filled with the promise of happiness and dreams coming true.
Your wedding is meant to be a momentous affair, but one that will demand a lot of planning and decision-making. This Wedding Planner Guide is specifically designed to provide a pragmatic and organized approach towards making your wedding a runaway success from the word 'go.' Follow this guide, step by step, and all your plans will run to perfection.
Setting the Wedding Date
The date is usually based on the auspicious time given by the family pandit, priest, mullah or guruji, but it is thoughtful to make sure that it does not clash with any other event in the family and is convenient for people to attend. It is better to keep the event during the weekend and preferably during a long weekend. One word of caution if you are thinking about a long weekend – most vendors are over booked during those popular dates, so start the planning process well in advance.
Financing the Wedding
How do you plan to finance the wedding? It is a good idea for he parents to commit a specific amount of money, and the bride and groom supplement this. Take references from friends or relatives who have recently got married.
Maintain a budget file to check all expenses.
Make a list of urgent and optional items.
Assign each element an approximate amount or a percentage.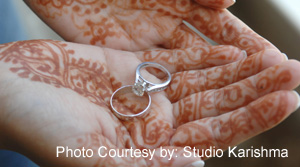 Engagement
This is the first of the formal ceremonies. Traditionally, rings and gifts are exchanged between the bride and the groom's families.  Ascertain ring sizes and buy the engagement rings well in advance, so that the couple can try them on before the ceremony.
Guest List
The number of guests likely to attend will decide the planning of venue, accommodations, catering, and finances. Compile a consolidated list of invitees with their mailing address, email address, and telephone numbers. To avoid duplication of common friends as well as omissions, discuss the list with both families.
Invitation Cards
Invitation cards are now available in individualistic and unique designs. The latest trend is design a complete matching ensemble that includes the main card, wedding insert, reception insert, garba and/or mehndi insert, RSVP card, place card, wedding program, and last but not least, thank you card.
Place the order for invitations with a printer well in advance. A few extras cards will come in handy.
It is in good order to place a small map of the venue on the invitation card.
Start mailing the invitations two months in advance for out of town guests.
It is a nice gesture to send invites to even those family members and friends who you know will not be able to attend the ceremony.For more details on wedding invitations, please see the article "Invitations Set the Tone for Your Wedding.
Service Providers
Service providers include the caterer, photographer, videographer, florist, DJ, printer, etc. Start negotiating for good service and rates as soon as the wedding date is arranged.
Get references and interview several service providers. Get quotes from more than one service provider in each category for the best deals.
Do not make bulk advance payments in cash.
Have all contracts formally signed on paper.
If you like, you can hire an event manager or wedding planner for the entire event.
If your wedding falls during the busy wedding season, make all bookings well ahead of time.

v

Maintain a list of the confirmed service providers.

Venue
The venue will depend on the wedding theme, number of guests, ceremonies to be conducted, whether a buffet or sit-down dinner arrangement, live band, indoor or outdoor arrangement, etc.
Book the venue once the dates of the engagement and wedding ceremonies have been arranged.
Check the seating capacity/arrangement, music, parking capacity, electricity, power backup, and fire safety facilities.
If the marriage function is planned outdoors, check for weather conditions and permission from related authorities.
Confirm all bookings in writing a month before the date.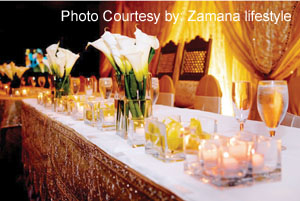 Catering
You can choose between hotels, banquet halls, and private caterers.
Inspect the cutlery and crockery, furniture, and linens.
Order any other essential items that the caterer does not provide.
 If alcohol is being served, ensure appropriate glasses and bar services.
Also check for hygiene conditions and overall service.
Re-check and sample the food menu a week before the ceremony.
Assign a family member to supervise the catering services on the wedding day.
If you are serving vegetarian and non-vegetarian food, make sure there is clear sign for each food item to avoid confusion and possibly offending strict vegetarians.
Floral Decor
Floral decorations are usually a component of the mandap, doli, bridal suite, getaway car, welcome gate, and other focal areas. Also select flowers for varmalas, sehras, rangolis, headgear, etc.
Book a florist, decide the theme, and list out the areas to be decorated as well as the number and variety of flowers.
Photography
Photographs and videotapes are precious memories of joyous moments. Do not compromise on quality.
Inform your chosen vender of the date and time of the wedding as well as those of pre- and post-wedding ceremonies.
List out priority shots for every ceremony. A family member must guide the photographer for shots of both the families.
vInform the video technician of any special music or effects that you desire beforehand.
For more information about wedding photography, please see the article "Wedding Day Photography Tips.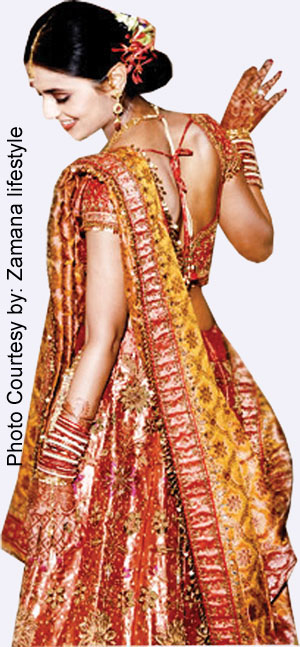 Accommodation
Arrange suitable accommodation for your guests to ensure a comfortable and pleasant stay.
Request a list of people likely to require accommodation from the groom's family.
Make hotel reservations in advance.
If using vacant houses or apartments of friends and relatives, ensure that the refrigerator is stocked up with the essentials like milk, water bottles, etc.
Rent extra crockery, mattresses, bed linen, fans, coolers, etc.
Transportation
Note the arrival time of out of town guests and assign a person to receive them.
Renting cars and mini vans is a good idea so that the friends and relatives do not have to use their cars.
Arrange for a limousine or other car for the couple.
Keep a handy list of all vehicles along with the names and contact numbers of available drivers.
Bridal attire
Your bridal attire should complement your personality and style.
Scan wedding magazines for contemporary styles and trends.
Start shopping for your clothes well in advance.
Select the right accessories to complement your dresses including bags and shoes.
Select or design your wedding and reception outfits and try them on in advance.
 Allow time to make alterations and attend final fittings.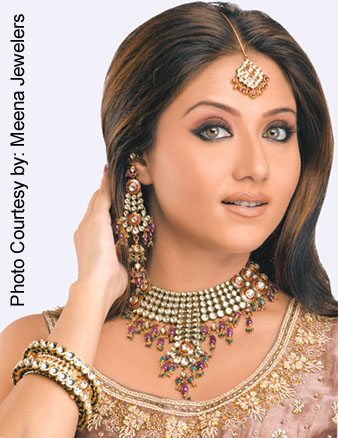 Jewelry
Besides jewelry pieces passed on to you by your grandmother and mother, buy some contemporary and trendy jewelry from reputed jewelers, and insist on certificates of purity. The mangalsutra is the most important piece of jewelry besides bangles, kadas, nose rings, tikka, earrings, chokers, and necklaces. Maintain a list and the expense incurred against each item.
For more information about wedding jewelry, please see the article Bridal Jewelry – Don't Get Married Without It.
Groom's attire
Decide upon a western or an ethnic look. Kurta pyjamas,churidars, pathani, dhoti, shawls, sherwani,choga or achkans are a few ideas.
Coordinate tie pins, cuff links, rings, gold chain, watch and bracelet with the wedding outfit.
Wear simple but elegant shoes with a western outfit and mojadis with an ethnic outfit.
Try on your headgear in advance safas, etc. It should be different from those of the baraatis.
Start on a complete grooming regime at least a month before the wedding.
On the big day, keep hair short, gelled and shampooed, and shave closely. Spray a deodorant and keep tissues and your wallet handy.
Gifts
Make a list of people for whom you have to buy gifts, including those for your spouse's family. It is a good idea to give small gifts of appreciation to friends and relatives who have helped with the wedding arrangements.
Festive Time
Complete all painting, plumbing, and electrical repairs a month before the festivities begin.
Arrange for additional household help.
Maintain a list of things to be bought and stock up on extra groceries, gas cylinders, crockery, etc.
Plan a weekly menu to avoid last minute decisions and worries.
Keep your jewelry in a safe place.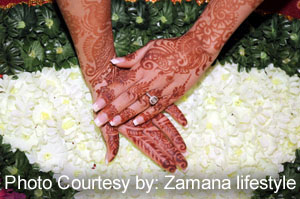 Ladies Sangeet & Mehndi
Decide whether it will be a small family gathering or a big event with a professional band.
Book a mehndi artist well in advance. Finalize who is bringing necessary materials – henna, etc.
List the songs and hand out the lyrics to all or you can use taped music as a backup.
Hold practice sessions prior to the wedding.
Arrange for snacks or a caterer if the gathering is large.
Reception
Decide whether it will be a sit-down affair or a buffet.
Make the arrangements in advance and confirm with the venue manager/caterer in writing.
Specify the number of guests expected to the caterer if you do not want to pay for extra food.
Confirm arrangements one or two days before the event.
Set up a gift table and gift box. Assign a responsible person to watch the gift table.
Allocate space for a live band, bar, and dining.
If you are serving drinks, make sure you specify the timing of the open bar. It is not necessary to keep the bar open for the entire reception. This could save you some money.
Honeymoon
Your choice of a honeymoon destination will depend on your budget, time available, prevailing weather conditions and preferences.
Get a photo guide of your destination and plan your travel itinerary.
 Make travel and hotel reservations well in advance.
Pack your baggage according to the kind of honeymoon you have planned.
If traveling abroad, arrange for passports, traveler's cheques, foreign exchange, etc.
Legal Formalities
Register the marriage.
Inform change in address to the postal department and to all relatives and friends.
Apply for change of maiden name in all documents such as passport, insurance, bank accounts, deposits, credit cards etc.
CHECK LIST
Maintain a Time Schedule
Once the wedding date is decided …
Plan your budget.
Visualize your wedding theme.
Choose the venue.
Start interviewing service providers.
Start your trousseau and jewelry shopping.
Decide on your honeymoon destination.
Draw the guest list.
Hire a wedding planner and maintain records.
Six Months Prior to the Wedding …
Order the invitations and stationery.
Book the pandit, beautician, Rental Car, Limo.
If traveling abroad for your honeymoon, check your visas, passports and medical clearance.
Reserve your wedding night bridal suite.
Make hotel bookings for out-of-town guests.
Start a beauty regime.
Two Months Prior to the Wedding …
Compile a list of guests who sent RSVPs and prepare a final guest list.
Confirm all reservations.
Choose gifts for relatives and friends.
Do a hair and make-up run through.
Make a list of photographs you wish to be taken.
Make a list of the music you wish to be played.
Two Weeks Prior to the Wedding …
Confirm the transportation schedule.
Give the caterer the final guest count and Menu.
Make sure all attendants have a copy of the wedding day schedule.
Do a final dress fitting with shoes, jewelry and make-up.
Pack for your honeymoon.
Visit a spa if you can for a total body massage and a facial.
It is your once-in-a-lifetime moment. Make sure you make it your best and memorable.