Tips to Choose the Perfect Wedding Venue
You're excited that he proposed, and a date has been set! Now what? The last thing you want is unnecessary stress during this exciting time with the hassle and confusion of logistics and accommodations. Trust us when we say, "Work with Professionals!" On your wedding day, you don't want to be worrying about anything besides walking down the aisle. Here are some helpful tips you should think about when choosing that perfect venue.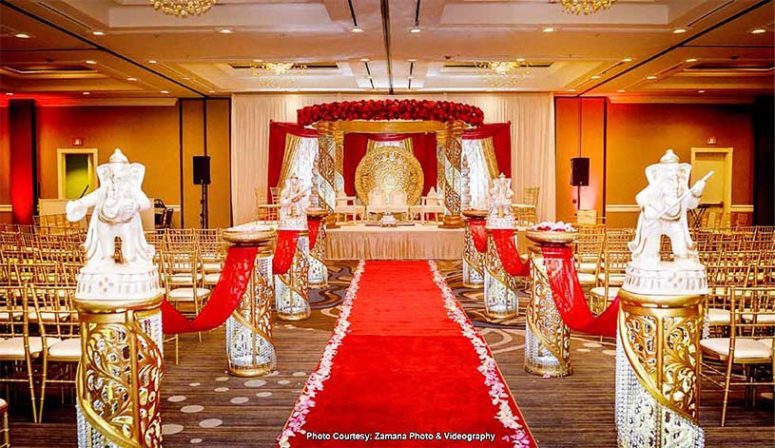 Priorities Your priorities should be Budget, Location, Dates and Guests. Once you have all the four stated above, sit down with your fiancée' and talk about your wedding day. What do you both envision for your special day? Talk about the ceremony. What are your "must haves?" It's important as you want to make sure that both of your needs are being met as each person's must haves/priorities may be different.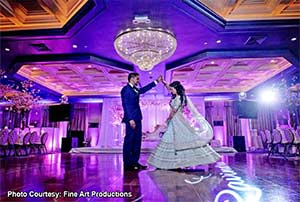 Now you can begin finding the Perfect Venue for your Perfect Day! Finding the right professional will help you navigate through the complexities of finding the perfect venue and hotel accommodations for you and your guest and will alleviate unnecessary stress for you over the coming months. They are experienced and do this on a day-to-day basis, they will have more information to provide in addition to saving you time and money. They know your needs and have your best interest in mind along with your budget. When starting a search for your venue you will need to develop an RFP to send out to several venues within the location. Keep in mind, looking at only one venue may limit the amount of choices you have as far as dates, space availability, room availability, etc. If you are looking at a destination and not familiar with the venue options, ask your professional. They can provide you with the best options in any destination.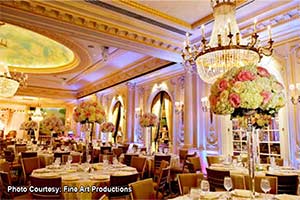 Reviewing the responses from the RFP that was sent out will provide you with all the details you need to go to the next step. It will contain the dates available, capacity, F&B minimums, etc. From this list you may be able to discount certain venues according to the information they provided. After close review and conversations with your fiancée and professional you will have developed a list of possible venues. Your professional will arrange for you to visit each of the venues so that you can ensure the space you saw on their website photos looks the same in person. You'll get a feeling of how the space can be transformed, you'll have the opportunity to taste their food, look at their accommodations and ensure they have enough rooms for your guests, ensure they have enough parking for your guests. It's easy to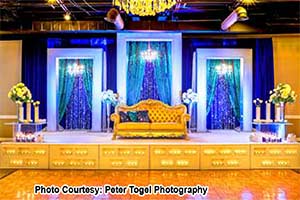 fall in love with each venue, however, make a list of the pros and cons so at the end you have everything in front of you to make the best decision. Now you are ready to request a contract. Your professional will negotiate with the venue on your behalf. If you don't understand a portion of the contract, ask for clarification. Make sure you understand what the payment/deposit schedule is, make sure that it's stated in the contract. Don't be afraid to ask for revisions to be made for the contract. Don't sign the contract until it is exactly what you want. Make sure that you receive a final countersigned copy of the contract. Make note of all the deadlines that will be outlined within it. Missing a deadline with a venue can cost you thousands of dollars. Now the fun begins. Go dress shopping, taste lots of cakes, etc. Enjoy it all, before you know it, Your Special Day will be here!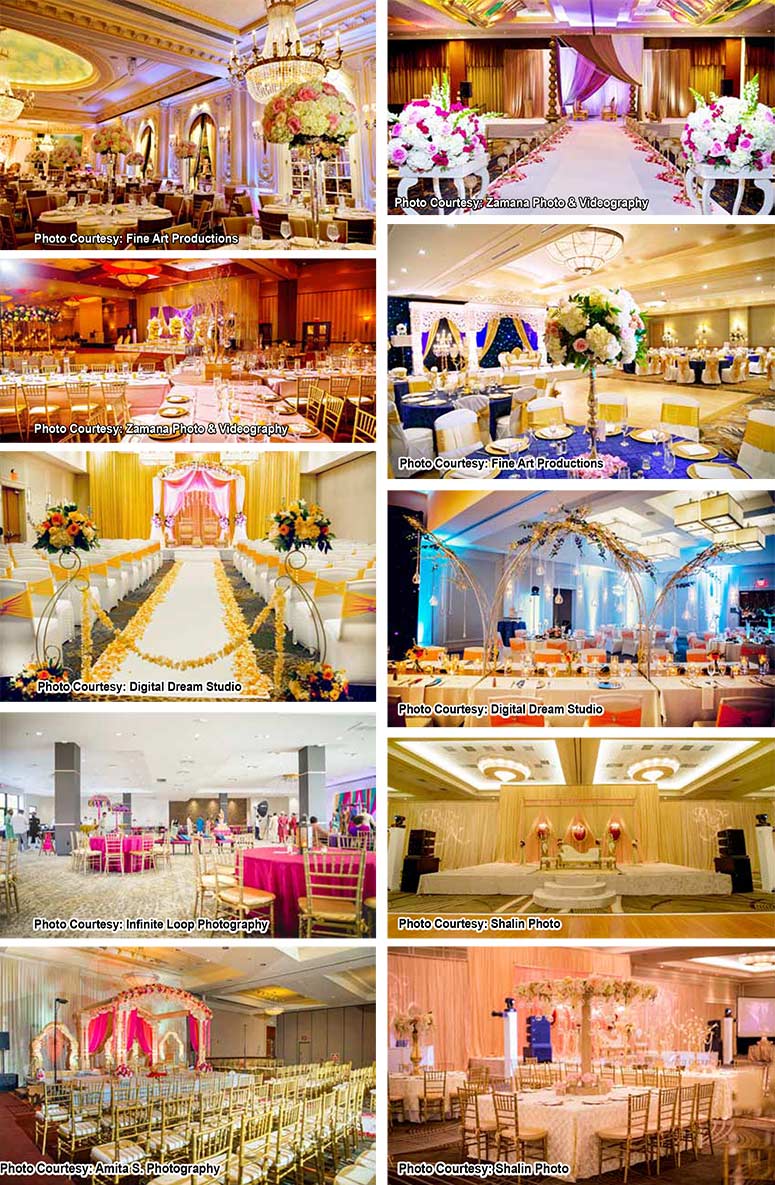 About The Author
Loretta Champion Johnson and Kimberly Reckert provide Venue Sourcing/Hotel Accommodations with HelmsBriscoe. Since 1992, HelmsBriscoe has earned the reputation as the global leader in venue site selection. They work diligently to match clients with the best venue at the best value based on their specific requirements. Whether you are a wedding planner working for a couple, or coordinating your own event, they can help secure a venue and block at the hotel that best accommodates your needs, budget and location! Email KReckert@HelmsBriscoe.com and LChampJohn@HelmsBriscoe.com for more information.
Venue Vendor Guide
The following is not an extensive list, but a list of venues that participated in the Desh Videsh Media Group survey.

Atlanta Marriott Perimeter Center Hotel

Contact: Regenia McLean 770-730-3720 Where: 246 Perimeter Center Parkway NE, Atlanta, GA 30346 Guest Rooms: 344 Banquet Hall Capacity: 6412 and 2595 of pre function space Email: regenia.r.mclean@marriott.com Web: www.marriott.com/ATLPC

Hilton Orlando – Altamonte Springs

Contact: Jim Donovan 407-830-1985 Where: 350 South Northlake Blvd, Altamonte Springs, FL 32701-5389 Banquet Hall Capacity: 6,720 Sq Ft Email: jim.donovan@hilton.com Web: www.orlandoaltamontesprings.hilton.com

Gaylord Palms Resort

Contact: Pam Becker 407-586-2248 Where: 6000 W Osceola Parkway, Kissimmee, FL 34746-4414 Guest Rooms: 1416 Banquet Hall Capacity: 46,000 Sq Ft Email: pbecker@gaylordhotels.com Web: www.gaylordpalms.com

Hilton Orlando Bonnet Creek

Contact: 407-597-3600 Where: 14100 Bonnet Creek Resort Ln, Orlando, FL 32821-4024Guest Rooms: 1009 Banquet Hall Capacity: 36,000 Sq Ft Email: bonnetcreekweddings@hilton.com Web: www.hiltonbonnetcreek.com

Bonaventure Resort & Spa

Contact: Giselle Roach 954-349-5606 Where: 250 Racquet Club Rd, Weston, FL 33326-1114 Email: groach@bonaventurefl.com Web: www.bonaventureresortandspa.com

Innisbrook Golf and Spa Resort

Contact: Melissa Davidson 727-942-5541 Where: 36750 Us Highway 19 N, Palm Harbor, FL 34684-1239 Banquet Hall Capacity: 200-800 guests Email: ccorbett@innisbrookresort.com Web: www.innisbrookgolfresort.com

Coral Springs Marriott

Contact: Jeri-Ann Hart 954-227-4119 Where: 11775 Heron Bay Blvd, Coral Springs, FL 33076-1941 Email: jeriann.hart@atriumhospitality.com Web: www.marriott.com/fllmc

Newport Beachside Hotel & Resort

Contact: Barry Rubin 305-949-1300 Where: 16701 Collins Ave, Sunny Isles Beach, FL 33160-4201 Guest Rooms: 339 Banquet Hall Capacity: 4,800 Sq Ft Email: brubin@newportbeachsideresort.com Web: www.newportbeachsidresort.com

Doubletree by Hilton Sunrise/Sawgrass

Contact: Karima Barnes 954-835-3605 Where: 13400 W Sunrise Blvd, Sunrise, FL 33323-0909 Banquet Hall Capacity: 5700 Sq Ft Email: karima.barnes@hilton.com Web: www.sawgrasshotel.com

Novare Events

Contact: Hope Nudelman 404-962-8700 Where: 817 W. Peachtree Street NW, Suite 208, Atlanta, GA 30308-1150 Email: hnudelman@novareevents.com Web: www.novareevents.com

Grand Hyatt Tampa Bay

Contact: Caitlin Schmedeke 813-207-6630 Where: 2900 Bayport Dr, Tampa, FL 33607-1479 Guest Rooms: 444 Banquet Hall Capacity: 10,502 Sq Ft Email: caitlin.schmedeke@hyatt.com Web: www.grandhyatttampabay.com

Palm Beach Gardens Marriott

Contact: Morgan Smith 561-630-1304 Where: 4000 RCA Blvd, Palm Beach Gardens, FL 33410-4233 Email: morgan.smith@marriott.com Web: www.marriott.com/PBIPG

Gulf Stream Park

Contact: Ray Briels 954-475-6957 Where: 901 S Federal Hwy, Hallandale Beach, FL 33009-7124 Banquet Hall Capacity: 14,000 Sq Ft Email: ray.briels@gulfstreampark.com Web: www.gulfstreampark.com

Raleigh Marriott Crabtree Valley

Contact: Vanessa Jackson 919-571-5345 Where: 4500 Marriott Drive, Raleigh, NC 27612-3365 Email: v.jackson@marriott.com Web: www.raleighmarriott.com

Harbor Beach Marriott Resort & Spa

Contact: Kia Guilford 954-766-6128 Where: 3030 Holiday Dr, Ft Lauderdale, FL 33316-2414 Guest Rooms: 650 Banquet Hall Capacity: 14,900 Sq Ft (1800 people) Email: harborbeachcateringsales@marriott.com Web: www.marriottharborbeachweddings.com

Renaissance Atlanta Waverly Hotel

Contact: Tammie Guthrie 770-953-4500Where: 2450 Galleria Pkwy Se, Atlanta, GA 30339-3130Guest Rooms: 522Banquet Hall Capacity: 16,000 Sq FtEmail: tammie.guthrie@renaissancehotels.comWeb: www.renaissancewaverly.com

Hilton Charlotte Center City

Contact: Tracy Suit 704-331-4380 Where: 222 E. Third Street, Charlotte, NC 28202-2315 Guest Rooms: 400 Banquet Hall Capacity: 11,070 Sq Ft Email: tracy.suit@hiltoncentercity.com Web: www.charlottebestwedding.com

St. Augustine Renaissance

Contact: Emiliana Mes 904-940-8635Where: 500 S Legacy Trl, St Augustine, FL 32092-2719Email: emiliana.mes@atriumhospitality.comWeb: www.marriott.com/JAXBR

Hilton Daytona Beach

Contact: Tiler Theisen 386-254-8200 Where: 100 N Atlantic Ave, Daytona Beach, FL 32118-4204 Banquet Hall Capacity: 8675 Sq. Ft. Email: ttheisen@daytonahilton.com Web: www.daytonahilton.com

Waldorf Astoria Orlando

Contact: Daniele Spano 407-597-5500 Where: 14200 Bonnet Creek Resort LN, Orlando, FL 32821-4024 Guest Rooms: 502 Banquet Hall Capacity: 8000 Sq Ft with 4500 Sq pre function space Email: bonnetcreekweddings@hilton.com Web: www.waldorfastoriaorlando.com

Hilton Orlando

Contact: Teresa Bernstein 407-313-8458 Where: 6001 Destination Parkway, Orlando, FL 32819-8117 Guest Rooms: 1424 Banquet Hall Capacity: 100–1,000+ guests Email: Teresa.bernstein@hilton.com Web: www.thehiltonorlando.com

 

Tips from Wedding Professionals
"Single most important factor in choosing a wedding venue: The venue's reputation and the feeling of excitement at seeing the venue for the first time and your first thought is "this is MY wedding venue"

Pam Becker Gaylord Palms Resort

"The most important wedding factor in choosing a wedding venue is how the venue makes you feel. Not only the atmosphere it provides, but the people who work there and will service your wedding. It's important to pay a little extra for the experience your guests will receive, as you are hosting them for this special weekend."

Caitlin Schmedeke Grand Hyatt Tampa Bay

"While price is always an important factor; service, package inclusions and added benefits are also essential when comparing venues. The Hilton Charlotte Center City has a variety of packages and unique ceremony locations to accommodate your vision."

Tracy Suit Hilton Charlotte Center City

"When choosing a wedding venue, I advise to look for experience with Indian Weddings. Understanding the culture and rituals helps allows the venue to become a true partner in proposing space, planning the details, and thinking strategically to anticipate the needs of the family during this special time."

Teresa Bernstein Hilton Orlando

"When choosing your wedding venue the most important tips are to know what location you are looking for and ensuring the location can accommodate the amount guests you are wanting to have."

Barry Rubin Newport Beachside Hotel & Resort

"We believe it's important to select a venue that has a team of experts who understand South Asian Weddings and fully embrace the rich cultural traditions. We put our clients at ease knowing they are in experienced, creative, capable and caring hands. Our clients become a part of our Renaissance Waverly family!"

Tammie Guthrie Renaissance Atlanta Waverly Hotel
Perfect Wedding Venue
Budget
Atlanta Marriott Perimeter Center Hotel
Hilton Orlando – Altamonte Springs
Gaylord Palms Resort
Hilton Orlando Bonnet Creek
Bonaventure Resort & Spa
Innisbrook Golf and Spa Resort
Coral Springs Marriott
Newport Beachside Hotel & Resort
Doubletree by Hilton Sunrise/Sawgrass
Novare Events
Grand Hyatt Tampa Bay
Palm Beach Gardens Marriott
Gulf Stream Park
Raleigh Marriott Crabtree Valley
Harbor Beach Marriott Resort & Spa
Renaissance Atlanta Waverly Hotel
Hilton Charlotte Center City
St. Augustine Renaissance
Hilton Daytona Beach
Waldorf Astoria Orlando
Hilton Orlando
Pam Becker
Caitlin Schmedeke
Tracy Suit
Teresa Bernstein
Barry Rubin
Tammie Guthrie
Wedding Professionals
Jeri-Ann Hart
Hope Nudelman
Karima Barnes
Morgan Smith
Caitlin Schmedeke
Vanessa Jackson
Ray Briels
Emiliana Mes
Daniele Spano
Tiler Theisen
Teresa Bernstein