Tips to Choose Perfect Varmala or Jaimala for your Wedding
Indian weddings are filled with so many colorful customs and rituals. One such beautiful ritual is the varmala or jaimala ceremony, where the bride and the groom exchange garlands to symbolize the start of their new journey together.
Remember, this garland will be a part of most of your wedding day photos, so make the right choice. Here are tips to choose a perfect varmala or jaimala.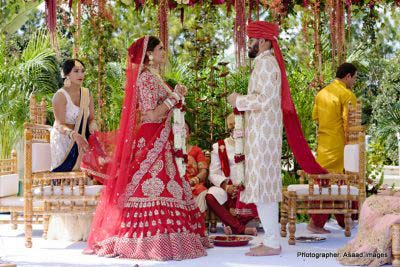 Coordinate with your Outfits
Go for a garland that complements the colors of your wedding outfits. You can also take inspiration from the work and embellishments on your outfit. If you have a heavy outfit, go for an elegant and delicate mala. And if your attire is simple, go for a heavier garland.
Complement with the Décor
If you have chosen a theme or a color combination for your wedding decor, go for a garland that matches it. If you have a beach wedding, you can go for flowers like lilies or lotus. If your wedding color scheme is red and gold, you can go for red and orange flowers in the jaimala.
Keep the tradition in Mind
Sizes and flowers of the garlands differ from community to community so do keep that in mind. Like, garlands used in South Indian weddings are longer and heavier compared to Punjabi or Sindhi weddings.
Think about the season
While most traditional flowers are available all year round, you can also go for seasonal flowers that can glam up your look. It is best to ask your florist about the flowers that will be available during the season you are getting married.
Know your Flowers
Choose flowers for the jaimala based on their significance. Like, red roses represent love, marigolds represent prosperity, and orchids represent magnificence and beauty, etc. So, think about what you want your garland to say.