Aarohi weds Viral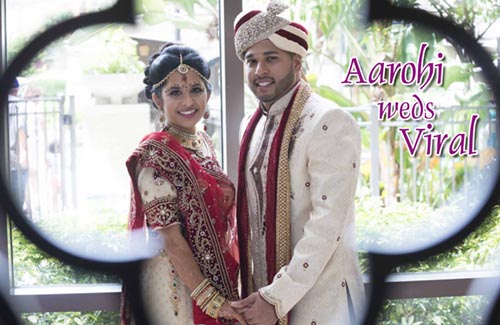 Viral and Aarohi were lucky to know each since high school, when Viral visited a friend in New York and Aarohi was in school in New Jersey. They remained briefly in touch, but a surprising flame rekindled many years later when they both ended up in Florida, and the flame is still burning bright. Viral proposed after five years, when the couple took a romantic trip to Italy. Atop a beautiful hilltop overlooking the Amo River at sunset, Aarohi was completely stunned when he asked her to marry him, and the two were excited to begin planning the start of the rest of their shared life journey.
Aarohi and Viral hired Shiv Priya Events to plan the wedding, because he also planned Viral's sister's wedding, and they knew they would need help balancing wedding duties with their hectic work schedules. They began planning several months after the engagement, which gave them a whole year to work out all the details and find the best deals to fit their budget.The wedding took place at the Wyndham Grand Bonnet Creek in Orlando, making it a destination wedding for Aarohi's New Jersey family.
The mehndi night at their house kicked off the wedding weekend, with food catered by a family friend, pizza for their non-Indian guests, and henna for everyone. The ceremony took place in the main ballroom of the hotel, and was elegantly set up with a round mandap, aisle decorated with gold shimmering cloth, Ganesha, and red and white roses. The wedding programs were also red and white, which Aarohi and Viral ordered online and their bridal party put together. They were adorned with peacocks feathers, and were placed on the seats along with customized water bottles for every guest. Viral's baraat entered on a white horse, with his friends and family dancing outside of the carriage, and Aarohi was brought in on a dholi by her cousins and brothers. The ceremony began late, delaying the events for the rest of the day, but the couple laughs about it now because it was still the best day of their lives.
The following reception included 150 guests, and they re-used elements from the ceremony, such as the pillars and roses. There was also the addition of a green color scheme, from the hydrangea flowers and Jade green orchids, green lighting, and embroidered mint green table linens. They hired DJ Firoz to play a variety of music, from Bollywood hits and Bhangra to Latin and Hip Hop. The bridal party also did a surprise performance, and the groom surprised all the guests by joining in. Aarohi and Viral were happy to celebrate with their loved ones and solidify their eternal friendship with such a joyous and memorable event.
Photos Courtesy:
Digital Dream Studio
407-791-6064
www.digitaldreamstudio.com
Vendors

BANQUET HALLS
Wyndham Grand Orlando Resort Bonnet
407-390-230
www.wyndhambonnetcreek.com BEAUTICIANS/COSMETICIAN
Preranas Boutique
407-240-7353
sagar05142@aol.comCATERING
Memories of India
407-804-0920
www.memoriesofindiacuisine.comDISC JOCKEY
Dudha Productions
727-418-8498
www.dudhaproductions.com

FLORIST
Shubham Mandap
404-759-1565
www.shubhammandap.com

Shivpriya Event Management
407-473-8852
www.shivpriyaevents.com

HAIR
Prerana's Beauty & Boutique
407-240-7353
preranasbeauty@gmail.com

HORSE
Downtown Horse & Carriage Inc
561-723-4704
www.downtownhorseandcarriage.comMAKE UP
Borbon Blush
407-454-0019
brubia90@yahoo.comMANDAP DECORATOR
Shubham Mandap
404-759-1565
www.shubhammandap.com MEHNDI
Prerana's Beauty & Boutique
407-240-7353
preranasbeauty@gmail.com

PHOTOGRAPHER/VIDEOGRAPHY
Digital Dream Studio
407-791-6064
www.digitaldreamstudio.com

WEDDING PLANNER
Shivpriya Event Management
407-473-8852
www.shivpriyaevents.com