Amanda weds Rajesh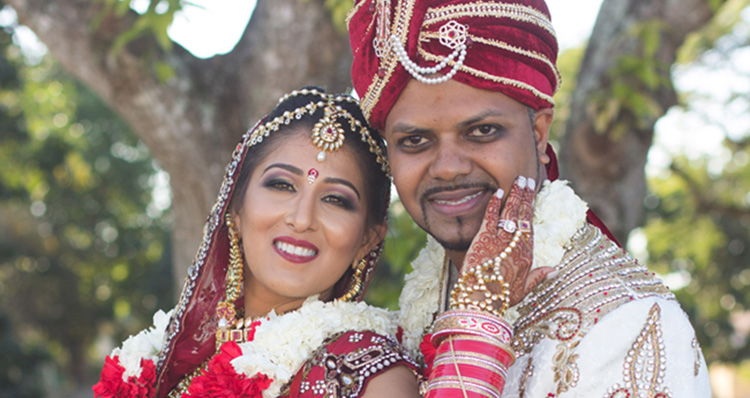 They say that the heart recognizes its soul mate, but the mind may take time to process. While at first glance of Amanda on his 30th birthday, Rajesh immediately recognized his destiny, it took Amanda, then 28, a year to recognize the same for Rajesh. After a whirlwind romance spanning five years, Rajesh staged a romantic proposal to Amanda in the skies on an airplane, which she gleefully accepted. Thus began their transition to a new phase of their life.
In the engagement period spanning just over a year, the couple were very clear in their desire for a an Indian royal wedding in the style of Jodha Akbar. Wedding planner Anand Event Services helped turn their dreams to reality, while the entire family, including aunts and uncles, were involved with preparations. The matching bride and groom outfits were designed by CT West of Canada and sent to India to be stitched and completed with matching customized jewelry. To capture their timeless love and special moments, the hashtag #RajandAmanda2016 was used on social media starting with the proposal all the way through the honeymoon in Tahiti and Bora Bora.
In honor of their native land Trinidad, the couple chose the Lakshmi Narayan Temple in Miami, Florida for their marriage ceremony. The reception took place at the Diplomat Golf and Tennis in Hallandale Beach. The Mehndi and Sangeet function took place where they first met – at the home of their aunt and uncle! The décor was mesmerizing with multi-colored draped fabrics illuminated with LED lighting and uplights. Both families thoroughly enjoyed the sangeet, especially the tassa drums and singing by New York performers led by Randy Ramdeen.
Six gold Laxmi murtis led the way to the mandap, which was draped in gold fabric and accessorized with flowers and LED lighting. A memory table with a Ganesh murti honored deceased loved ones with pictures. Each of the 165 invited guests were given a box of Indian sweets, a granola bar, water bottle and the six page program done in red, gold and ivory, describing each ritual significance. A drone filmed the baarat with the groom entering on a fully decorated elephant to "Jashn E Bahara," while the bride entered with her father to "Din Shagna Na." The couple left in a White 2015 Rolls Royce.
True to the Valentine Evening, the reception décor oozed romance with its bluish pink and gold theme. Centerpieces of white hydrangeas and pink roses were magical with up lights and LED lighting. This was accentuated with light pink and ivory colored linens alternating on each table and beautifully complementing the gold beaded chargers and gold coaster set presented to each of the 135 guests present. Amidst a royal cuisine of four course meal, was the five tier cake in Vanilla Rum and Almond Amaretto. The couple's first dance was to a mix of "All of Me" by John Legend and "Pee Loon"- perfect blend of east and west.
---
BANQUET HALLS The Diplomat Golf Tennis Yacht Club 954-883-4100 BEAUTICIANS/COSMETICIAN Glam By Mevi 305-910-5271 BOUTIQUES CTC West 905-264-6264 CAKE Renees Gourmet Cakes 954-415-7243 DECORATOR Anand Event Services 754-581-0074 DISC JOCKEY DJ Mojo 561-714-8377 EVENT PLANNER Anand Event Services 754-581-0074 FLORIST Anand Event Services 754-581-0074 HORSE ELEPHANT AND HORSE LADY 863-242-8015 MEHNDI Farah Mehendi 786-208-2277 PHOTOGRAPHER Anand Event Services 754-581-0074PRIEST/WORSHIP SERVICES Pt. Krishna Maharaj 954-974-6941RENTAL SERVICES Moe s Party Rental 305-259-3444 TEMPLE Miami Lakshmi Narayan Temple 305-265-0828 VIDEOGRAPHY Anand Event Services 754-581-0074