Anandi and Rushi
Even with the many challenges of a long-distance relationship, the bonds of love and togetherness never faded between Anandi Mandania and Rushi Gajjar. Anandi, a resident of New Jersey, and Rushi, who lives in Dallas, met each other while taking vacations at a beautiful Mexican destination. On the first anniversary of their relationship they went on vacation, again to Mexico, where it all started. Rushi proposed to Anandi on a beautiful beach during a private dinner. Anandi had been wishing that Rushi would propose, and when the moment arrived she was overwhelmed with joy and ecstasy.  Three years after their engagement the two were married on November 20, 2021. It was a destination wedding at Hard Rock Hotel & Casino in Punta Cana, along Macao Beach, in the Dominican Republic. They enlisted the help of Shaadi Destinations to arrange the venue, date and transportation, but the wedding events were conceived and planned by the couple.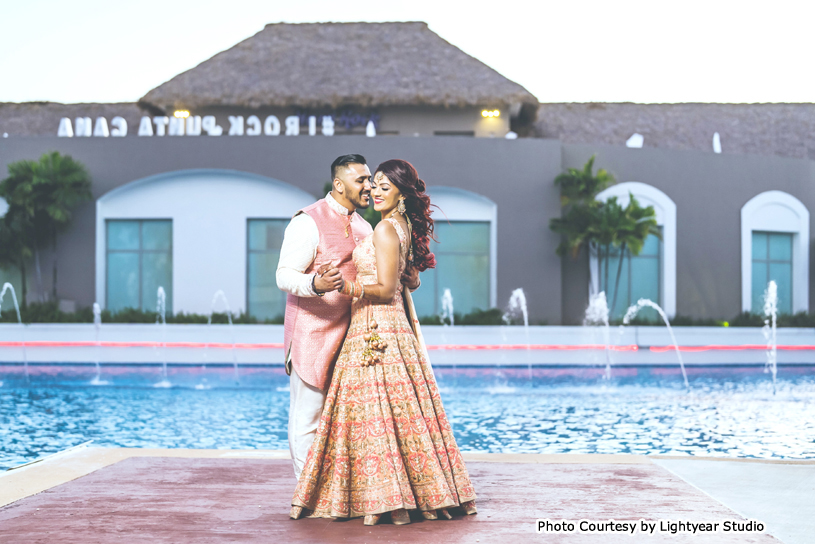 ---
BANQUET HALLS Hard Rock Hotel & Casino Punta Cana 809-687-0000 | BEAUTICIANS Flawless Beauty by Pauline 484-767-2531 | | BOUTIQUES Shilpa Gandhi Studio 201-253-7513 | CATERING Pranama Restaurant 829-768-6262 | EVENT PLANNER Pearls Events 973-830-9327 | Shaadi Destinations 970-680-1870 | MEHNDI Vineeta Rathod Vineetarathod34@gmail.com | MUSICIAN M4U Events 732-771-649 | PRIEST Mayur Maraj 219-613-6848 | PHOTOGRAPHER/VIDEOGRAPHY Lightyear Studio 215-279-9041
---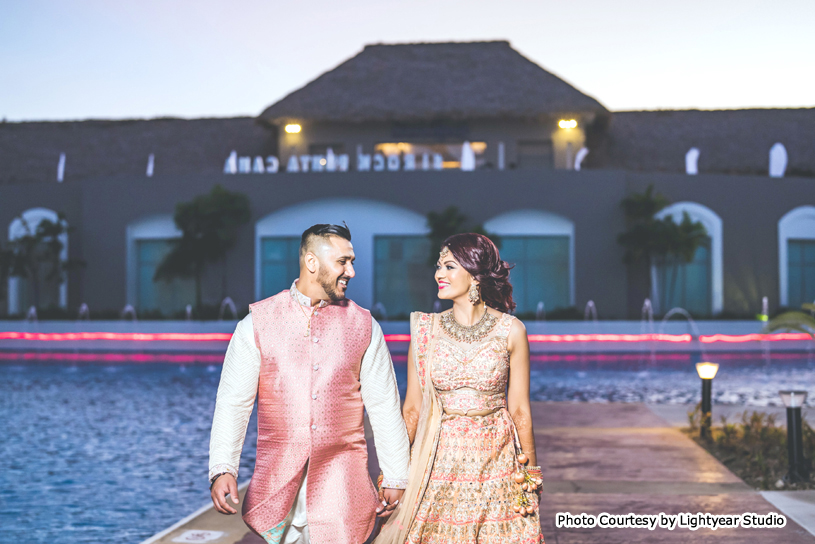 Among the pre-wedding celebrations, Sangeet had a Caribbean and fun atmosphere. The guests enjoyed a fire dance performance and stalls serving Indian snacks were offered. Pani Puri and Vodka Puri were super hits. At Haldi, all the guests wore magenta outfits while the bride and groom wore yellow, making for beautiful pictures of the event.  The wedding was an outdoor ceremony in the morning. With beautiful water views in the background, the Mandap décor was kept minimal. Rushi arrived on horseback. There was a dress code for the guests, with women wearing dresses in pastel shades. Both sets of parents wore emerald green, and the bridal party wore pista green. A DJ played music and the couple and their guests danced with enthusiasm and joy.  The reception featured a travel theme, based on all of the places the couple have visited. The seating arrangements also had travel themes. They had lighted crowns. Spanish, Bollywood, Caribbean and other kinds of music were played and there were dance performances by the couple and their families.  Rushi was mesmerized by the sight of Anandi in her wedding attire. Her father, too, compared his daughter's glow to a diamond. During his speech at the reception, he emotionally told Rushi that he is entrusting his precious diamond to him and Rushi should make sure she always glows. It was a fun-filled wedding, and the memories of the special day will always be cherished by the couple.