Anika and Milan
It seems like the power of online dating can surprise everyone or anyone. Milan and Anika connected on DilMil at the beginning of 2019. The spark was there the moment they swiped right. On October 5, 2020, in the midst of a pandemic Milan was ready to move to the next chapter of their relationship. With the blessings of Maharaj, Swami, and both of their parents, Milan proposed to Anika at the William Vale Rooftop in New York City where the skyline was as stunning as Anika. Milan got down on one knee, and of course Anika said "Yes"! The overall planning of the wedding took exactly one year with the help of Monica Cullen, owner and lead planner of As You Wish, weddings and events. Anika and Milan decided to get married on a very special day, October 31st 2021.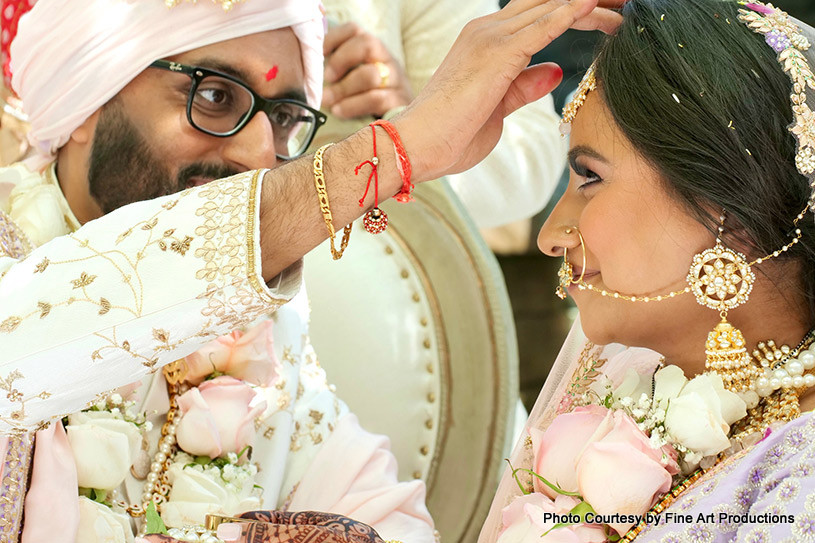 ---
BANQUET HALLS B Resort 407-828-2828 Gaylord Palms Resort & Convention Center 407-586-2248 | BARTENDING SERVICE Events by Dereck 646-797-7998 | BEAUTICIANS JULIANA MAKEUP + HAIR GROUP 321-947-9358 Styled with Nat 732-910-2989 | CAKE Yogi's Yummilicious Cakes 305-989-7697  | CATERING Khasiyat Indian Restaurant 407-252-8756  Saffron Indian Cuisine- Orlando 407-674-8899 | DECORATOR Dreams To Reality 407-592-9261 | DISC JOCKEY Krish Entertainment Inc. 352-299-0743 | ENTERTAINMENT Steel Drums 407-788-2326  | EVENT PLANNER As You Wish Weddings & Events 407-468-3056  | Music Harpist Christine MacPhail 407-239-1330 | Florist Nikun Events 407-448-7128 | HORSE AND CARRIAGE Misty Blue Acres 407-433-1099  | MEHNDI Henna Mehndi Art By Amrita 813-507-8045  | LIVE PAINTER Event Painting by Jamie 610-316-2113 | RENTAL SERVICES Exotic Limo 407-790-6388  PHOTOGRAPHER/VIDEOGRAPHER Fine Art Productions 407-979-4749  | WEDDING SERVICES Shahi Turban Tying Services 954-681-7252
---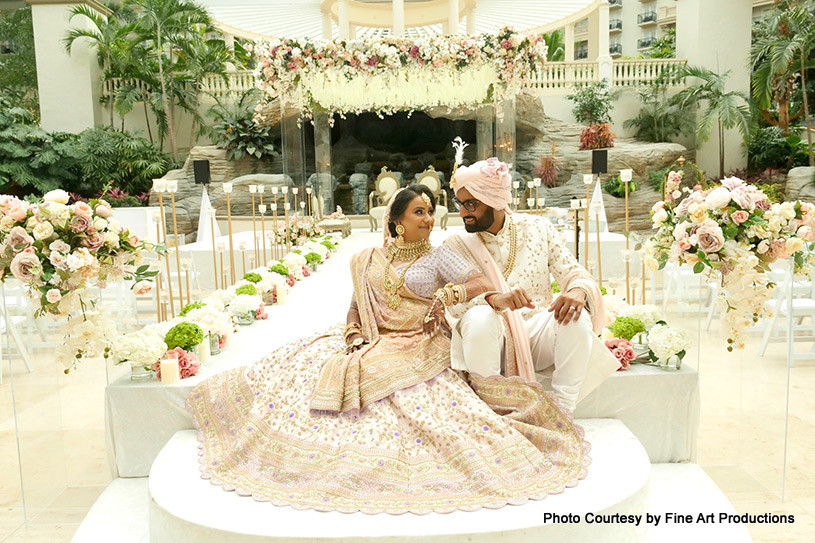 Anika had her dream wedding planned way before she met Milan. She knew since the age of 8, that her wedding venue would be at Gaylord Palms in Orlando Florida, in the beautiful atrium. Anika first got all the venues picked out, then it was time for the most important thing for Anika, the outfits! Anika picked all their outfits months in advance so they could be incorporated in the boxed wedding invitation. On the back of each insert, Anika wanted illustrations of them in their outfits for each special event. Both Anika and Milan had their pre-wedding celebration together. Mendhi and Vidhi was held at the Villas, giving it an intimate, and home feeling. The Garba event was held at B Resort near Disney Springs. Milan and Anika had a grand Garba, the to-be husband and wife entered on a Riksha styled bicycle with Dhol players leading the way around family and friends. Dreams to Reality did all the decorations for all 4 days. The owner, Mejoo and her team did an outstanding job. With different street food stalls which are seen in India, to the amazing Dhol players, and the incredible DJ Krish the entire night was a celebration that no one could forget. Anika planned the theme of Garba to be traditional deep rich colors of India, making it a vibrant night. The Gaylord Palms wedding venue is situated under a beautiful glass atrium, offering natural lighting and lush landscapes.  The Wedding itself had a royal and bright feel. Anika and Milan both in light pink and lilac, their elaborate outfits by Ekta Solanki made in London UK, stole the show. Anika knew with being modern she wanted to add something traditional to her wedding outfit, so she added a bandhani duppata. With Milan's pagh trimming to the complete the whole outfit with the bhandhani theme. It all contrasted with the venue and the colors. Milan arrived in a horse and carriage, and Anika came down the aisle with Swaminaryan Bhawgan. In between the ceremony the guests were given out Kulfi ice cream and fresh Passion fruit juice. With great effort, sleepless nights, and dedication they successfully managed to have their dream wedding. All 350 guests from all around the states enjoyed the wedding celebration that was an unforgettable experience of a lifetime.