Anukiran weds Hector
Anukiran

weds Hector

Anukiran and Hector's love story defies the common belief that "opposites attract." When they first met at ITT Technical Institute, they discovered they were not only pursuing the same degree and were in the same year, but also shared the same birthday. The young couple decided that it must be destiny that brought them together and knew that they wanted to spend the rest of their lives together.
On the day of their graduation from ITT Tech, Hector proposed to Anukiran with both of their families present. At the time, Hector was already contracted with the government to join the United States Marine Corps and during their graduation dinner, his gunnery sergeant made a surprise appearance. He led Anukiran and their families outside, where Hector asked Anukiran to marry him. She was so surprised and speechless, yet she was happy to say "yes" in front of their families.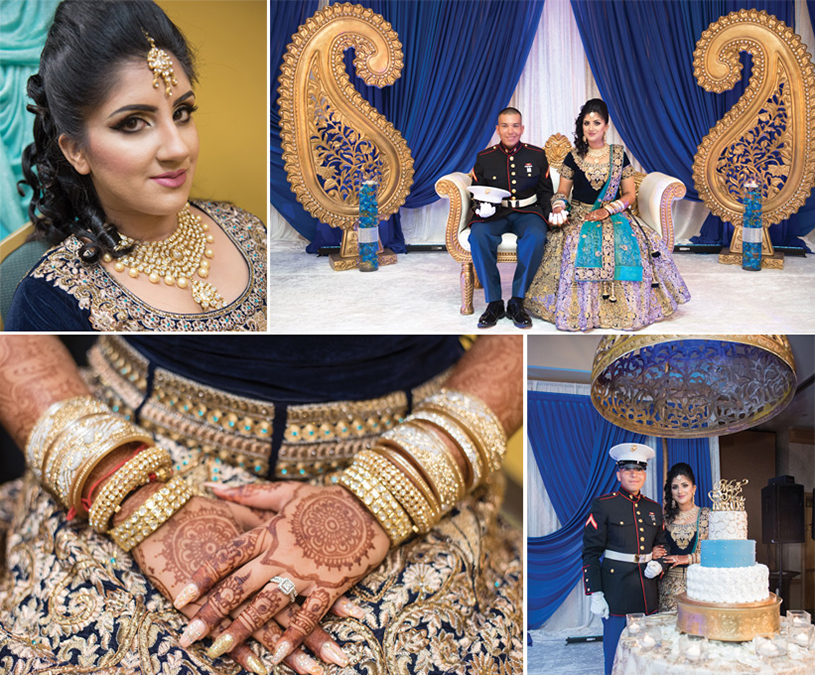 The couple hired Anand Event Services to plan the wedding, even though Anukiran initially wanted a do-it-yourself wedding. She realized that it requires an unreasonable amount of time and effort, and didn't want to compromise the happiness of the wedding with a million unmanageable tasks. Anand Event Services coordinated everything from decorations for all of the events and their photographs. Rather than a destination wedding, the couple chose a hotel venue that was convenient for their families in South Florida. For the sangeet night, Anand Event Services decorated a clubhouse venue with a multi-colored theme that exceeded their expectations.
Instead of a wedding theme, Anukiran and Hector chose a simple red and white color scheme with floral varieties and colored drapes and sheets covering the gurudwara floor and walls. Hector arrived at the gurudwara in a vintage red Chevrolet show car, and the wedding transitioned into a navy, blue, and gold reception event. The centerpieces were all white, with beautiful hanging orchids and water gel crystals. Each centerpiece was delicately uplit with a white light to create a gorgeous, glowing effect.

During the reception, the bride and groom's families entered first, followed by the newlyweds entering to their first dance song. Throughout the night, their 300 guests danced to a mix of bhangra, bachata, salsa, and American pop hits. Anukiran and Hector were glad that they were able to enjoy all of the small moments without frustration or stress, and their wedding turned out to be a beautiful event with the help of their accomplished wedding planners.

Preferred Vendors

Anand Event Services

754-581-0074

For more information on how preferred vendors are selected , Click here

BEAUTICIANS/COSMETICIAN Ibrow Studio 954-304-4958 www.sumaiyas.com CAKE Eddas Cake Designs 305-668-1828 www.eddascakedesigns.com CEREMONY SITE Sikh Society of Florida 954-680-0221 www.miamigurudwara.org DISC JOCKEY Ace DJ 954-649-3374 acedj2004@yahoo.com JEWELERS JR Dunn Jewelers 954-782-5000 www.jrdunn.com PHOTOGRAPHER Anand Photo & Video 754-581-0074 www.anandphotoandvideo.com RECEPTION SITES Coral Springs Marriott 954-227-4122 www.marriott.com/fllmc RESTAURANT/CATERING Punjab Restaurant 561-392-8000 www.bocapunjab.com VIDEOGRAPHY Anand Event Services 754-581-0074 www.anandphotoandvideo.com WEDDING SERVICES Anand Event Services 754-581-0074 www.anandphotoandvideo.com