Asha and Phillip
The well-known rom-com Jerry Maguire served as the impetus for the heightened chemistry between Actress Asha Rampertaap and Financial Analyst Phillip Etherton. On 02-20-2020 the couple met at a Charity event in New York City where they found themselves finishing each other's Jerry Maguire quotes. It was the epitome of "You Had Me at Hello," and the start of  their endless love affair. In February 2020, right before the pandemic swept the globe, the budding romance begins. Their love story became a long-distance one as a result of the prolonged lockdown and restrictions. Finally, on November 19, 2021, it was a Lights. Camera. Action! proposal from a movie script. Philip faked an audition to pop the question to his actor love. In honor of Lord Ganesh, Philip presented her with an engagement ring with two rose gold elephants. Asha responded with a joyous "Yes."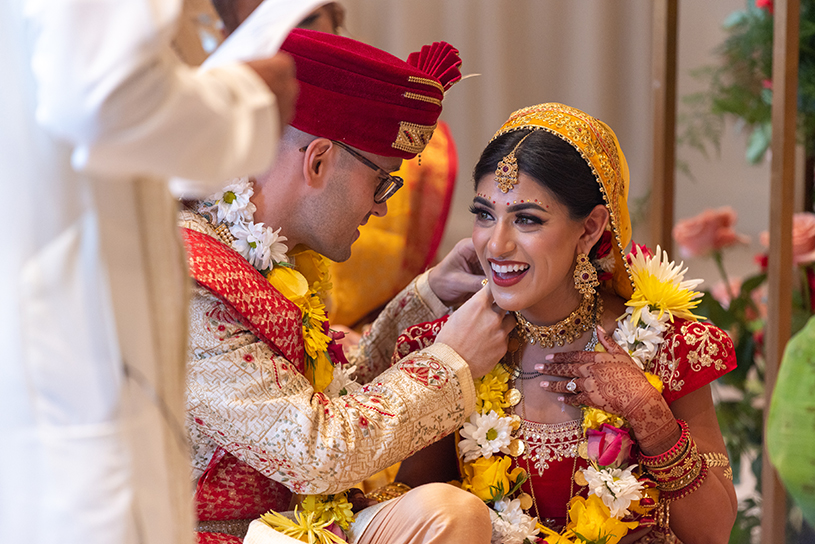 They set December 17, 2022, as the date for their wedding since they wanted to get married before the year was over, and would perfectly coincide with the Winter holiday season. After a protracted search, the chosen venue was an exquisite private Mansion located in Palm Beach, Florida. The Wedding Week kicked off with the spirit and cheery vibes of the Christmas holiday, the Mehndi was celebrated at Asha's exquisitely furnished home on December 14 followed by the Matikore and Haldi. The concept and decorations for Sangeet were influenced by Baz Luhrmann, Barbie Core, and Disney. It was a lavish event with red colors and velvety textures.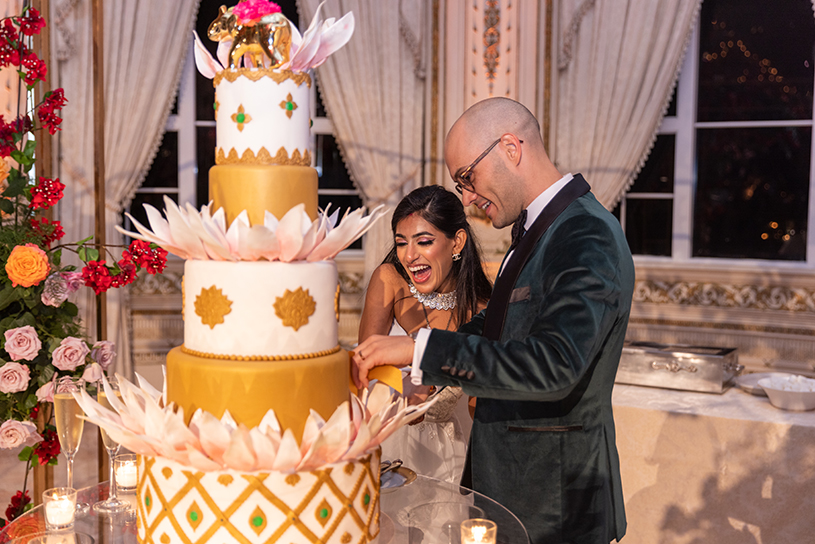 ---
BEAUTICIAN Sumaiya's Ibrow Studio 954-304-4958 | EVENT PLANNER EBJ Events 305-333-8878 | CAKE Fun Cakes 616-375-1200 | CATERING Imaginations catering & events 561-371-3317 | MEHNDI nazaHenna 754-900-6530 | DISC JOCKEY Pavan Events 954-494-3567 | DECORATOR Petal Productions 305-571-5153 | PHOTOGRAPHER/VIDEOGRAPHY Suzanne Delawar Studios 305-851-8359 | INVITATION Upani India Pvt Ltd 91 8750052245
---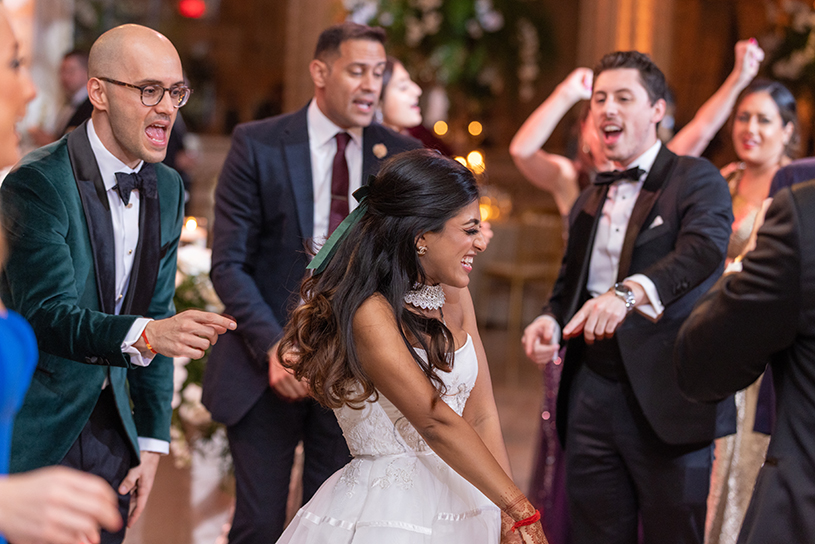 The ceremony took place in a grand ballroom adorned with 17 chandeliers on the morning of December 17, 2022. An enchanting Indian forest was the main motif. There was a floral-themed gold mandap with enormous blooms in the colors of red, yellow, orange, and pink. To evoke Alice in Wonderland, Asha chose enormous silk flowers. The interior was decorated with lots of elephant and lotus symbols, and there was a mirror aisle that was bordered by pools of floating lotus flowers. Asha made her grand entrance on an elegant royal blue doli by her male cousins, who were preceded by a dozen stunning bridesmaids wearing emerald and gold saris. In a majestic white Bentley convertible with plush burgundy upholstery adorned with Indian flowers, Phillip made his debut. The guests were treated to a sumptuous vegetarian Indian lunch that followed the event. The reception had a Gilded Garden theme with candelabras and trees with gold leaves. An extravagant tree with ivory blossoms, gold foliage, and cascading lights was placed in the middle of the ballroom. Heaven is a Place on Earth by Belinda Carlisle and a spectacular fireworks show were the couple's entrances. The 200 attendees enjoyed themselves and gave the couple their blessings. As a surprise WOW factor the couple had a VERY special VIP guest, but you had to be there! Asha and Philip set off on their adventure together, filled with feelings of immense happiness and fulfillment as well as dreams for a promising future.