Brindusa and Parth
It took Parth Dave four long years to begin dating Brindusa (Brin) Dumitrascu. However, with slow but steady effort, Parth ultimately won the heart of his lady love. They met through colleagues and hung out a bit in 2014. They met again in 2018 and began dating.  Contrary to the popular holiday outing proposal in some picturesque place, Parth proposed to Brin by asking if she wanted the two of them to buy a house together. The cat-lover Brin said "Yes," with approval from her kitten, named Kindle.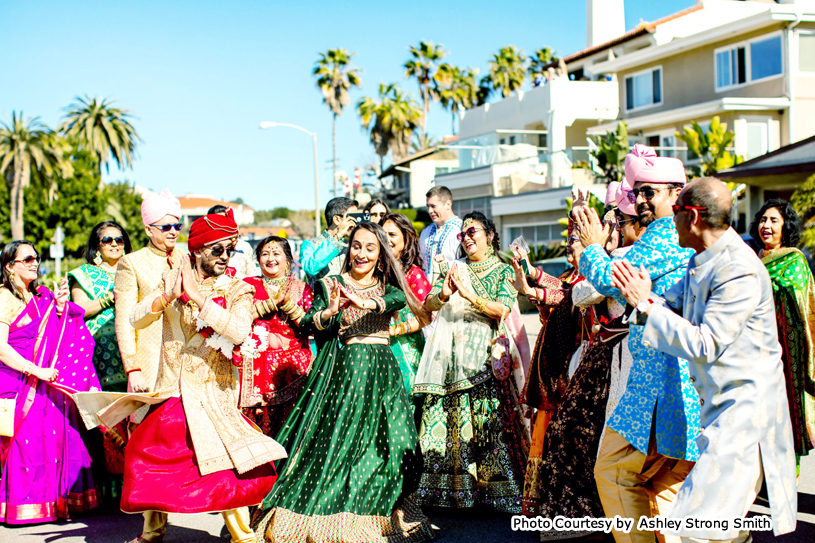 ---
BANQUET HALLS Ole Hanson Beach Club 949-431-2959 | BEAUTICIANS Style in Beauty Salon Inc 562-262-8990 | CAKE Penelope's Perfections Bakery 949-402-8328 | CATERING 24 Carrots 714-942-6000 | DECORATOR Utsav Events 562-228-8655 | EVENT PLANNER Pretty Palm Leaf Event Co. LLC 949-463-4201 | INVITATIONS Designed with Amore 586-335-9046 | MUSICIAN N-Effect Productions 949-829-8029 | PHOTOGRAPHER Ashley Strong Smith 760-500-2829 | PRIEST Chandrakant Chove | VIDEOGRAPHY Brink Media Co. 951-437-9223
---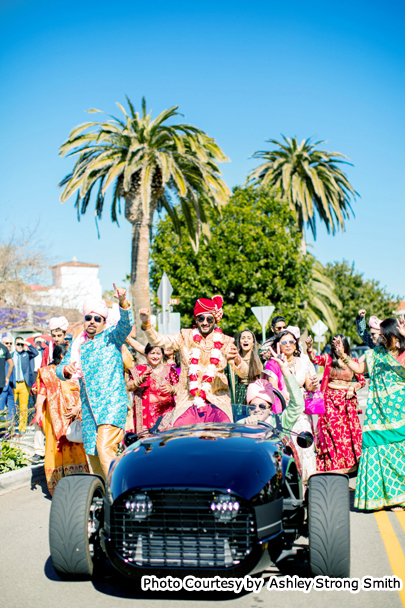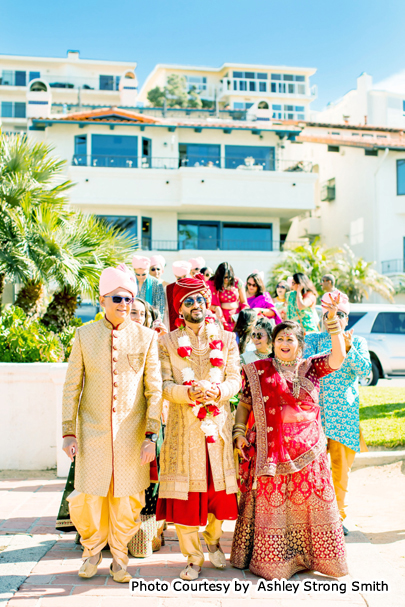 The couple decided not to hire a wedding planner and instead made all of the arrangements themselves. It was a cross-cultural marriage, as Brin is Romanian and Parth is Indian. With love and respect for each other's cultures and traditions, they decided to have an Indian wedding and a western-style reception. Brin, being a beach-lover, found the Ole Hanson Beach Club at San Clemente, Calif., and it seemed the dream location for the wedding. They tied the knot there on February 5, 2022. Among the pre-wedding ceremonies, Mehndi and Pithi were done on February 3 and 4 at their house in Glendora, Calif., with simple floral decorations. The wedding took place in the afternoon on the beach club's lawn overlooking the ocean. The groom arrived in a Vanderhall Venice along with his family and friends. They all danced their way to the wedding venue, including Parth, who got out of the three-wheeled roadster and joined the dance. There was a gold mandap, with white and gold chairs for the bride and groom. A white canopy was set up to cover the guests, since it was a warm, sunny day, and the couple wanted everyone to be comfortable. Traditional Indian decorations of gold and red were placed along both sides of the aisle. The bridal party consisted of Brin, her mom and her brothers. The reception featured a purple and silver color theme. Each table had potted purple orchids and silver candles as centerpieces, as well as gifts for the guests. The sweetheart table was surrounded by different sizes of purple candles and a gold arch stood in the background. The dinner took place outside and there was dancing in a room decorated with purple lights. The first dance was an Argentine tango called Asi Se Baila El Tango, by Veronica Verdier. The music was a blend of Indian, Romanian and top 40 music, and Parth's family members put up dance performances. The couple made gifts for each of the wedding guests. Purple and silver necklaces handmade by the bride were gifted to the ladies, while the men received a coaster with a picture taken by Parth in Utah. Looking at each other in their wedding outfits was a moment of joy for both of them. They happily recall the fun and fond memories of the wedding.