Christina Patel's Wedding Story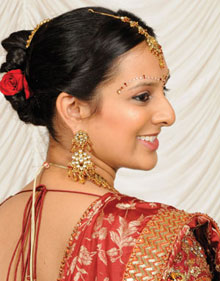 Next, was respect and appreciation, as I saw my parents and brother smiling from cheek to cheek. My final emotion was that of awe, as I saw a gorgeous golden Mandap with aromatic flowers and vibrant colors that I felt were literally taken out of my dreams and placed right in front of me. That short walk down the aisle was a walk I will never forget because it is a walk down a path that changed my life forever.
To get to the end of that aisle was a journey in more ways than one. However, the hardest one of all was the planning of one of the most important days of my life. I had to plan a wedding while studying for my physician assistant boards and packing to move to Texas after I was married. What helped me get through it was the support and help of my family and friends.
One of the keys to wedding planning is to admit that you need help. Delegate tasks to those you think would be most suited for it. For example, if you plan on doing some decorating by yourself ask someone who is creative and can think out of the box. Be able to admit that you can't turn a pumpkin into a carriage. When hiring professionals for certain tasks, shop around. See what your options are.
Weddings are not only a memorable occasion but it is also a financial obligation on yourself or your parents. Make sure you and your decorator, DJ, photographer etc. are on the same page and have good communication. Communication is key to ensure your perfect day is exactly that, perfect. I believe my decorator understood my vision better than I did because when I walked into that room it was everything Iwanted and more. It literally took my breath away and that is what you deserve for your special day.
Christina PatelAnother important part of planning a wedding is to be organized. The biggest compliment my family got of my wedding was that it was well organized and every event occurred in a timely manner. Our culture is known for Indian standard timing, try to make this occasion an exception. As you are planning your wedding make a document on your computer with a detailed schedule of events and timings and whom you are delegating tasks too.
It is easy for you to tell someone to do something but during the event it's hard to remind or remember who you delegated that task too. No matter how much time and effort you put into an event if it is not organized it will not be appreciated. Something important I learned was that there are many resources available here in the United States to plan a Hindu wedding. My family and I debated whether to make a trip to India to purchase needed items for the wedding. With me studying for boards and my husband as a first year medical resident that trip was definitely going to be impossible. Thus, I took out a weekend and went to New Jersey for my outfits and wedding jewelry.
My husband custom made his outfit in Houston where we both ordered our invitations from as well. There are also many options in the South Florida area and online. Thus, if you are on a time or financial constraint do not think that there are not enough options available in your community. Going to wedding expos was very beneficial as well. The most important advice I can give is to remember why you are planning a wedding in the first place, to marry the one who promised to love you forever. Make your wedding everything you ever wanted it to be but don't let yourself get bogged down by the details.
Christina PatelAt the end of the day this should be one of the most memorable occasions of your life not an event you want to forget. Have fun! This occasion is the celebration of love, commitment and it is a representation of our rich and traditional culture. Embrace every moment you can during this planning process because like I said it was a very short walk down that isle and a very short walk around that fire compared to the time you put into planning your wedding. However, remember that the short walk down that aisle will lead you to a lifetime full of love, respect, appreciation, and awe.
Photography/Videography Anand Photo & Video Decorator/Flowers Suhaag Gardens Bridal Hair and Makeup Anju Thaker Venues Signature Grand and Quality Inn Plantation Catering Woodlands, Swaminarayn  and Punjab restaurant Panditji Harishbhai Shakala Cake Divine Delicacies