Of Dreams, Fairy Tales and Luxury Shetal and Dipesh
Some people believe that you cannot have all that you have dream of on your wedding day. They think that you can imagine, and then probably some of it will come true. For Shetal Patel, a physician from Georgia, her dream wedding came true, complete with all that she wanted, and it was truly larger than life.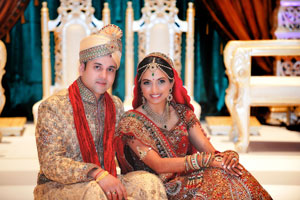 Introduced through common friends, Shetal and Dipesh Parekh could sense an attraction from the very beginning. After a courtship lasting two years, Dipesh finally obtained permission from Shetal's father to propose. After proposing in front of the Lincoln Memorial in Washington, DC, Dipesh got to live his dream of romancing Shetal in Paris, which is where they spent their next Valentine's Day.
The engagement took place in Dipesh's hometown of Orlando, Florida. With 350 people in attendance, it was a very large affair. It was decided that the wedding would take place a year later, and Dipesh, Shetal and her father took on planning arrangements.
The first of the wedding celebrations was the mehndi and sangeet, which took place at Shetal's house in Stockbridge, Georgia. This was special for her, since she wanted at least one of the events to take place at home. He house was tastefully decorated and proved very welcoming. There was also a special raas garba organized at the Shakti Mandir, where Shetal's father is an active member. Dipesh and Shetal arrived in a helicopter and were ushered in by cousins who formed an archway with sparklers. All guests were treated to a twenty-minute firework display and grand food. Garba night welcomed 1,200 guests with fun, action and dance. Pizza, popcorn, and a cotton candy machine ensured that even the little ones were having a great time! Dipesh's family also hosted a sangeet and mehndi at the Holy Trinity Reception Banquet Hall in Orlando.
The day of the wedding soon arrived. Grandeur was redefined on this occasion. The Georgia International Convention Center was perhaps the largest and best-connected venue available, and it proved to be the right choice given the number of guests attending. Nearly 1,100 guests were treated to grand sights as the groom and his family arrived first on a float designed as a large throne with a crown and elephant in the backdrop. They broke into a dance on reaching the venue, with large red umbrellas to shield them from the scorching heat. Shetal then arrived with the garland by passing through a tunnel of red balloons. After placing the garland on Dipesh, the balloons were released, which was truly a magical sight.
While waiting for Shetal's grand entrance, Dipesh was kept company by 16 groomsmen dressed as royalty complete with swords to relive the Jodha Akbar era. On Shetal's side, her bridesmaids carried burning torches down the aisle to draw attention to Shetal's entry. First down the aisle came Shetal's nine-month-old niece, who was pushed in wagon by her cousin. Shetal then came in on a specially designed palanquin or doli, which was gently pushed down the aisle by her brother and cousins.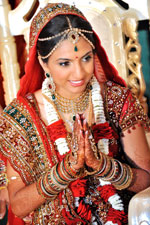 The reception certainly lived up to all expectations with the décor and food, but the highlight was the couple's first dance. While everyone expected it to be the conventional slow dance, they spun a surprise with a perfectly choreographed number containing a medley of various Hindi and English songs. Other interesting elements woven into the celebration included Hawaiian fire dancers, a hip hop dance performance, and the Bhangra performed by the Aasman group. The real icing on the cake for Dipesh came when he feasted on a specially designed Gator cake – in keeping with his passion for the University of Florida Gators.
Shetal has certainly learned a lot from this experience. She wisely warns that you must be organized, and be very clear and specific when detailing things with your vendor. It is important that both parties understand what they want and can deliver, or there is potential for chaos during the wedding. For Shetal, her dream wedding was special because of the year of careful planning and preparation. A good eye for detail and aesthetic, thorough coordination, and a special trip to India are just some of the things that went into making her dream wedding a reality.
In the end, the true success of a wedding is not in what people have to say about it or in the happiness you experienced on the day, but in the way that you enjoy and conduct your marriage!
Venue Georgia International Convention Center 770-997-3566

PHOTOGRAPHY

Zamana Photo & Videography 678-860-2921

VIDEOGRAPHY

Zamana Photo & Videography 678-860-2921

MANADP DECORATOR & FLOWERS

Occasions By Shangri-La 407-963-6720 HAIR & MAKEUP Blushing Bride Yasmin & Lovely 770-454-6946

Sarah Natural Identity

404-786-1996 WEDDING RINGS Solomon Brother 404-266-0266  

JEWELRY

Malani Jewelry 404-298-7811

Legacy Jewelry

678-421-0632

HORSE & CARRIAGE

Nottingham Shire & Carriage for Hire 404- 622-0526

MUSIC DJ

DJ Firoz 727-418-8498

CATERING for wedding

Shakti Mandir 770-968-3490

CAKE & Groomsmen Florida Gator Cake Cecilias Cakes 706-543-3308

ACCOMMODATIONS Marriott Gateway & SpringHill Suites Atlanta Airport and GICC 404-763-1544
 wedding day
physician from Georgia
dream wedding
Lincoln Memorial
Washington, DC
Valentine's Day
hometown
Orlando
Florida
planning arrangements
mehndi and sangeet
wedding celebrations
Pizza
popcorn
Holy Trinity Reception Banquet Hall
The Georgia International Convention Center
groomsmen
Jodha Akbar era
University of Florida Gators
Zamana Photo & Videography
Occasions By Shangri-La
Blushing Bride Yasmin & Lovely
Solomon Brother
Malani Jewelry
Nottingham Shire & Carriage for Hire
 DJ Firoz
Shakti Mandir
Groomsmen Florida Gator Cake Cecilias Cake
Marriott Gateway & Spring
Hill Suites Atlanta Airport and GICC