Hima Mareedu and Daniel Lantz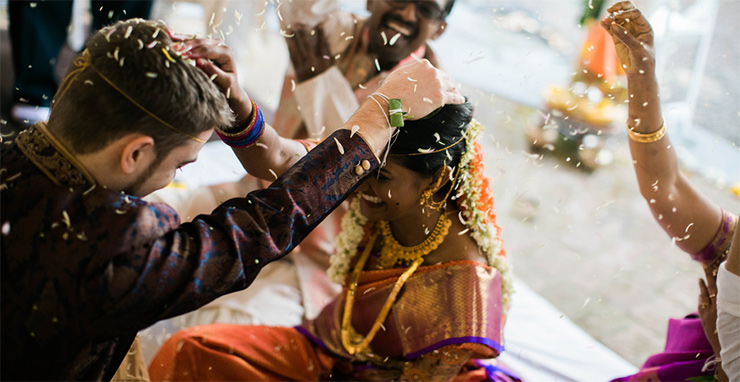 Bride's Name: HimaPriya Mareedu (Gonna change it to Lantz soon)
Groom's Name: Daniel Lantz
Wedding date: June 11th 2016
Wedding location: Kingston House Wedding and Events, Kingston, WA
How/when/where did you first meet? We initially met when I was going to interview when he worked on university campus. Oddly, I don't remember this part, but apprantly he gave me directions to the room I was supposed to go to. We started working together and at first I thought he didn't like me. He was very quite, never talked to me, never said more than what was needed. But as days got on, I started to bug him with like 100 questions a day. We started talking about controversial topics and soon became friends. When he was graduating, he asked me out and that is when it all started.

How/when/where did the proposal happen?: The proposal is a big story actually! So Dan and I have talked about getting married before. One day, I was sitting at home watching TV in AZ and my mom called me and goes "Dan called dad and wants to talk to us about something. He is coming over tomorrow.. do you know why?" I didn't know he was going to talk to my parents yet, so I was surprised. So Dan goes to my parents, askes them if they would give him the blessing to marry me. He talks to them for about 2 hours, but still by the end of the conversation, my parents didn't give him their blessing. They said "go talk to your parents as well.. and think about the religious differences you two have as well". Around Thanksgiving, I came up to WA and arranged a lunch with Dan's parents and mine. Once they met each other, my parents gave their blessings and so did his. By now, we were planning our Indian engagement ceremony but Dan hadn't yet officially asked me to marry him. The weekend before the Indian ceremony, Dan was supposed to come visit me in AZ but he and all my friends/family conspired and tricked me into thinking he wasn't coming. I was pissed at everyone for a whole week and didn't talk to anyone. But he planned with my friends in AZ to make me come to a park, where he was waiting for me to propose.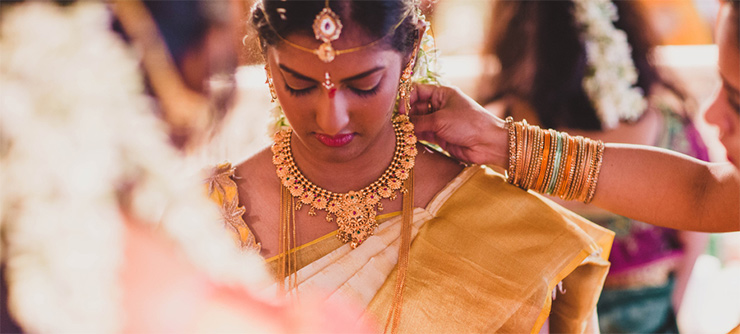 What was the vision for your wedding, the style/color/scheme? How many guests? For the Indian ceremony I didn't have any color scheme or style planned. I just wanted the decor to look classic, elegant so that it can carry over to the american ceremony. For the american ceremony the theme was classic, vintage. My colors were Yellow, Pink, Lavender and White.
Why did you choose your wedding venue? I chose the Kingston house for many reasons. We saw a lot of venues and all the other venues we were looking at were around the same cost, and had more restrictions. I just fell in love with the Kingston house before I even visited it in person. The ferry ride over was just soo pretty! When we got there, we saw how beautiful it is. I loved all the places I saw for great pictures. We chatted with Matt, and he was awesome. We talked to him about our plan to hold two different ceremonies and he graciously allowed us to have both ceremonies at the venue. We were able to stay the night before and get some prep work done etc. Overall it was just a great place!
Describe the ceremony, what made it unique/special. We had two different ceremonies. Both the ceremonies were special because the day wasn't about different religions or different people. It was about love. We celebrated our Love in different ways and joined two families as one.
Describe the reception, what made it unique/special We had two different receptions as well. The receptions were special because we had a chance to meet with our family and friends. Chat for a bit and relax.
Describe the flowers used for floral arrangements: All of our floral arrangements were done by Linda Elliot. She did a wonderful job putting everything together. We wanted to keep everything simple, clean, elegant and beautiful. What was the inspiration of your wedding cake? My main concern with cake was, I didn't want to bother anyone with the actual cutting part. So we went with cupcakes. We had one simple cake for us, but the guests had choices between multiple flavors.
Describe the favors for guests: We put together some succulents for the guests, we wanted to go with something people can have in their homes for a while. Something they can keep and grow.
Please list designer for your wedding dress, shoes, veil, and jewelry: Designer for the american wedding dress and veil is Kenneth Cole. We got them from a store called MeaMarie Bridal in Kirkland. The shoes I wore on the wedding day were actually stole from Dan's sister. I couldn't find my own shoes in the mess, so I grabbed the closest one I saw.
Please list designer for groom's attire: Groom's attire is by JCrew Please list designer for bridesmaids dresses: Maid of Honor dress is from WhiteHouse Black Market: Bateau Fit-and-Flare Taffeta– Bridesmaid dress is from Davids Bridal — The outfits for the Indian attire were imported from India. My cousin Sushuma did all the shopping for us and sent them over.
Photographer:  Adina Preston Weddings Floral Designer: Elliot Floral Dress Store: J Crew Dress Store: MeaMarie Bridal Atelier Bakery: Nothing Bundt Cakes Caterer: Saffron Grill Seattle Bridesmaid Dresses: White House Black Market Event Venue: Kingston House Weddings & Events