Janisha and Ronak
As medical school classmates, they were best friends and always stood by each other, no matter what the situation was. However, it was after graduation and during their residency in Philadelphia in 2017 that both Janisha and Ronak began dating each other. The proposal came after 3 years of dating, in 2020, Ronak proposed to Janisha by giving her a "special version" of the 6th Harry Potter book cut out to a chapter titled "The Unbreakable Vow" with a ring inside. Pleasantly surprised and overwhelmed, Janisha agreed to enter into a new chapter of life with her love Ronak.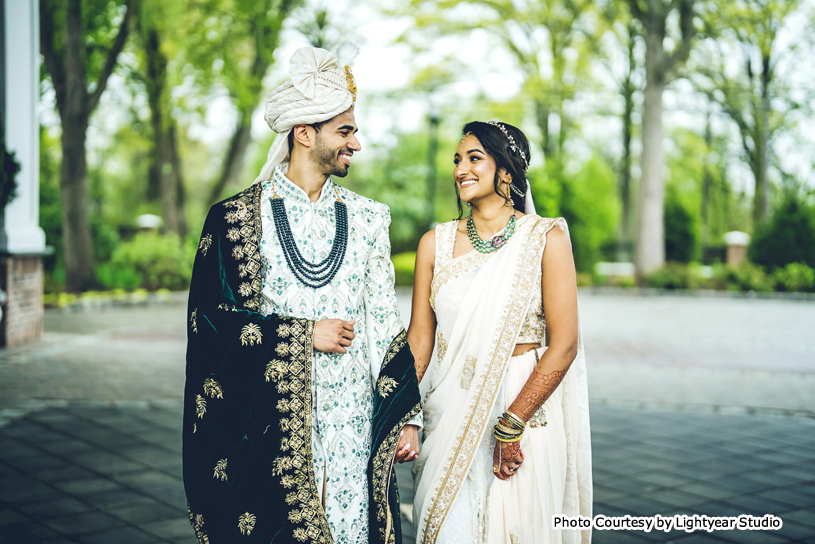 ---
BANQUET HALLS The Rockleigh 201-768-7171 x140 | BEAUTICIANS Lady Chebli Beauty Bar 732-955-9091 | BOUTIQUES Ladlee 770-798-9707 Maharani Fashions 732-283-3774 | CAKE A Little Cake 201-391-6300 | CATERING Aashirwad Palace 973-366-9949 Custodi Caterers 973-235-1139 | DECORATOR Rudra Decorators 551-580-9070 | DISC JOCKEY M4U Events 732-771-9648  DJ Ashish 732-771-4120 | INVITATIONS Metro Wedding Cards +91-26405404 | MEHNDI Anuja Wala | PHOTOGRAPHER/VIDEOGRAPHY Lightyear Studio 215-279-9041 | PRIEST Chinmay Kinnari | RENTAL SERVICES Monaco Experiences 862-365-9250  | TUXEDO Mangaldeep 91-9377222211
---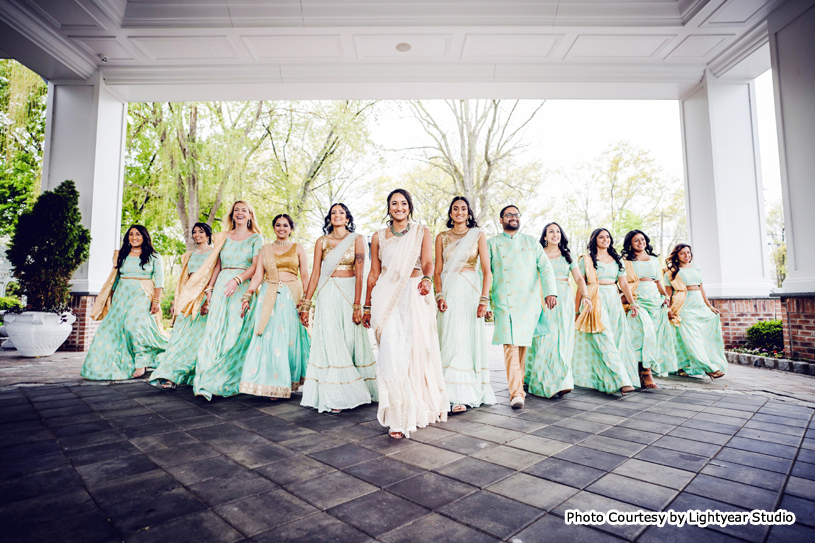 Two years of pandemic and lockdowns delayed their wedding. Finally, the date was fixed on June 5, 2022. As both the bride and groom grew up in New Jersey, they wanted the venue close by and The Rockleigh seemed to be the perfect venue for both of them. The duo planned every detail of the wedding and the festivities and so did not hire any wedding planner. Both celebrated the pre-wedding rituals at their parents' place. Janisha had her Mehndi, Ganesh Puja and Vidhi at her childhood home in Rockaway, NJ. Ronak also had his Ganesh Puja and Mehndi night at his family home in Parsippany, NJ, with a decorative gate, floral Ganesh and flowers all over. The Grah Shantak was performed at Aashirwad Palace in Rockaway, NJ. The duo celebrated Sangeet together with exquisitely colorful and traditional Garba. The wedding took place inside and the decorations were in perfect sync with the beautiful chandeliers of the Rockleigh. Both the bride and groom were dressed in white with touches of green. In perfect color coordination, the aisle was decorated with rose petals and tall candles in glass cylinders. The Mandap was decorated with garlands of fresh greenery with off-white and blush-colored flowers. The groom arrived at his baraat in a convertible Audi R8. There was highly energetic dance to Bollywood music with occasional pop music. This was complemented by an amazing MC and Dhol player. The couple uttered their vows along with the marriage mantras. The reception was a gala event with all the 400 guests enjoying the dance and music which was a mix of EDM, pop, Latin music, and Bollywood music. The first dance was with "Say you won't let go" by James Arthur followed by father-daughter, mother-son and both the family's dance performances. During the reception, the Harry Potter book from the engagement was displayed, as well as a box in which Janisha and Ronak asked guests to leave things to do to add to their bucket lists Both Janisha and Ronak were mesmerized to see each other in their wedding attire. They were so happy to be with each other for the rest of their lives.