Jinal Weds Pujan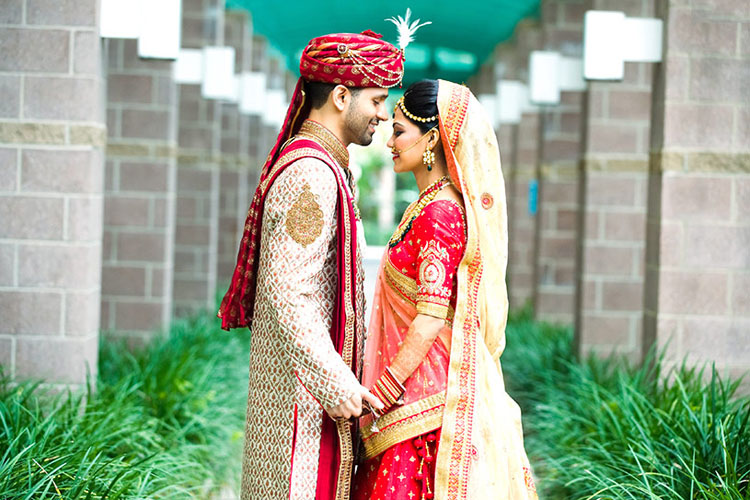 Friendship morphed into a lifelong relationship for Jinal Choksi, a Pharmacist, and Pujan Patel, a Senior Accountant, who first met at a wedding in 2014. Their love showed no bound as Jinal lived in Florida and Pujan in Maryland. From Facebook to FaceTime and flying kisses to flying airplanes, they believed that true love could reach across any distance.
In December 2016, Pujan took the opportunity to surprise and propose to Jinal at The Venetian Hotel in Las Vegas. He made arrangements for a private gondola boat ride and hired a professional photographer to capture each moment. With a speech ready and ring in his hand, during the boat ride, Pujan went down on one knee and asked Jinal to marry him. Jinal happily said "YES" and felt over the moon with this romantic proposal.
May 12, 2018 was the day that was decided for their joyous union as husband and wife. The couple and their enthusiastic family handled all the arrangements. A gala celebration began with pre-wedding events: Mehndi, Pithi, Ganesh Puja, and Grah Shanti that were held at their respective homes.
The first joint pre-wedding event was the Garba. The backdrop included traditional Indian decor and a jula for the lovebirds. Multi-hued draping, shimmering market lights, lotus pots, custom made dandiyas with the couple's name inscribed, and a Radha Krishna centerpiece adorned the setting.
The following day, a grand wedding and reception was held at the Embassy Suites by Hilton in Tampa where nearly 400 guests attended the festivities. A dream that Jinal and Pujan had awaited eagerly became reality. Pujan made an energetic entry in a black convertible Maserati. While the song "Deewani Mastani" played in the background, Jinal walked down a gorgeous pathway embellished by rose petals to the mandap. The elegant mandap was decorated with vibrant shades of pink, gold and orange by Nikun Events.
The reception décor, also done by Nikun Events, was the epitome of classiness. A starry night backdrop, crystal globe centerpieces with fresh flowers, custom designed monogram, and chandeliers contributed to the ambience.
The couple's first dance was to the Atif Aslam song "Dil Diyan Gallan." Amazing dance performances by friends and family along with heartfelt speeches elevated the festive vibes.
Traditional cuisine with delicious twists, a personalized hashtag (#ChoktelWedding), custom snapchat filters , a surprise dance by the bride, and a four-tier cake added a touch of exclusivity to the ceremonies.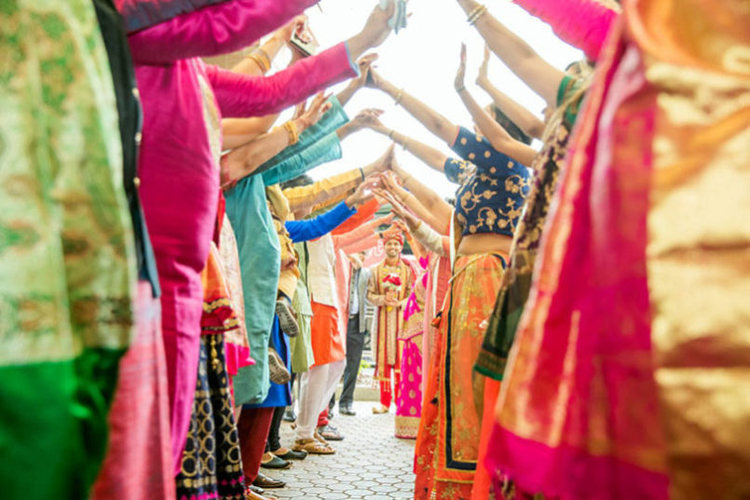 ---
BANQUET HALLS Embassy Suites By Hilton Tampa USF 813-977-7066 | BEAUTICIANS-COSMETICIAN Michele Renee Hair & Makeup Artist Group 813-531-7770 | CAKE Bakery Boutique 813-368-9735 | DECORATOR Nikun Events 407-448-7128 | DISC JOCKEY Dudha Productions 727-418-8498 | PHOTOGRAPHER Amita S. Photography 813-600-7014 | PRIEST Acharya Ramesh Mehta 813-453-9334 | RESTAURANT/CATERING Dosa Hut 813-385-2033 Khasiyat Indian Restaurant 407-310-1624 | VIDEOGRAPHER Digital Dream Studio 407-791-6064
---