Kaniksha weds Atman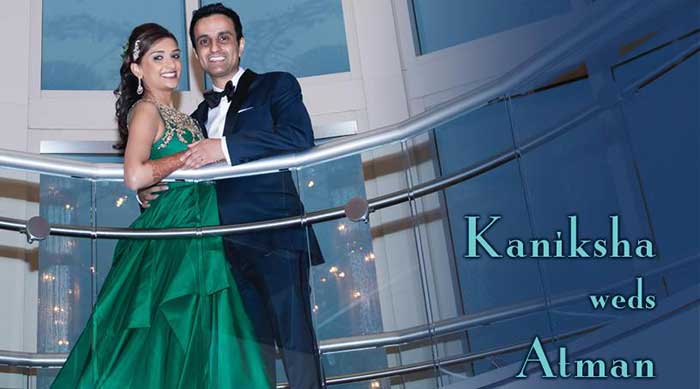 Kaniksha weds Atman
Kaniksha and Atman's first meeting was a blind date at the Jacksonville Zoo arranged by family friends, and it went so well that almost two years later, they were engaged. They immediately discovered they had much in common, from their love of traveling to hiking and trying new restaurants. While dating, they went on many vacations together and eventually, took a trip to Costa Rica, where Atman proposed. At sunset, they went to a private area on the beach, where Atman had arranged a five-course dinner and prepared a love letter in a glass bottle. After asking Kaniksha the big question, they enjoyed dinner and watched the sunset while dreaming about their wedding plans.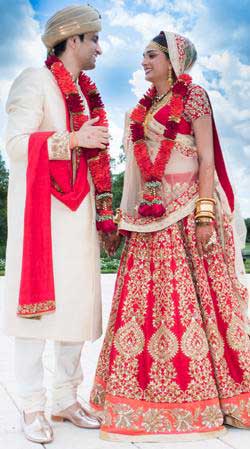 Kaniksha and Atman hired an onsite wedding planner for the mendhi event, wedding ceremony, and reception. They chose a beautiful hotel location in Orlando that could accommodate nearly 500 guests, and it was also a sentimental choice because it was the site of one of the couple's early dates. They held the vidhi and pithi nights at home, where they decorated with a yellow and pink theme accented with bright and colorful flowers. At the hotel, the theme transitioned into a Mediterranean feel with a hookah bar and mehndi stations during the mendhi and sangeet night.
The wedding ceremony was held at the hotel in the late morning, and the entire ceremony was streamed online so that family members in India could also watch. Atman and his family were met outside by Kaniksha's male relatives, and then carried up the stairs to the hotel by his groomsmen. Kaniksha arrived in a doli carried by her brothers and uncles, and there was an elevated walkway to the mandap decorated with fragrant jasmine flowers. The décor was peacock themed, with two floral peacocks on either side of the mandap with coral and white flowers, draped gold fabric, and a crystal chandelier in the center. Kaniksha and Atman wore beautiful outfits designed by the famous designer Shyamal and Bhumika from Ahmedabad.
The reception was also held at the hotel, after the bride and groom left the ceremony in a limousine for a much needed ice cream break before returning to the hotel to prepare. Kaniksha and Atman had a dramatic entrance onto the stage, complete with falling curtains, after being introduced by the DJ. The reception theme was a winter wonderland, and the couple chose a combination of Indian and American music for their guests to dance the night away.
During the wedding, there were a few minor disasters, like Kaniksha's mehndi outfit coming undone and their golf cart running out of gas while going uphill near the hotel! But overall, the couple was pleased with their success and beauty of their special day, especially because of the help of their decorators and planner.
---
BANQUET HALLS Waldorf Astoria Orlando 407-597-5500 www.waldorfastoriaorlando.com BEAUTICIANS/COSMETICIAN Preranas Boutique 407-240-7353 www.preranasboutique.com CAKE SOFELLE Confections 407 579-1962  www.sofelleconfections.wix.com/sofelle DECORATOR Occasions By Shangri-La 407-614-2977 www.occasionsbyshangrila.com DISC JOCKEY Krish Entertainment Service 352-299-0743 www.facebook.com/officialkrish PRIEST/WORSHIP SERVICES Pandit Ramesh Shastri EVENT PLANNER Event Fully Yours 407-489-7699 www.eventfully-yours.com FLORIST Occasions By Shangri-La 407-614-2977 www.occasionsbyshangrila.com MEHNDI Preranas Boutique 407-240-7353 www.preranasboutique.com PHOTOGRAPHER Digital Dream Studio 407-791-6064 www.digitaldreamstudio.com RESTAURANT/CATERING Tabla Bar And Grill 407-248-9400 www.tablabar.com