Karima and Yasir
Ten years ago, Karim and Yasir met at Twilio, where they are still employed today. They were both teammates on the same squad and were attracted to one another right away. After returning from a business trip, Yasir relocated back to the area, and Karim made the first move. After she arrived at her Dublin home, they had nonstop FaceTime conversations during which they could tell they clicked. A few months later, he traveled to London to visit her, and after ten days together, they decided to start dating. Finally, Yasir got down on one knee and asked Karim to marry him on the rooftop of the bar Radio, where she was waiting with rose petals, numerous pictures of the two of them, and a view of the London cityscape. Their pals surprised them on the balcony two hours after a wonderful meal in the cabana on the rooftop. Their closest friends from San Francisco, LA, NY, and Dallas were able to travel to London because of Yasir's organization.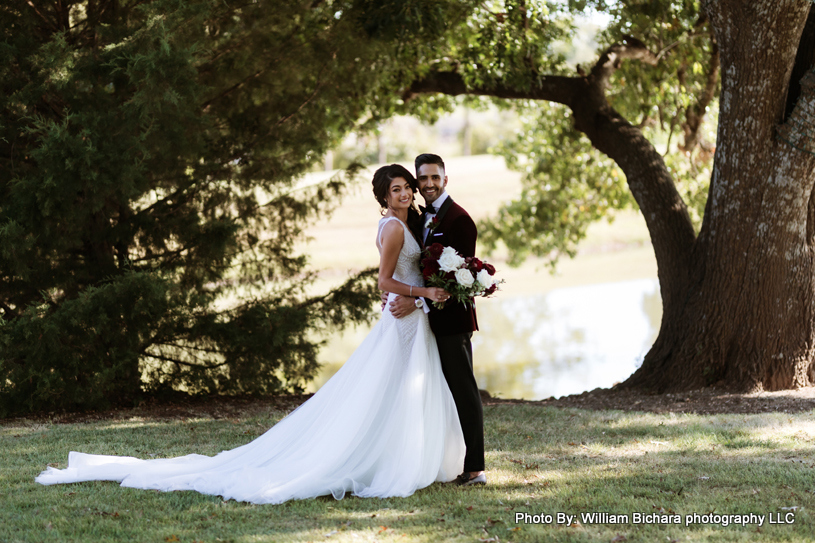 ---
BANQUET HALLS The Venue at Waterstone 224-444-0008 | BEAUTICIANS Ishnae & Co. 214-986-6424 | BOUTIQUES Pronovias 737-241-0959 | CAKE Wow! Donuts 469-514-2647 | CATERING Terra Mediterranean 469-277-2775 | EVENT PLANNER Meredith Commender 214-783-7310 | FLORIST Platinum Petals 605-310-4887 | MEHNDI Meena's Mehndi 469-360-9954 | MUSICIAN LeForce Entertainment 214-302-8564 |PHOTOGRAPHER/VIDEOGRAPHY William Bichara Photography 469-556-5462 | Memories Films 214-239-0184 | RENTAL SERVICES BBJ La Tavola 866-376-4755 , Premier Transportation 214-351-7000 | WEDDING SERVICES Zola 408-657-9652
---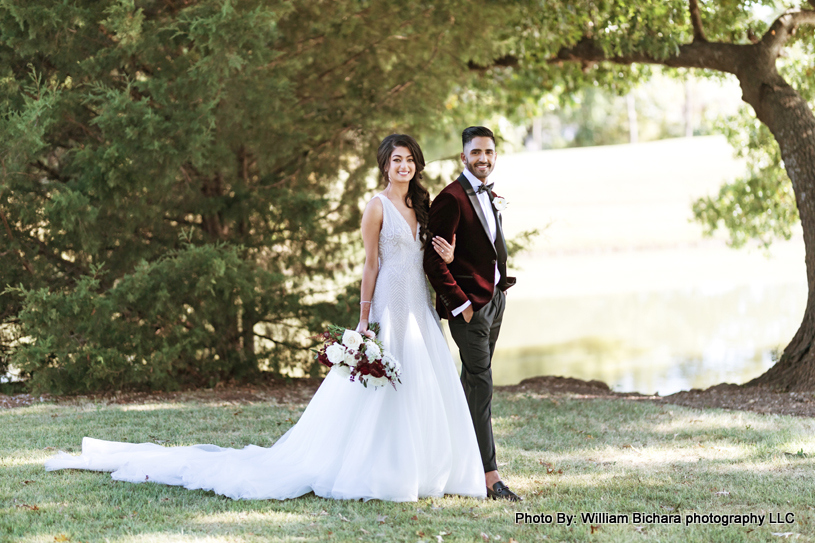 Meredith Commender, the company's founder and the couple's wedding planner, was incredibly on time, well-prepared, and helpful with recommendations. The Waterstone Venue in Celina, a stunning barn on the river in a secluded area of north Texas, served as the wedding location. In order to protect the venue's natural beauty, the decor was kept to a minimum and included only a few string lights and drapes. The furnishings gave off a rustic barn vibe and a lot of natural beauty. The first gown the bride tried on at Pronovias, a bridal boutique, was a western-inspired gown. She wore a customized version of her mother's old sari as a lehnga for the mehndi. The bride and groom opted for a custom-made doughnut wall from Wow! instead of the traditional wedding cake. The guests were pleasantly surprised by the pyrotechnics at the wedding's conclusion, and the bride and groom enjoyed seeing everyone's expressions as they exited via the wedding tunnel. The bride's intimate last dance and the opportunity to take in the beauty surrounding them before their departure were both meaningful moments.