Kavitha Weds Biren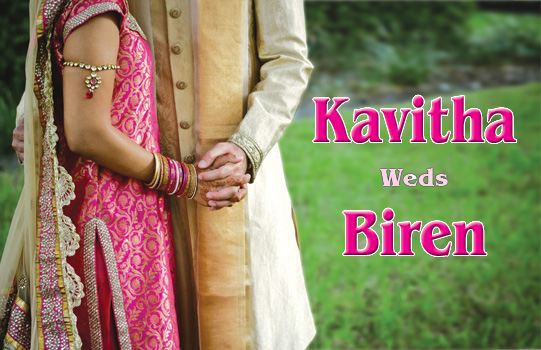 The play of life is truly miraculous. We often unsuspectingly fall victim to circumstances, and often life deals out the most magnificent hand of cards when you don't see them coming. Kavitha traveled to Washington, DC to attend a friend's wedding with no inkling that life was at this moment conspiring to plan hers.
It was inWashington, DC that Kavitha and Biren met over dinner. Flash forward nine months, when Biren proposed amid candles, music, and a heartfelt video that included appearances from friends and family. The beautiful surprise was followed by a formal proposal in the presence of friends and family. Then, the countdown to the wedding began.
The couple chose Nikun Events to plan all the arrangements, with Pinky Patel masterminding all the details. After first searching in Tampa for a venue, the couple chose the Hilton Lake Buena Vista in Orlando as the site for the wedding.
During the mehndi and sangeet, the Ballroom came alive with vibrant colors. Keeping with the color themes of the bride and groom's outfits, Nikun Events arranged for a backdrop that complemented the couple beautifully. A mix of Bollywood, Telugu, and Punjabi musicensured families and friends from both sides were welcomed warmly.
The confluence of two faiths enabled a two-fold celebration of the wedding. The first was a Sikh ceremony, owing to Biren'slineage. The venue was transformed into a Gurdwara, and all guests were provided with scarves and requested to cover their heads. Complete with his beard and turban, Birenpartook in the tradition that was expected of him. Kavitha wore a grand salwarkameez.
Within an hour, the venue, the mood and theme changed for the Hindu ceremony. Biren was now clean-shaven and had removed his turban. Kavitha dazzled in a traditional South Indian sari. The venue, too, was decorated to reflect the festivities being observed. Nikun Events managed to take everyone's breath away with the magnificent decorations and attention to detail.
The wedding more than exceeded everyone's expectations, and each of the four hundred guests felt a personal connection to the couple. Ranging from the arrangements to the music, decor, mood and performances, there was nothing that even resembleda flaw.
Kavitha swears by a wedding planner and she says anyone who can, must avail their services. However, finding the right one for you is critical. With all management and execution in place, what is left but to sit back and enjoy your moment of togetherness?
Photos Courtesy:
Digital Dream Studio
407-791-6064
www.digitaldreamstudio.com
Vendors

Venue
Hilton Orlando Lake Buena Vista
407.827.3909
www.hiltonorlandolakebuenavista.comPlanner
Nikun Events
407.448.7128
www.nikunevents.comDecorator / Linen / Lighting / Florist
Nikun Events
407.448.7128
www.nikunevents.comHindu Priest
Govinda Rangradan
352.262.9626Sikh Priest
Ravinder Singh
908-627-0061

Jaswinder Singh
908-627-1686

Catering
Tabla Bar And Grill
407.247.2509
www.tablabar.com

Mayuri Indian Restaurant
813.374.0386
www.mayuritampa.comHorse and Carriage
Downtown Horse and Carriage
407.274.4666
www.downtownhorseandcarriage.comDholi – Baraat
Volcanik Entertainment
201.240.9080
www.volcanik.comDJ/Lighting for Reception
Volcanik Entertainment
201.240.9080
www.volcanik.comPhotography/Videography
Digital Dream Studio
407.791.6064
www.digitaldreamstudio.com

Hair & Makeup
Sangita Patel
407.257.3271
www.spbridalservices.com