Khilna weds Sunny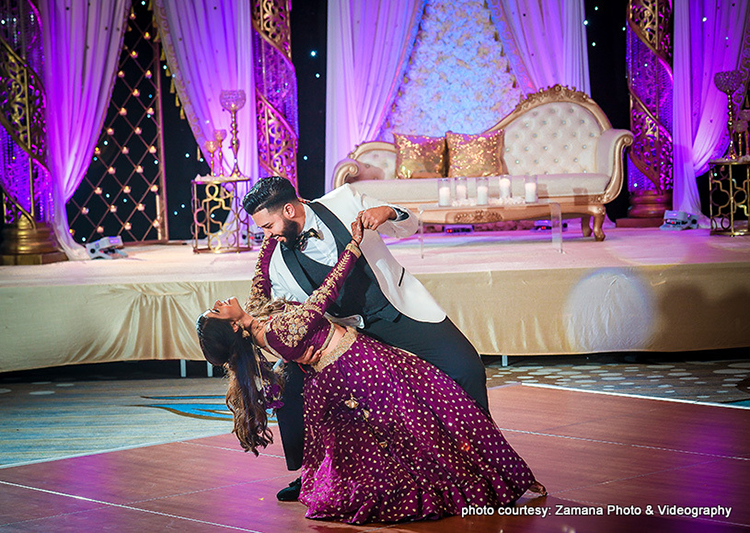 Planning a wedding is never an easy task. But what makes the day memorable is when both partners come together to plan a celebration that is nothing short of perfection! Khilna and Sunny Patel did all they could to be sure their wedding was perfect!
Khilna and Sunny met through mutual friends, and after a while realized that their bond was much more than just friendship. After spending some time together, they knew they wanted to be with each other forever. With a surprise proposal that involved their closest friends, view of the city skyline and a hidden camera, Sunny sealed the deal.
On August 18, 2018, the couple tied the knot at the The Westin Atlanta Perimeter North, in Atlanta, Georgia. They planned the entire wedding themselves, with Sunny close friend Beena Patel playing an essential role. Beena was a huge help to Khilna and Sunny as they went about shortlisting and managing vendors, themes, timelines and all details.
Khilna and Sunny chose to host a daytime wedding, with traditional red and gold colors as the theme. The mandap's base was covered in flowers, while the aisle was decorated with elephant statues, flowers, and candles in water vases. Sunny made his way to the venue in a Lamborghini Huracan Spyder, and Khilna entered the ceremony in a doli.
The reception featured an all-white floral theme with gold accents. The couple also added a fun, DIY detail to their reception decor. For the table numbers, they used photos from their pre-wedding shoot, and on the back of each photo they stenciled out the numbers with glitter.
For Sunny and Khilna, dance and music was the most important part of all their wedding functions. They wanted to be sure their guests enjoyed themselves dancing through the night, which they did thanks to their DJ who played Bollywood hits, Bhangra, Hip-Hop, Spanish mixes, and house music. Even for their entrance to the reception, the couple did a surprise dance performance for their guests. The evening ended with another wow moment for their guests – a flash mob of over 50 people taking over the dance floor.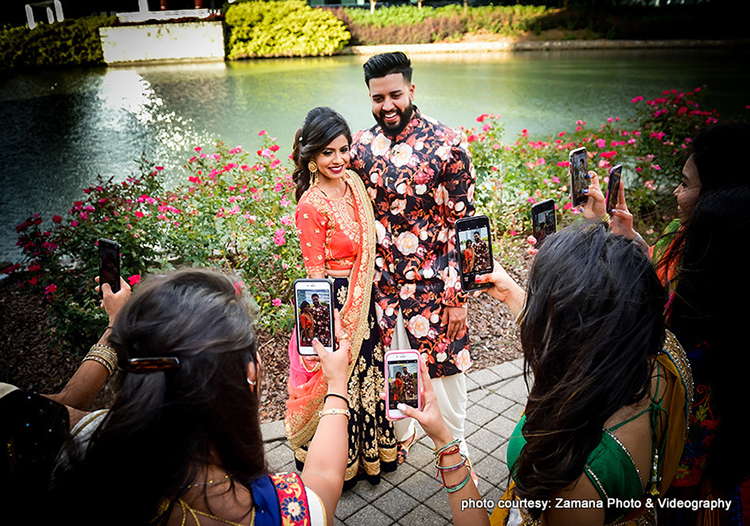 ---
BANQUET HALLS The Westin Atlanta Perimeter North 770-395-3900 | BEAUTICIANS-COSMETICIAN Sovi salon 770-442-7684 | CAKE Hot Breads 770-442-9066 | CATERING Baps Shri Swaminarayan Mandir 678-458-6447 Gokul Sweets 404-299-2062 | DECORATOR Nirali Decor 609-703-5879 | DISC JOCKEY DJ Teek Encore Event DJs 478-231-6282 | PHOTO BOOTH Lets Booth It 404-410-6119 | PHOTOGRAPHER / VIDEOGRAPHY Zamana Photo & Videography 678-860-2921 | RENTAL SERVICES Prestige Luxury & Exotic Car Rentals 888-513-9711
---