Liz weds Vikram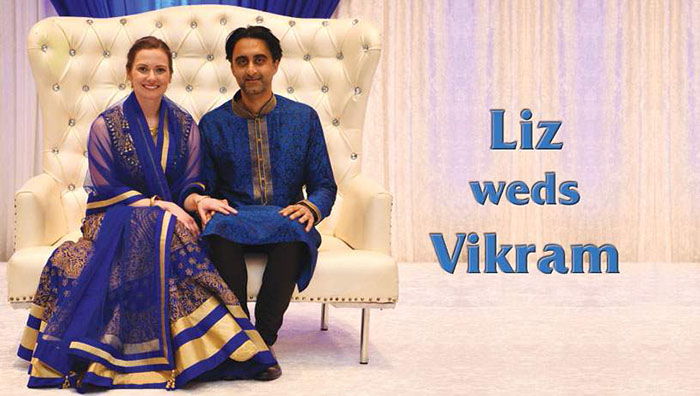 Liz weds Vikram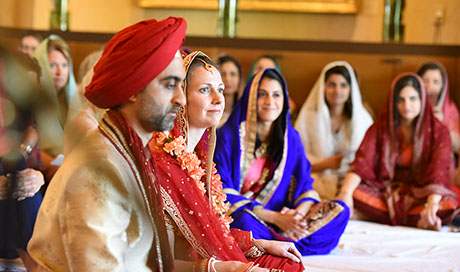 Vikram and Liz were lucky to be living in the same city when they met online after Vikram reached out. They met up for wine and cheese on a beautiful Sunday afternoon in St. Louis, and bonded over their mutual love of 90s music and the same TV shows. What began as good conversation between new friends turned into two years of love and, finally, a surprise marriage proposal.
While visiting Liz's friend in Baltimore, the couple went on a food tour, joined by her friend and Vikram's sister. Vikram insisted on finding the perfect spot for a photo on the boardwalk, making Liz a little suspicious until he got down on one knee with a ring. Liz was very surprised, and both were happy to begin a new journey together.
They began planning a Palm Desert wedding, near Liz's parents at The Living Desert Zoo and Gardens. With the help of the venue's event planner and on-site caterer, the couple arranged for a Sikh ceremony, non-denominational ceremony, and evening reception to take place on the same day. Before the wedding day, they held a Sangeet night in India at Vikram's grandmother's home. Vikram's aunt decorated with lights and flowers, and it was an auspicious beginning to the wedding events.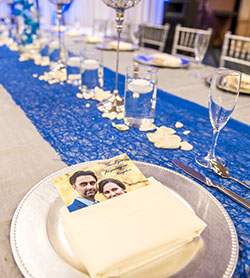 First was the morning Sikh ceremony, or Anand Karaj, in which Liz entered with her eight closest girlfriends and the newlywed couple exchanged garlands of red and white carnations. This was followed by the non-denominational ceremony in which the bride and groom walked down the aisle with their parents instead of a traditional bridal party. The natural setting of the desert was so breathtaking that there was no need for extra decorations, which Liz and Vikram appreciated. They exchanged personal vows before their guests with Liz's older sister as the officiant, even though they were initially hesitant to share such an intimate moment in front of so many people. But most of their guests were in tears by the end, and Liz and Vikram agreed it was worth it.
They estimated that the ceremony would last for an hour, but it finished in a quick 20 minutes; the caterer and bartender had to work quickly to set up cocktail hour for their 130 guests, and thankfully, they were able to make it an enjoyable two hours. Liz and Vikram recommend having the ceremony recited aloud during rehearsals to avoid this kind of last minute hustle. They also held a second reception one week later in Coral Springs, Florida for 300 additional guests, and Liz defended her doctorate dissertation just three weeks after the entire wedding affair. Liz and Vikram were glad they made the concerted decision to enjoy themselves before the wedding, and they were able to make precious memories with their loved ones while celebrating their love for one another.
---
BANQUET HALLS Coral Springs Marriott 954-227-4122 www.marriott.com/fllmc The Living Desert Z00 & Gardens 760-346-5694 www.livingdesert.org CAKE Robbie E Custom Cakes & Pastries 954-775-2633 www.recustomcakes.com DECORATOR Anand Event Services 754-581-0074 www.anandphotoandvideo.com JEWELERS Timekeepers Jewelers 314-991-0994 www.timekeepersstl.com PHOTOGRAPHER Baljit Singh +91-981-411-5265 www.baljitphotography.com RESTAURANT/CATERING Punjab Indian Restaurant 561-392-8000 www.bocapunjab.com