Meera Weds Mickey Indian Wedding at Hyatt Regency Clearwater Beach Resort & Spa Photographed by Fine Art Productions
INDIAN CATERING
Signature Weddings & Events Inc
A chance meeting, a dinner, and an instant connection this is all that it took for Meera Ghayal to find her life partner Mickey Gupta. Meera and Mickey's instant connection was so strong that even their friends thought they had been friends forever.
pre-wedding ceremonies
Grah Shantak ceremony
Indian wedding decorations
Three and a half years after dating, Mickey was ready to propose to Meera. To celebrate Meera's 30th birthday, the couple went on a cruise to the Bahamas with their close friends. During sunset while on the top deck overlooking Nassau, Bahamas, Mickey got down on one knee and proposed. Meera said yes!
Dhol Beat International
Aashirwad Indian Cuisine
Fine Art Productions
INDIAN RESTAURANT
Meera and Mickey hired a coordinator for their wedding day to take care of all the details so they could enjoy their big day. They handled pre-wedding planning themselves, along with their parents and immediate families.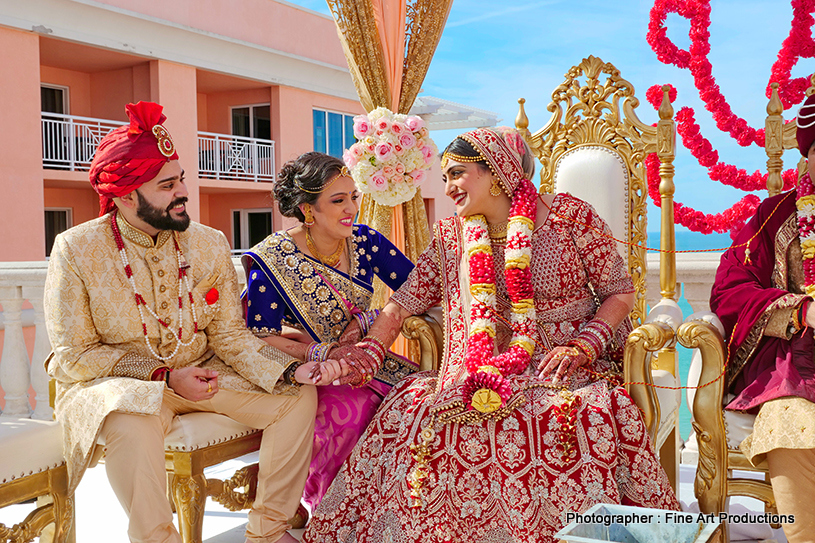 Wedding coordinator
Hyatt Regency Clearwater Beach Resort & Spa in Florida
As they wanted a destination wedding, the couple chose the Hyatt Regency Clearwater Beach Resort & Spa in Florida. The venue's 16th floor Sky Terrace offered a beautiful view of the Gulf of Mexico.
Meera and Mickey's pre-wedding ceremonies were held in their respective hometowns. Meera's Grah Shantak ceremony was held at her home, where decorations were flown in from India.
Indian wedding ceremony
Perfect" by Ed Sheeran
Indian wedding and reception
INDIAN BANQUET HALLS
The couple hosted a Welcome Dinner for their guests at the Hyatt the evening before the wedding. For their daytime wedding ceremony, Meera and Mickey chose a very soothing color theme, with soft pink, ivory, and gold fabrics. Ivory elephant statues welcomed guests to the rooftop venue. As it was an outdoor, daytime wedding, guests were provided with sunglasses and Japanese hand-held fans monogrammed with the couple's hashtag – #MGsquared. After the wedding, Meera and Mickey were whisked away in a Cinderella carriage that added a perfect moment to their fairytale wedding.
INDIAN BEAUTICIANS
INDIAN COSMETICIAN
During cocktail hour, a classical violinist provided soothing background music. A navy blue and ivory color theme, with hints of gold provided the ambiance for the reception. Centerpieces were candelabras and tall floral pieces.
The couple's first dance was to "Perfect" by Ed Sheeran. Their DJ used amazing lighting and a fog machine to make their first dance seem like a magical fairytale moment. Meera and Mickey looked as if they were dancing on clouds, which left their guests amazed. Their DJ played a mix of Bollywood, Punjabi and Hip-Hop to entertain their guests. Their Dholi Jupji also entertained with his LED dhol and phenomenal skills.
Michele Renee Hair & Makeup Artist Group
A Piece of Cake & Desserts
Meera and Mickey advise couples to "Take a few moments at the wedding and reception to focus on each other and soak in all the love you're receiving."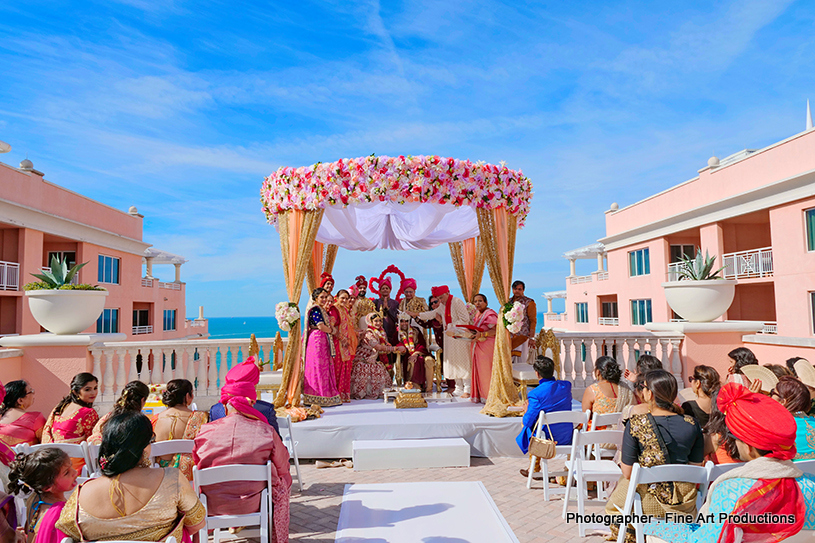 ---
BANQUET HALLS Hyatt Regency Clearwater Beach Resort & Spa 727-373-4447 | BEAUTICIANS/COSMETICIAN Michele Renee Hair & Makeup Artist Group 813-531-7770 | CAKE A Piece of Cake & Desserts 813-510-4907 | DECORATOR Nirali Decor 609-703-5879 | DISC JOCKEY Dhol Beat International 281-808-3328 | EVENT PLANNER Signature Weddings & Events Inc 352-267-5345 | FLORIST Vivek Flowers 732-321-0403 | HORSE CARRIAGE St. Petersburg Carriages 727-365-2194 | MEHNDI Alpa Eyebrow Threading & Henna Art 813-298-9139 | PHOTOGRAPHER/ VIDEOGRAPHY Fine Art Productions 407-979-4749 | PRIEST Rushi Vyas 813-503-3388 | RESTAURANT/CATERING Aashirwad Indian Cuisine 407-370-9830 |
---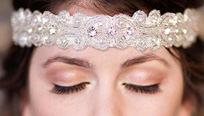 Michele Renee Hair & Makeup Artist Group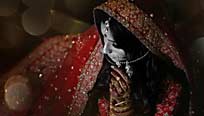 Fine Art Productions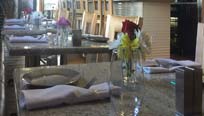 Aashirwad Indian Cuisine
For more information on how Preferred Vendors members are chosen, click here.
---