Nishil and Priya
At the University of Central Florida in 2009, Priya Patel, a medical associate, first met Nishil Patel, a doctor. They started dating a few years after meeting at a private movie screening through mutual friends. In April 2021, while on vacation in Hawaii, Nishil asked Priya to marry him at the top of a mountain. They received assistance from Signature Weddings, a wedding planner, from their location, The Gaylord Palms in Orlando, Florida. They were able to communicate with the vendors more easily, exchange ideas more easily, and stay organized thanks to the planner.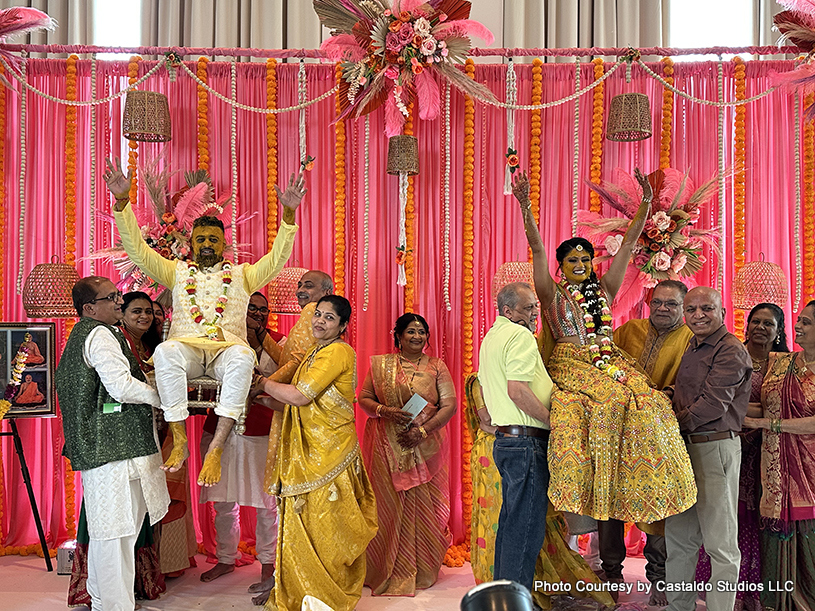 ---
BANQUET HALLS Gaylord Palms Resort & Convention Center 407-586-2248 | BEAUTICIANS Fifth and Eighth Beauty 715-642-1698 | Onesite Beauty 404-704-2289 | TBQ Bridal & Beauty 774-400-5089 | CAKE Sugar Sugar Custom Cake Boutique 407-412-6273 | CATERING Aashirwad Indian Cuisine 407-370-9830 | Khasiyat Indian Restaurant 407-252-8756 | Mast Masala Caterers 407-816-6000 | DECORATOR Occasions By Shangri-la 407-614-2977 | DISC JOCKEY Awaaz Entertainment 407-902-9639 | EVENT PLANNER Signature Weddings & Events Inc 352-267-5345 | FLORIST Garlands By Kirti 321-213-8008 | MEHNDI Gokul's Henna Art 407-264-1932 | Henna Allure 321-444-5911 | PHOTOGRAPHER/VIDEOGRAPHY Castaldo Studios LLC 407-347-8926 | PRIEST Mahesh Gor 321-297-6167 
---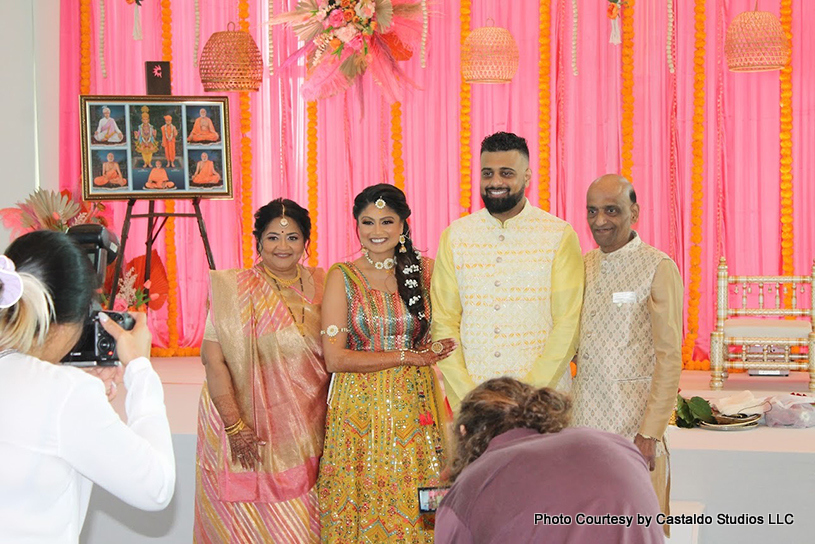 The bride and groom chose Orlando, Florida, as their wedding location because they are from relatively smaller cities in Florida. The bride and groom are equally concerned with the destination because that is where their adventure began. Since it was the finest site to meld South Asian culture with Spanish architecture for a Moroccan night, the mehndi night was held at the Gaylord Palms Spanish Fort. Oversized lanterns illuminated the fort, and smaller lanterns with Moroccan themes were strewn over the area. They chose a boho-chic motif for the pithi, with a focus on pink and traditional pithi yellow elements. The sangeet, meanwhile, had a tropical theme and utilized tropical neon hues. The palm trees were lit in tropical colors, and the dance floor was artificial turf. The decorator, OBS Events, created a bespoke lotus petal background in addition to the mandap. The bride and groom chose a "floating" mandap instead of the conventional structure with four pillars. They also selected popular songs like "Sadi Gali" and "Mundian To Bach Ke" for the baarat. "Raataan Lanbiyan" and "Crazy in Love" by Beyonce were chosen for the bridal party entry. The groomsmen led a parade of exotic cars carrying the groom to the wedding. A bioluminescent forest theme was selected for the reception. Within 10 feet of entering, an experience tunnel changed the entrance's interior design from a foyer to a woodland. The bride/groom couch was in front of two LED-lit fake trees when the tunnel emerged. Estate tables with substantial trees covered in crystal moss and flanked by candles served as the centerpieces, while every other table featured a variety of unusual terrariums illuminated by LEDs. Hip-hop, top 40 songs from the 1990s and 2000s, desi-trap, and a flavor of Bollywood were all represented in the music. Throughout the reception, there were also other unexpected dances from both parties. Customized sugar cookies with the bride and groom's logo and their cat's face were presented in welcome bags as one of the wedding's inventive details.