The Real Wedding of Pooja, a dentist and Robert a lawyer
Little did Pooja Makam, dentist, and Robert Weston, lawyer, know that a college friendship would blossom into much more. Though both are from Raleigh, North Carolina, the two did not meet until they were introduced by a mutual friend while students at the University of North Carolina. At the time, their relationship was just a friendship with no cupid in sight.  In 2016, the two met again through a dating app, and that is when cupid struck. The couple grew to love each other, and soon they planned a trip to Hawaii together. two of them fell in love. Robert wanted to propose Pooja and therefore planned a trip to Hawaii. The trip was nearly cancelled due to an active volcanic eruption, but Robert quickly changed locations to visit Kona. Such was his determination to propose to the love of his life. The beautiful beach and sand cliffs in Kona made for a picturesque backdrop when Robert proposed to Pooja. The proposal, made amidst exquisite natural beauty overlooking the manta rays, was one Pooja could not refuse judging by her enthusiastic yes!  Pooja and Robert celebrated their engagement with long walks along black sand beaches, snorkelling with sea turtles and watching the sunset from the top of Mauna Kea with vows of a new beginning. To top it off, the two enjoyed delicious food and even got to see the lava. The couple married on September 14, 2019.  The wedding was a celebration of two cultures and the couple chose to hire wedding planner Keisha Scott of K.Scott Weddings to ensure the wedding was organized, hassle-free, and truly reflected both their backgrounds. 
---
BANQUET HALLS Raleigh Marriott City Center 919-833-1120 | The Sutherland 919-556-0140  | CAKE Once In A Blue Moon Bakery 919-319-6554 | CATERING Bombay Grille- Indian Cuisine 704-542-3933 | Taaza Fresh Indian Bistro 336-524-0488 | Udupi Cafe Indian Vegetarian Cuisine 919-465-0898 | DECORATOR K.Scott Weddings 336-343-5488 | EVENT PLANNER K.Scott Weddings 336-343-5488 | HAIR AND MAKEUP Makeup By Jenny Le 704-458-3988 | Silver Ceilings Beauty 631-413-4339 | HORSE AND CARRIAGE Dead Broke Farm 919-812-8975 | MUSICIAN DJ Rang 919-749-2567 | PHOTOGRAPHER Rebekah & Grace Photography 813-461-4561 | VIDEOGRAPHY Afterglow Creative 804-482-1423
---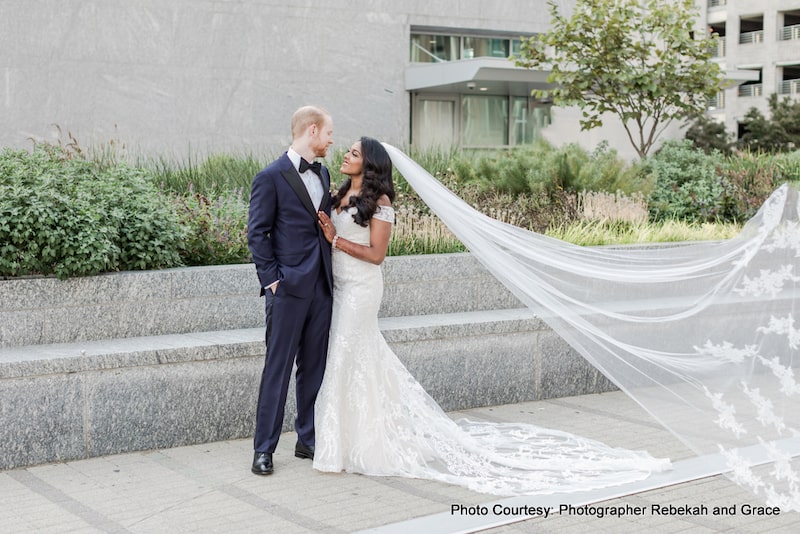 Pooja and Robert wanted to be sure their 450 guests enjoyed the festivities. Due to the size of their guest list, desire for restaurant catering, and the fact that September is wedding season, the couple compromised and split the events at different venues. Since both families live in Raleigh, Pooja and Robert chose The Sutherland in Wake Forest as their wedding venue and the Raleigh Marriott City Center as the site of their reception.  The festivities began with a Mehndi/Sangeet celebration decorated in bold Moroccan style and colors. Pooja's love for flowers united the two mothers, who both toured the local farm from where the centerpieces would be selected. The event was informal and fun with newlywed games, chaat food stations, and a s'mores bar that was built by Robert's father.  Pooja, a romantic at heart, took her love for florals one step further with a garden-style outdoor wedding. In order to celebrate the couple's joint cultures, there was a synchronization of Hindu and Christian weddings. The wedding planner worked wonders and it was a perfect union of two cultures.  Robert arrived at the wedding riding on a white horse, dressed in a traditional Indian Sherwani. The baarat was a joyous start to the ceremony with a musical extravaganza that was a blend of 90s-2000s hip hop and Desi hits, specially selected by the groom himself.  The reception continued with the garden theme with an extra touch of glamour and elegance. The decorator and wedding planner added touches of gold, sparkle, peacock feathers, a garden wall, globos, and even ice sculptures to give the final festival a glamorous spark. The party went on with a perfect blend of both Bollywood and western hits. Pooj and her father danced to "Ninnantha Appa Illa" from the film Devatha Manushya, while Robert and his mother danced to Stevie Wonder's "You are the Sunshine of My Life." The couple was so shocked to learn that friends and family secretly practiced a dance for weeks leading up to the wedding. Pooja and Robert were so touched with everyone's enthusiasm and it was one of their most memorable moments. With unique and personal touches from the marriage vows to the customized welcome bags, Pooja and Robert's personalities shone through all the details. The customized welcome bags for out-of-town guests included snacks, but also a monogrammed travel toothbrush courtesy of the dentist bride!  One thing Pooja laughs about now is that her father forgot the wedding garlands. He called his friend to pick them up from the temple at 7 am, and Pooja remained blissfully unaware of the snafu. Now, they all laugh at it, but she is glad that she did not know about it as it would have definitely made her nervous! Pooja's advice to would-be couples is to hire a wedding planner and photographer well in advance to remain stress-free through the process.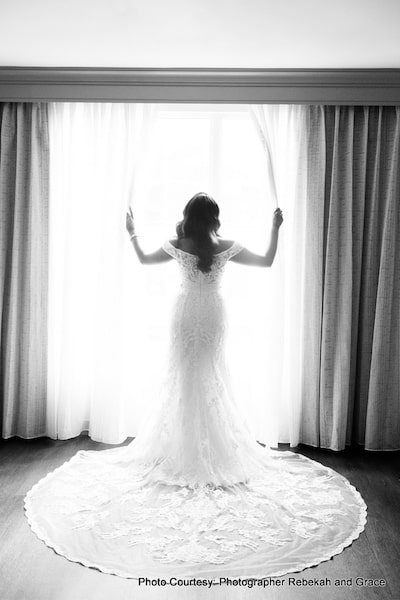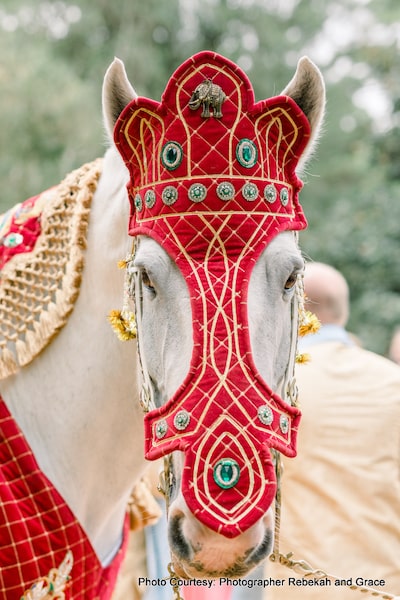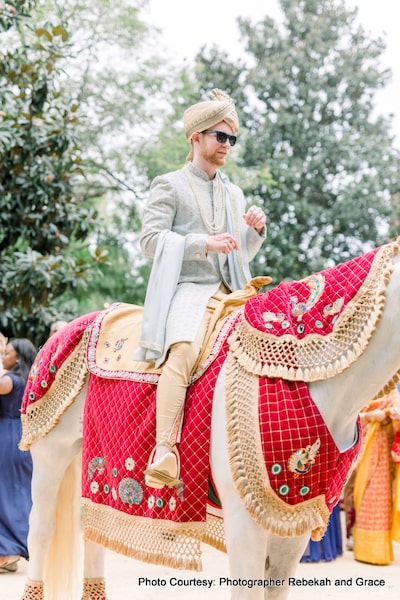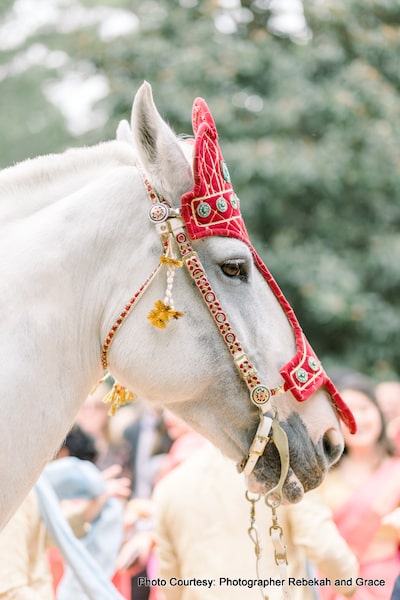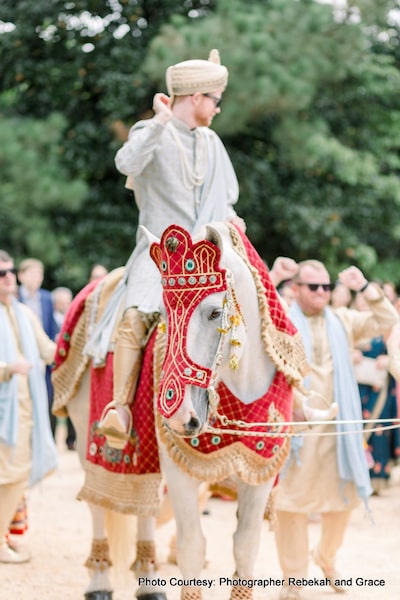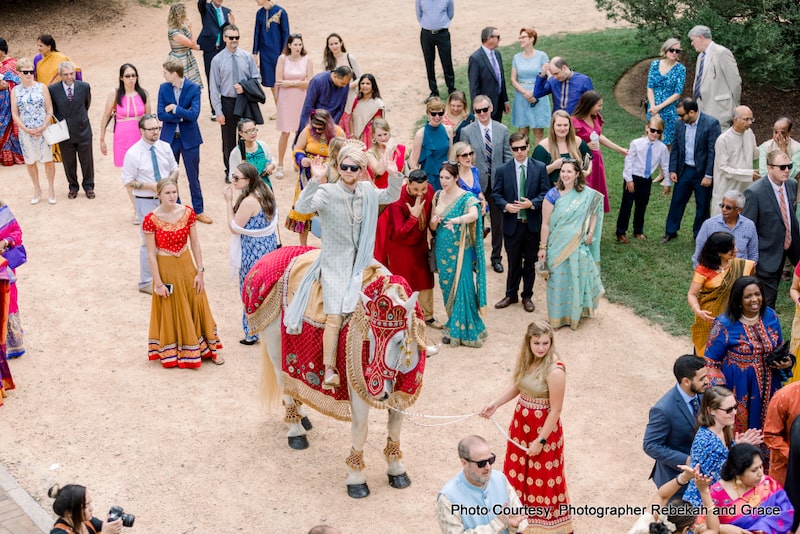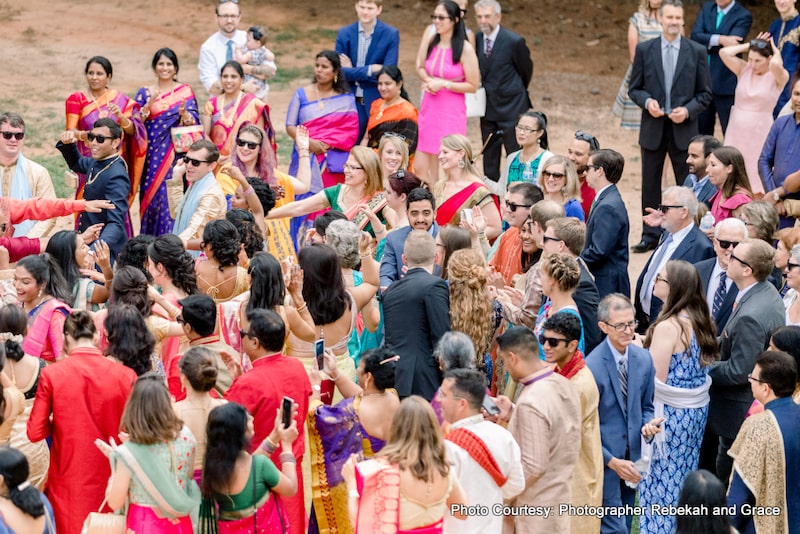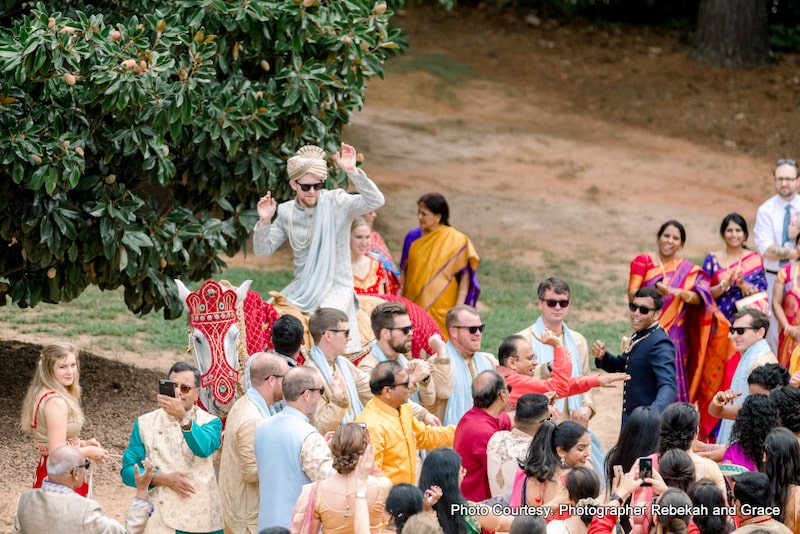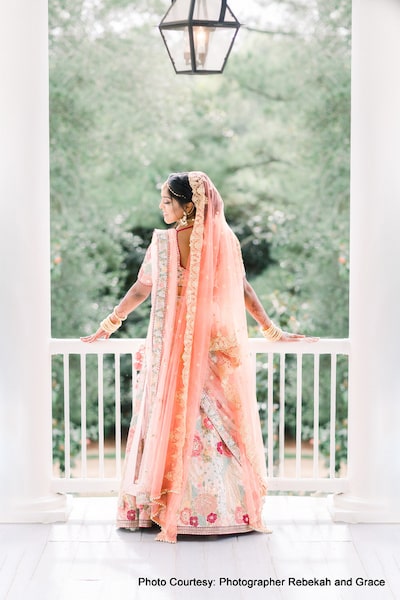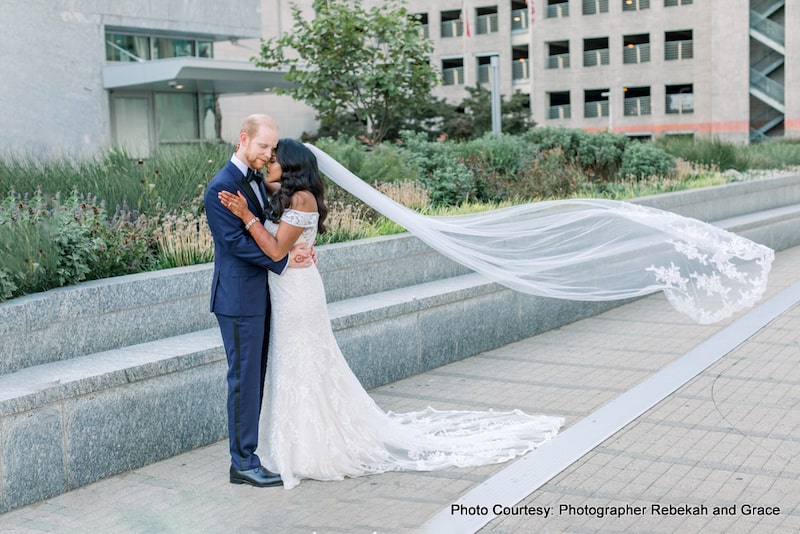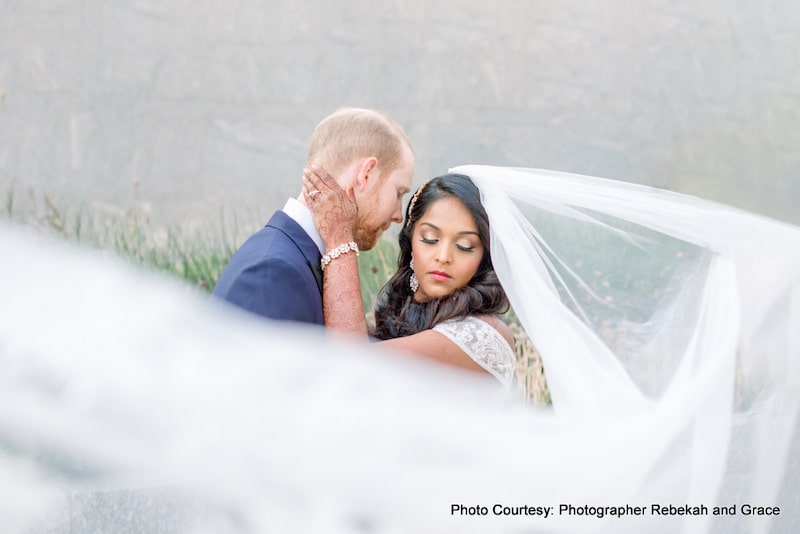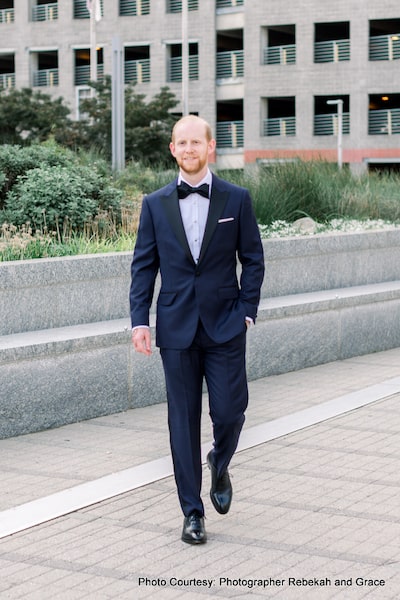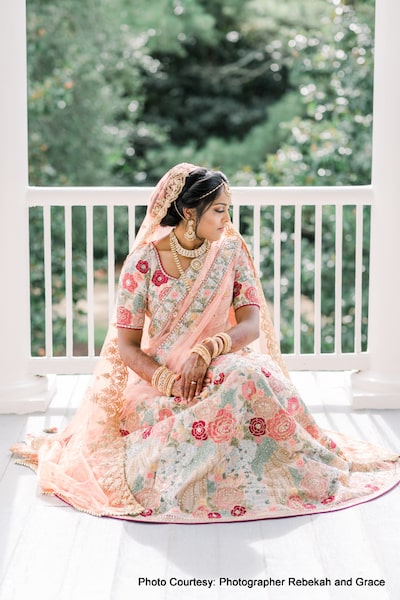 Customized Welcome Bags
Indian wedding planner in Raleigh North Carolina
University of North Carolina
K.Scott Weddings
Raleigh Marriott City Center
Mehndi Decoration
Sangeet Celebration
Moroccan style colors
Hindu and Christian Weddings
Traditional Indian Sherwani
90s-2000s Desi Hits
Ninnantha Appa Illa
The Film Devatha Manushya
Indian Wedding Photographer