Priya weds Ankit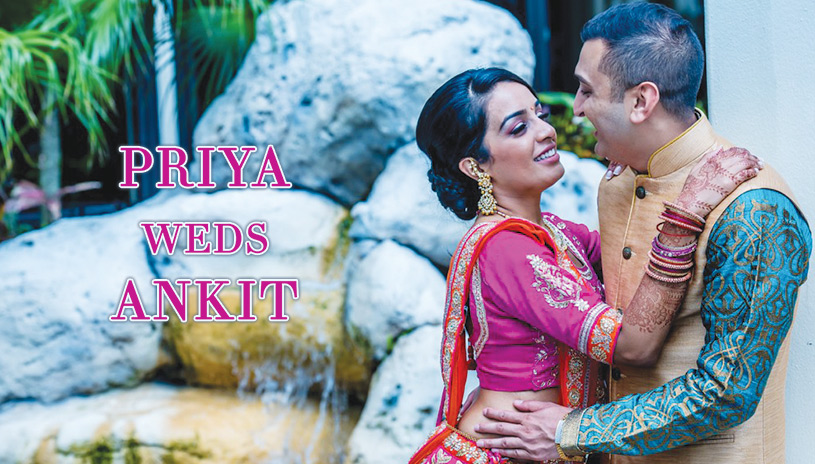 Like many young women, Priya dreamed of the day she would find her Prince Charming, but she never thought she would meet him on Shaadi.com. The two began talking online and dated for about six months before deciding to make their relationship official. Ankit asked Priya's parents for permission before planning the perfect surprise proposal. The couple traveled to Mexico, where Ankit took Priya to a private beach dinner and asked her to marry him, making it one of the happiest days of her life.

Priya began planning most of the wedding herself, with help from her family in finding a venue and coordinating the events. Looking back, she wishes she hired a professional planner because it turned out to be more stress and effort than she anticipated. The pre-wedding events included a Mehndi night, Pithi, and Garba, all held in different ballrooms of the wedding venue on different nights. Each night had a different color scheme and theme, from a peacock theme and royal blue backdrops for the Mehndi night to colorful green, yellow, and red decorations for the Pithi. Their decorator, Sushma Patel, transformed the ballroom into a Radha Krishna paradise on Garba night, including lighted trees, statues, and dandiyas forming a circle around the décor.
The wedding ceremony featured a traditional red, gold, and white theme with decorated runway leading to the mandap. As a fun twist, the bridesmaids and groomsmen entered as a flashmob, and the Baraat featured upbeat Hindi songs. Ankit entered in a white Lamborghini Hurcan Spyder, meanwhile the bridal party stayed at the venue and simply took the elevator to the ballroom.

The reception included a mix of music from American contemporary songs to Hindi classics as well as a surprise performance with the groom and both sides of the newlyweds' families. The couple chose a royal blue and gold color scheme for the reception, with beaded tree centerpieces, floating candles, and hydrangea and rose floral arrangements in long vases. Also delivered to every guest for the toast was a unique rosemary sparkling ginger ale. Even though Priya and Ankit planned every aspect of the wedding without a planner, they were grateful to be surrounded by loved ones for help and support every step of the way.