Radha and Aalok
Love is never planned; it is predestined and happens suddenly. That is what happened to interventional cardiologist Aalok Patel. His exhaustive virtual search for a soulmate was futile until he met physician Anuradha Bhavsar (Radha for short) on a dating app. There was an instant connection and great communication. Love that was hard to find was finally found just 70 miles away. They fell in love, and it was marvelous. After nine months of dating, Aalok proposed to Radha up in the sky on a helicopter ride capped off with an eager "Yes" from his lady. The couple decided to tie the marital knot in a traditional Indian ceremony held at the Hyatt Regency Hotel in Orlando. It is Radha's hometown and Aalok's present residence. That is why Orlando was the perfect venue for both parties. The third weekend of January 2022 was booked, the date being January 22. The couple hired a decorator, photographer, caterer, makeup artist, henna artist, DJ, and finally a wedding planner for a picture-perfect wedding.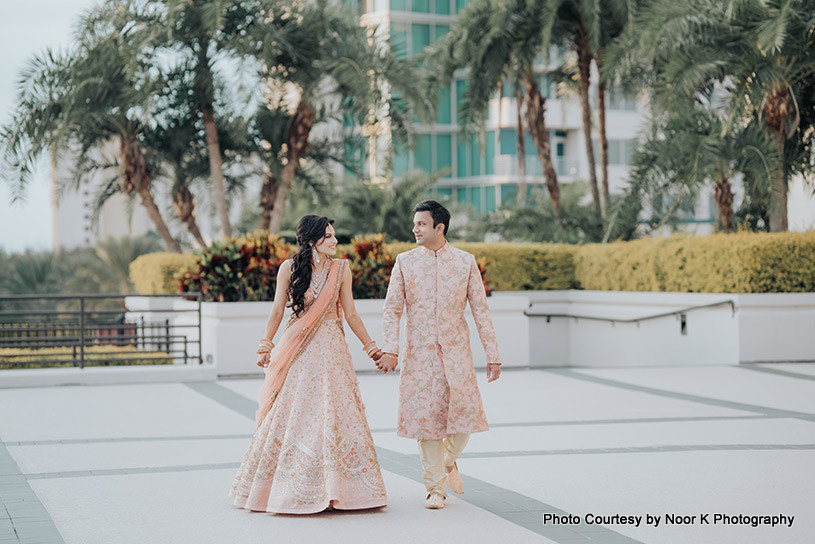 ---
BANQUET HALLS Hyatt Regency Orlando  407-284-1234 | DECORATOR Dreams To Reality 407-592-9261  |  DISC JOCKEY Dudha Productions 727-418-8498 | CATERING Saffron Indian Cuisine- Orlando 07-674-8899 |  PHOTOGRAPHER Noor K Photography 407-729-0388 | VIDEOGRAPHY NSPG Media 407-301-8648
---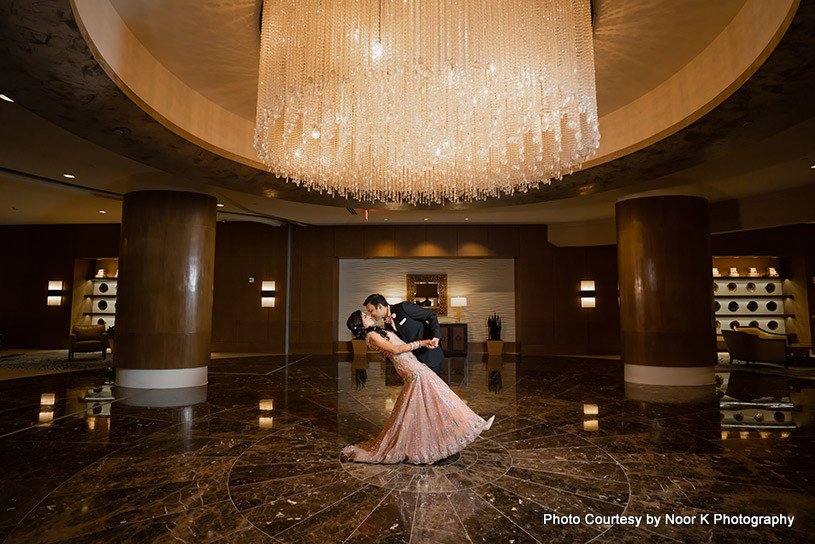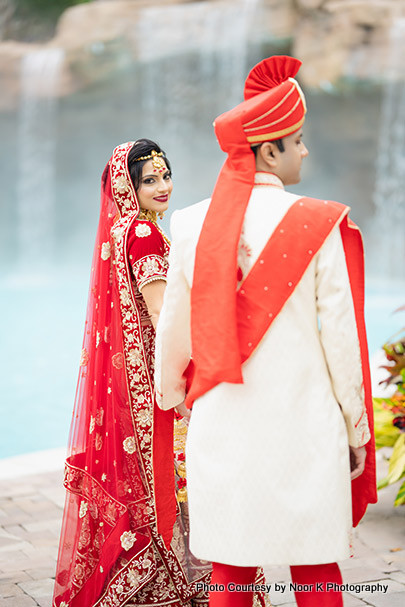 The dream wedding began with the Garba dance celebration the night before the wedding. Pink was the theme color, and both Radha and Aalok were draped in beautiful pink lehenga and sherwani amidst matching décor. The wedding ceremony took place inside a banquet hall. It featured a touch of the Royal Indian wedding, as the groom arrived on a white horse with a mix of hip hop and bhangra music in the background. Classic Indian movie songs were played during the wedding ceremonies. The couple along with the groom's family left in the horse and carriage. It was indeed a royal experience for all 250 guests in attendance. The reception theme was dreamy and glamorous. Silver and pink accent pieces, textured lighting, and cold sparklers throughout the night created just the right ambience and effect. The stage was decorated with the names of the bride and groom, and the first dance song was "Ghost" by Justin Bieber. It was followed by medleys performed by the families and friends of both Radha and Aalok. Bollywood dance hits mixed with the latest hits comprised the music. It was a fantastic and fun-filled night that everyone enjoyed to their fullest. The Omicron surge at that time did result in some cancellations, but everything went off peacefully and wonderfully. The virtual love story of Radha and Aalok ended in an intense real-life marriage full of love, respect, and compatibility between each other, paving the way for a lovely journey together.