Riya and Rohit
On a steamy summer night in New York City in 2016, consultant Riya Jain from New Jersey and business strategist Rohit Bhandari from Florida struck up a friendship. Riya sublet a place in the city for a few months to avoid the commute, while Rohit, who had just graduated, had relocated to New York City to start a job. By chance, Riya's roommate was close with Rohit, and on a crucial evening, she introduced the two of them. Before Rohit proposed to them in August 2020, they dated for four years.
They traveled to Iceland, and while there, Rohit thought a visit to Glacier National Park would be the ideal place to pop the question to Riya. Riya was completely taken aback when Rohit got down on one knee and proposed to her on the third day of their trip, and she said yes with tears in her eyes.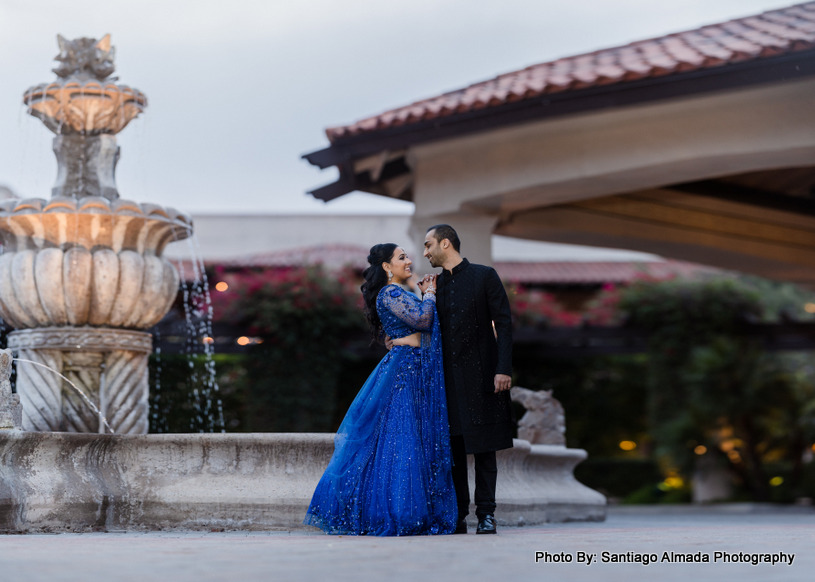 ---
BANQUET HALLS Scottsdale Resort at McCormick Ranch 480-948-7011 | BEAUTICIANS Ieshia Make Up Artist | DECORATOR Inner Space Design and Events 480-310-3075 | DISC JOCKEY DJ Isaac Entertainment 602-321-1036 | EVENT PLANNER Apropos Creations 480-216-4630 | HORSE CARRIAGE KC's Classic Carriage Company 602-540-1234 | MEHNDI Henna by Purvi 602-628-4066 | PHOTOGRAPHER / VIDEOGRAPHY Santiago Almada Photography 480-845-2098  ,  Serendipity Cinema 602-699-5509  
---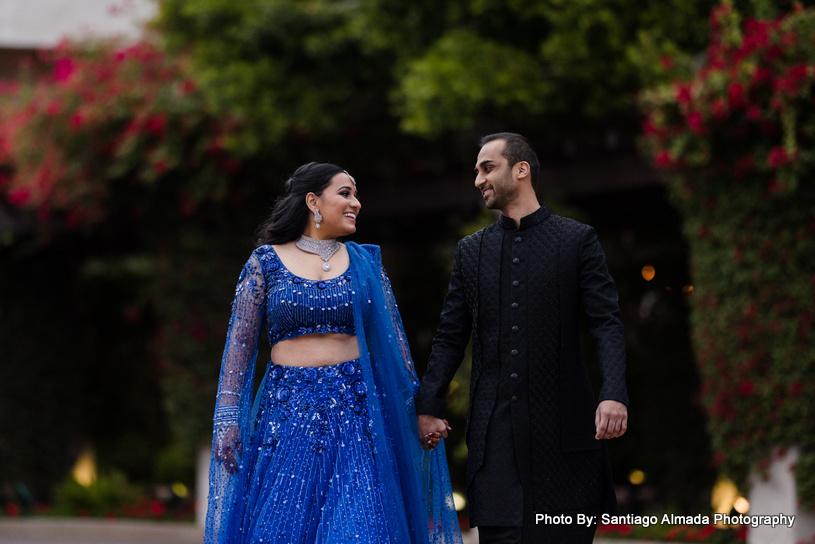 The couple hired a wedding planner because they wanted to get married in Arizona, where neither of them had any connections or relatives. They visited Scottsdale and fell in love with its natural beauty, ultimately deciding to have their wedding there.
They chose the expansive, naturally lit grounds of McCormick Ranch for the Haldi/Mehndi ceremony and the Sangeet. To foster a sense of community and add a splash of color, they chose benches with cushions and pillows. The bride and groom were highlighted by suspended lights that connected everything and led up to the swing above.
The sangeet was an outdoor affair and was held in a red clay courtyard with stairways covered in Moroccan tiles and red clay pillars. With only a few Moroccan lamps used as centerpieces and candles, the decor was reduced to a minimum. The Moroccan lamps' blue glass light fixtures and Riya's deep blue lehenga were both complemented by the blues and greens of the backdrop.
The grass served as the venue for the wedding, making it ideal for Rohit's entry following the baarat. The lawn was covered in flowers, and there was a tiny archway that was the ideal place for the bride to enter. The bride and groom and the flowers were highlighted by the mandap's all-white color.
The reception's color scheme included light pink, cream, beige, and various neutral tones. The blossoms were also a wonderful, clean, neutral white because the lighting was also a romantic pink or beige. On stage, there was a white love bench for couples, glass centerpieces, candles, and additional flowers.
All through the night, a mixture of Bollywood and American songs played. At the sangeet the previous evening, all of the scheduled performances took place. But the crowd was enthralled by an unplanned dancing contest between the bride's and the groom's sides that lasted for three rounds.