Ruchi and Anand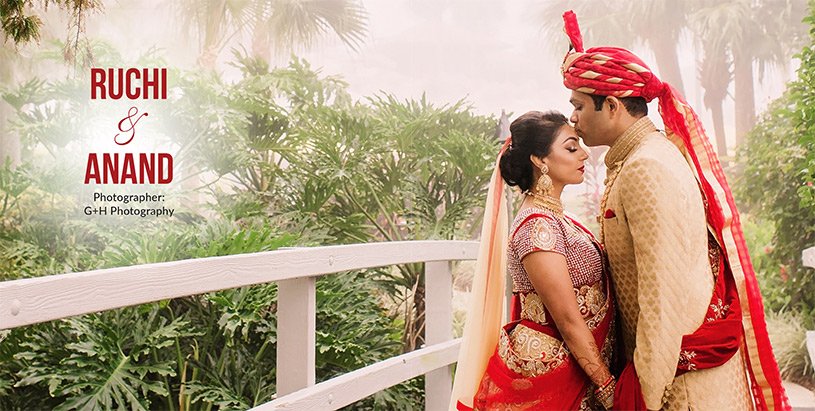 What happens when two doctors meet on a social networking site? Fall in love, of course. Anand Vakharia, family physician, and Ruchi Amin, surgery resident, met on Facebook. They met in person for the first time after four months of being Facebook friends. Since that time, they have been inseparable.
Anand's cousin Sachin and his wife Crystal visited them in Milwaukee for the weekend. With their help, Anand meticulously planned the proposal. Sanchin and Crystal told the couple that a friend was having a party at the Boerner Botanical Gardens and wanted to take them along as their guests.
The outdoor proposal was romantic with a violinist playing near the pond with a waterfall. Ruchi realized that Sachin and Crystal who had been walking with them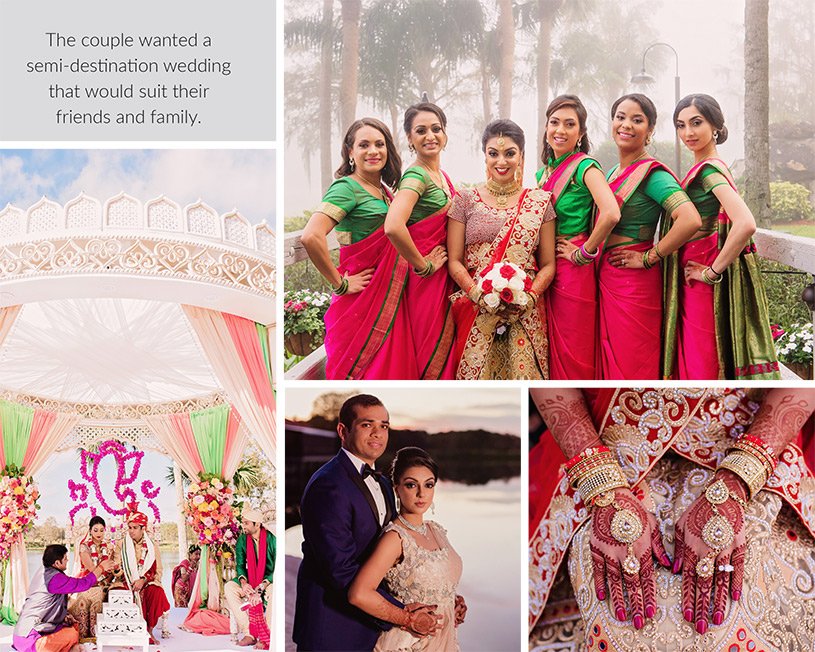 were no longer in sight! Anand then got down on one knee and proposed, but was so nervous, he forgot to put the ring on Ruchi's finger. When she said yes, all her friends and family hiding around the trees jumped out to congratulate them.
Anand and Ruchi hired wedding planner Signature Events to plan all the events. The couple was also hands-on in planning the details and securing vendors.
They wanted a semi-destination wedding that would suit their friends and family. Since Anand is from Ft. Lauderdale and Ruchi from Rochester, so they chose Hyatt Grand Cypress, Orlando. Given the wedding was planned for Thanksgiving weekend 2017, they thought it would also be the perfect vacation for guests.
The pre-wedding functions included Sangeet/Mehendi and Garba. The garba night decor included a Ganesh floral swing centerpiece with hanging ceiling draping and cabanas. Music was a live band, Ritesh from Medley Entertainment, NJ.
Vendors

BANQUET HALLS
Hyatt Regency Grand Cypress
407-239-3931
KULFI / ICE CREAM
Big Cow Creamery
941-727-7425
CATERING
Baps-Shri Swaminarayan Mandir
407-857-0091
Private Island Ice Cream
407-433-9545
Khasiyat Indian Restaurant
407-310-1624
MEHNDI
Henna Allure
321-444-5911
Tabla
407-247-2509
Tejal Henna
407-415-7994
DECORATOR/FLORIST
Suhaag Garden
772-528-0394
MUSIC BAND
Medley Entertainment
347-385-8587
Floral Creations By Ranjan
407-438-6094
PHOTOGRAPHER
G+H Photography
647-688-0310
DISC JOCKEY
Dudha Productions
727-418-8498
PHOTO BOOTH
Photo Booth Rocks
407-509-9786
EVENT PLANNER
Signature Weddings & Events Inc
352-267-5345
PRIEST
Pandit Rajan Bhatt
813-900-0190
Tropical Boyz
954-464-8686
RENTALS
Orlando Wedding and Party Rentals
407-595-1065
HAIR/MAKEUP
Aileen Pacheco
407-797-9118
VIDEOGRAPHY
NSPG Media
407-301-8648
Henna Allure
321-444-5911
WEDDING SERVICES
Air Sign
352-535-8814
ICE SCULPTURE
Ice Pro Florida
407-252-7819
WEDDING CAKE
Hyatt Regency Grand Cypress
407-239-3931

The morning wedding was held outdoors at Wing song Greens with 350 guests. The wedding's theme was coral, pink, green, and yellow with peacock themed fans, having personalized ceremony details. Unique aspects of the wedding were a floral aisle scroll, rotating stage where bride and groom exchanged garlands, and a sky air banner congratulating the couple. The groom even made a rocking entry via speedboat during the baraat that traveled along the waterfront to the golf course.

The reception was done in a royal blue, coral, ivory, and rose-gold theme. The stage had an intricate draped backdrop, and the centerpieces were hanging and floating candles, elephants/circle geometric accents. The dance floor was decorated with a large floral, crystal chandelier with a monogram.

The couple made sure each seat had hand-folded paan, escort cards consisted of a cookie box with a bride and groom frosted cookies. Besides, there was a Waterford vase ice sculpture with initials engraved, fruit carvings with Ruchi and Anand engraved on it. One incredible reception moment was when the bride-groom entered to a self-written rap about their love story.

Ruchi's advice to couples planning their wedding is to start early to be able to share the special day with friends and family.