Sabrina Kanani and Abid Manji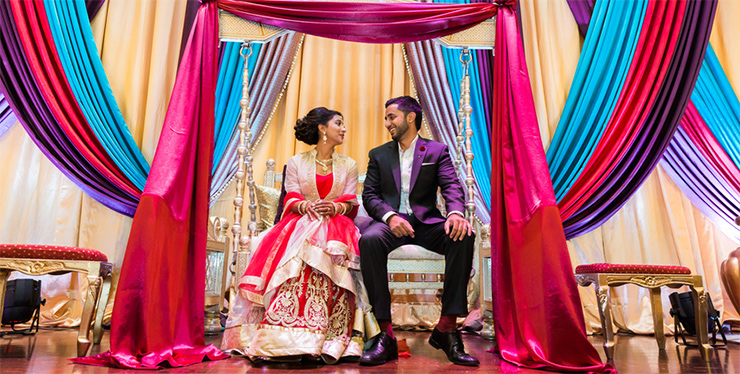 If there was a wedding that I was looking forward to the most this year, Sabrina's would definitely be up there! I so couldn't wait to witness and capture all the fun celebrations leading up to the wedding. So much colour, food and festivity!Three hundred of their family came to take part in the celebrations at Chandni Banquet Hall. It's really so incredible how beautiful all the detail of Indian clothing, as well as all the number of symbolic items (such as pineapples to ward off evil spirits) that are used to wish the couple a good life together. I just love how every single person truly takes part in wishing them, one by one! As a photographer, I was able to capture so many sweet interactions! Loveeee.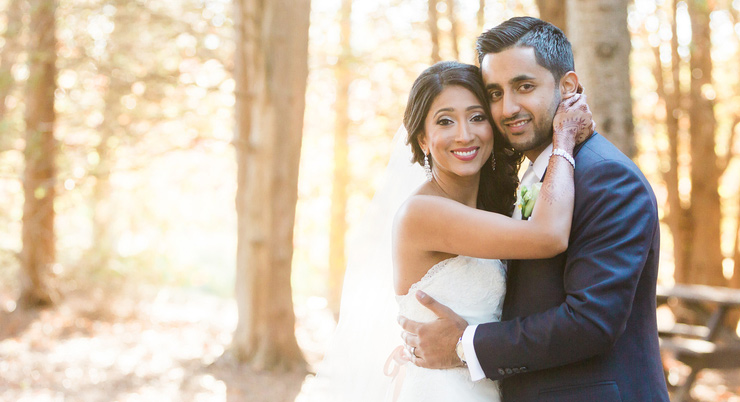 But I gotta say, Sabrina and Abid both know how to make an awesome entrance! Abid and his boys rode into the hall in BMW cars and Sabrina was brought in a stunning gold carriage, hand held by the strong men in her family. Sabrina and Abid were presented with an amazing bollywood dance which then got everyone else onto the dance floor. So much fun!At the end of the night, Sabrina's side of her family blessed her by placing saffron water on her forehead to represent good luck. They then showered them with rice to represent bounty and blessings and placed a sweet into her mouth to wish her sweetness in life. Finally, they rubbed a paste all over her to prep her skin for the wedding day! It was such a sweet ceremony, but but on Abid's side… Well things got really messy for him and his groomsmen! People threw raw eggs at them, caked them in flour, squirted ketchup, and so much more. Luckily they were ready for it with goggles and shower caps but it still didn't prepare them enough for what they were in for!Sabrina and Abid's actual wedding day was the sweetest magical wedding day. This weekend has always been an important weekend for them, as it was actually when they decided to officiate their relationship on a trip to Montreal. It later became a tradition that they would continue to spend Thanksgiving weekend in Montreal together. Not too long ago, Thanksgiving was also the weekend they purchased their house together.The past two pre-wedding celebrations over this Thanksgiving long weekend were already filled with so energy, fun and joy that I had no idea what I was in for on their actual wedding day! Sabrina and Abid wore beautifully matched gold traditional attire for their wedding ceremony at the Ismaili Jamatkhana in Scarborough. Afterwards, Sabrina got dressed into her beautiful white wedding gown and Abid wore a custom three piece navy suit and we headed over to McMichael Canadian Art Gallery in Kleinburg for some beautiful fall photos.There were so many beautiful moments that I loved from this wedding that made it the sweet magical wedding day I described earlier. Sabrina and Abid had two outfits so they were lucky to have two first looks. Both times were so sweet, you could see the anticipation in their faces as they just couldn't wait to see each other! I also loved how Sabrina's brother took part as a bridesman and his speech that described their relationship over the years was so touching and Sabrina's reaction was hands down one of my most favourite reactions captured EVER (scroll down to see it!). But the sweetest moment was during Sabrina's father/daughter dance that he broke down in tears so his mom went over to give him a hug. So sweet!!There were so many gorgeous details from this wedding. I loved Sabrina's pink Badgley Mischka heels and that she wore her grandmother's bracelet and had them for her ceremony. I loved the sparkly linens for their head tables and that Sabrina's uncle did all of the florals! And let's not forget that gorgeous bright yellow Porche they had for a ride that day! Also, did you know that Sabrina's engagement ring has their initials carved into the band? So cool!But I have to say that what made this wedding so special had to come down to how supportive and loving both families are Sabrina and Abid as individuals AND as a couple. It was so beautiful to witness and even just spending a couple of days with them, you can both see and feel this love! Because of this, I just know that they are in for such an awesome life together. Sabrina and Abid, thank you so so much for allowing us into both your amazing loving families! Each moment spent with them is such a joy! I hope these photos capture even just a little bit of this love you have for each other and with your families!
Photographer: Samantha Ong Photography Dress Store: Best for Brides Reception Venue: Paradise Banquet Hall Dress Store: Pearl Bridal House Event Planner:Trade Sensation Events