Sai Shanmukhi and Sai Susheel
College students Sai Shanmukhi and Sai Susheel collaborated on a project for class. When they decided to pursue a master's in the USA 1.5 years later, it was pure happenstance that brought the two of them together. They were searching for one another by the time we arrived in the USA, and they both grew closer as a result of texting one other while still juggling their busy academic schedules in a foreign nation. The bride eventually came to the conclusion that he was the ideal spouse. They began browsing for wedding locations three months before their wedding and began planning it. Their ideal wedding location, The Plaza Resort & Spa in Daytona Beach, Florida, was also the best thing that occurred at their nuptials. For the sangeet and haldi, which took place in and near Sanford, a banquet hall called "The Lair Venue" was booked. The majority of the bride and groom's attire was created by boutiques, and they had to pick the appropriate style and palette.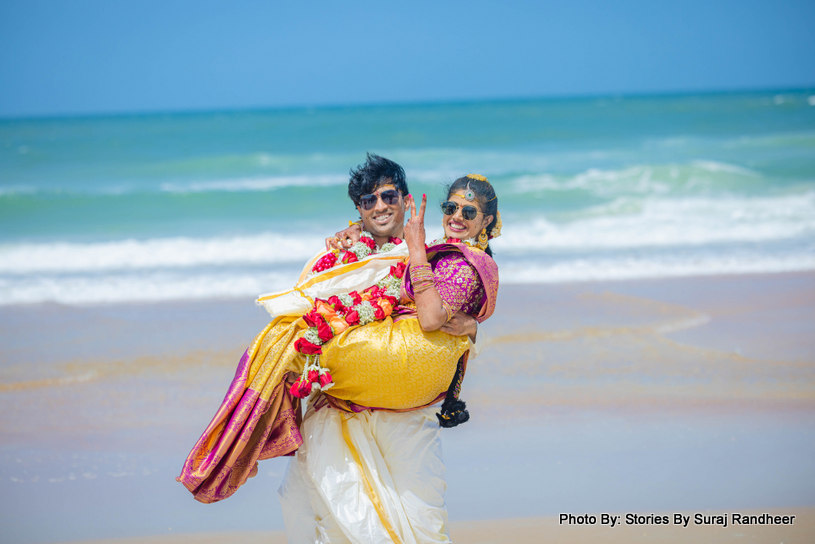 ---
BANQUET HALLS Hindu Society Of Central Florida 567-298-1819  , The Lair Venue 407-701-6996  , The Plaza Resort & Spa 386-267-1637 | BEAUTICIANS Style by Mounika | CAKE Bake A Wish 407-967-8915 | CATERING 5th Element Indian Restaurant 972-352-9607 | DECORATOR Forever Flowers Events LLC 813-679-3305 | DISC JOCKEY DJ Philip Blessen 813-451-1574 | FLORIST Jewel Blooms 614-441-7256 , Vivek flower 732-321-0403 | INVITATIONS Weddings by Graphe 9836610337  | MEHNDI Gokuls Henna Art 407-264-1932 | PHOTOGRAPHER / VIDEOGRAPHY Stories By Suraj Randheer 214-300-5084
---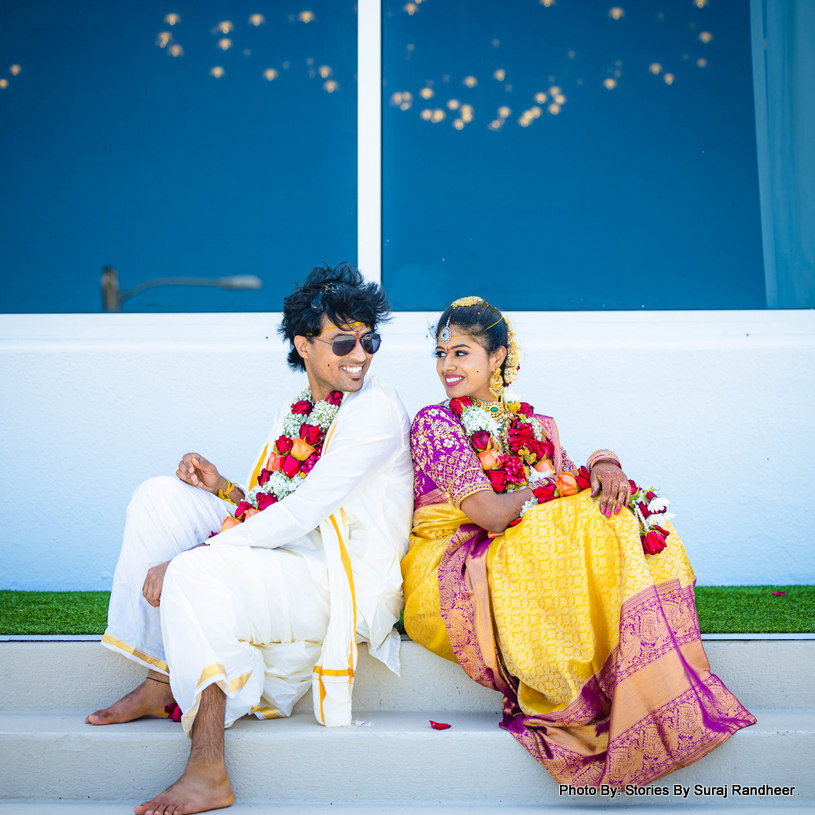 The majority of the white and pink flowers and umbrellas used for mehendi décor were made at home. Haldi completed her work in an Airbnb with a breathtaking view of the golf course. Sangeeth was present at Lair Venue, a Sanford, Florida, banquet hall. Simple and charming, the decoration was given by the venue. At their party, DJ Philip (Tampa) provided the music. The bride and groom decided to decorate the wedding venue with "Forever Flowers Events" decor. Due to weather conditions and recommendations from the decor and venue staff, the final wedding was held inside the ballroom rather than on the beach. Bollywood and Telugu dance songs predominated during the ceremony and baarat. Between activities, DJ music was played while unexpected performances took the stage. Additionally, the bride and groom performed a surprise dance, and the groom then shocked the bride by performing a song from the Surya S/O Krishna movie, Naalone pongenu Narmada.